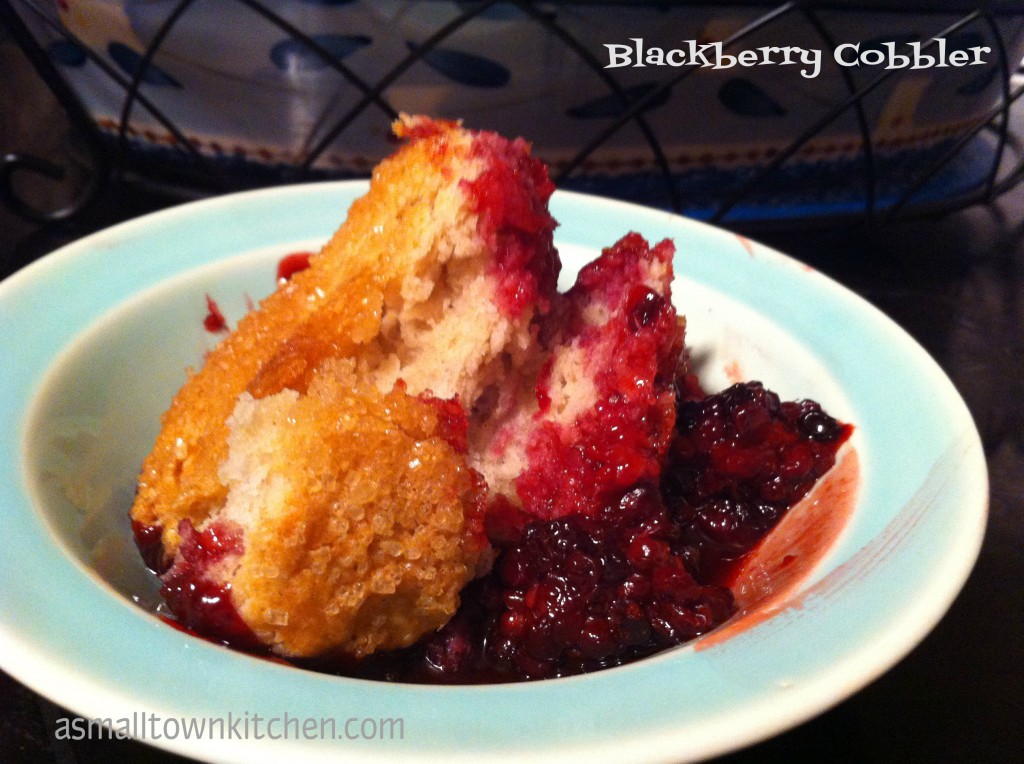 Have you ever tried to bake something with Company?
It can be a comical and yummy experience….if you are brave enough!
Last week, I went blackberry pickin with two of my retired teacher friends and I came home with almost 8 pounds of blackberries. you can read about it here. I did not want to waste one berry because I waited too long to either bake, freeze or make jam with them. Since black berry cobbler is one our favorite things to gobble up this time of year, I took the chance to bake with oldest grand girl and Company.
Here is how it went….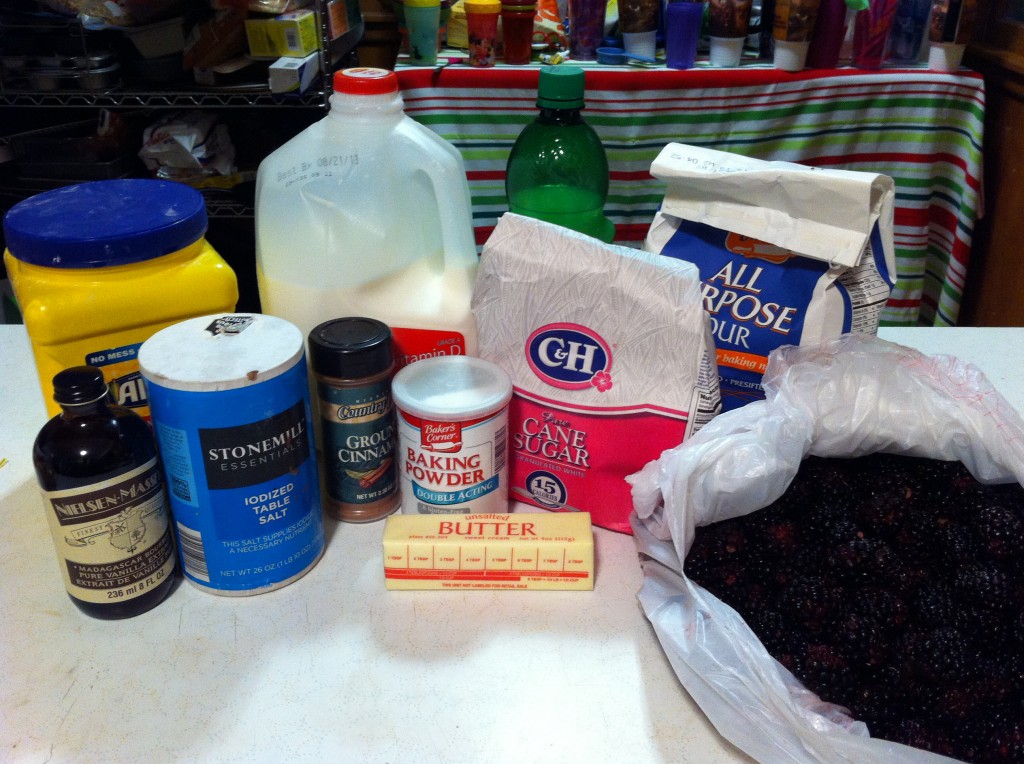 The first thing we did was round up all the ingredients. Whew…it was like….flour on first base, sugar on second, what's in the grocery bag?…..(blackberries you ding dong….)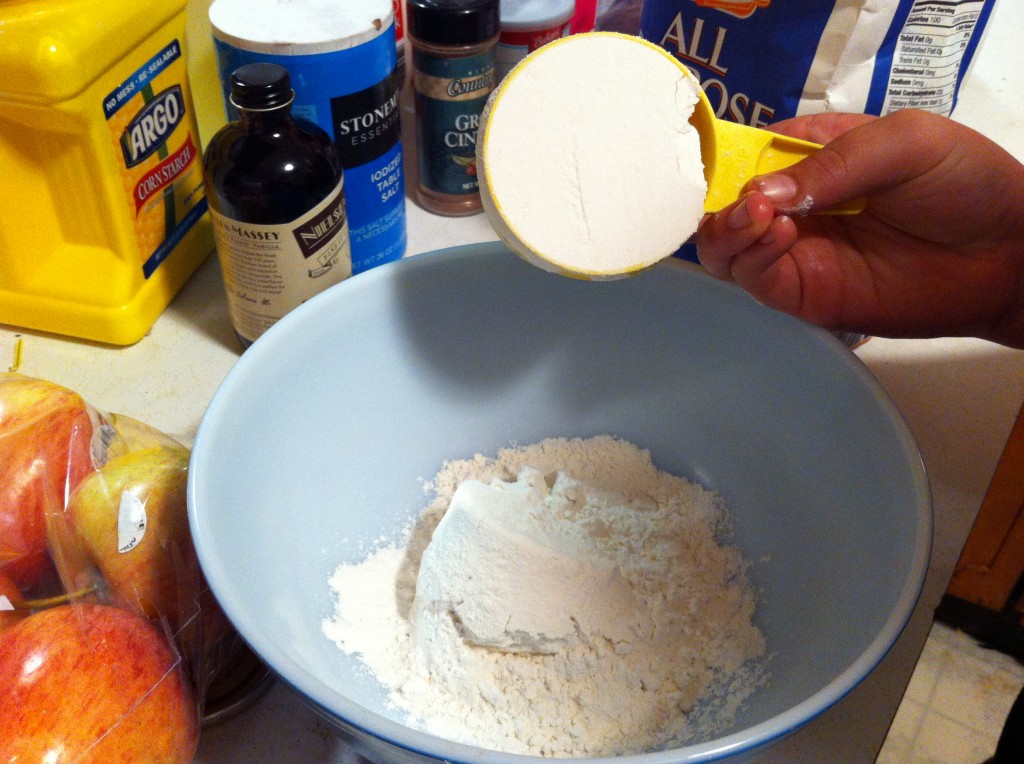 Grand girl takes charge and starts measuring out the flour to make the crust.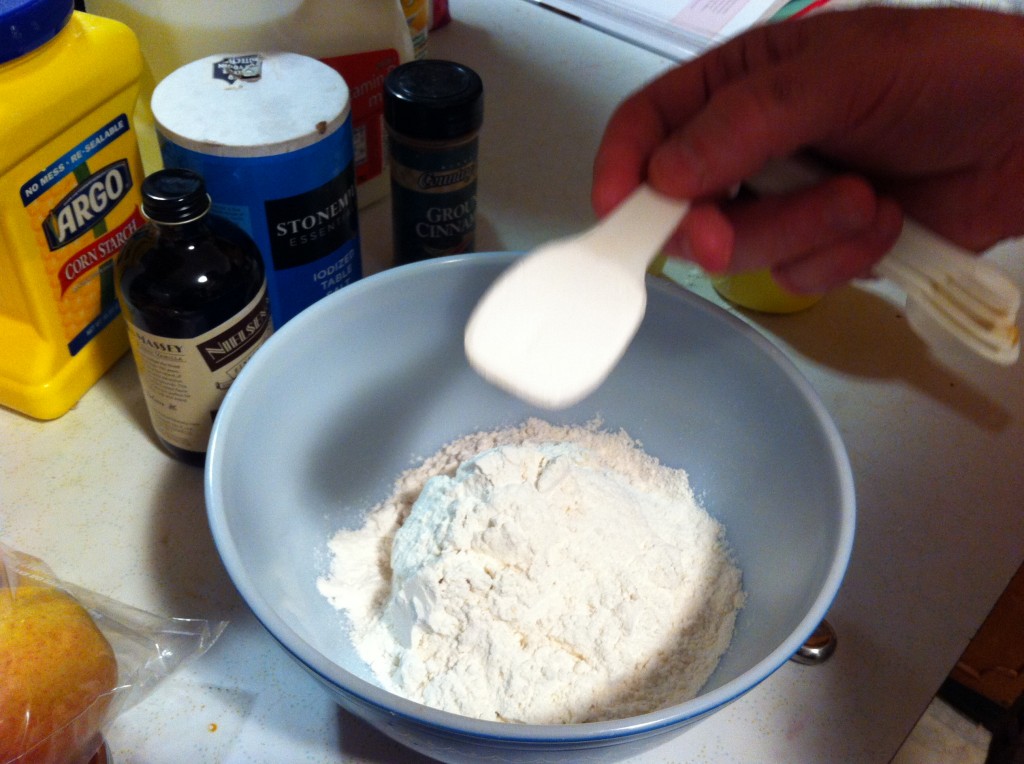 Next, Company takes over and adds in some baking powder.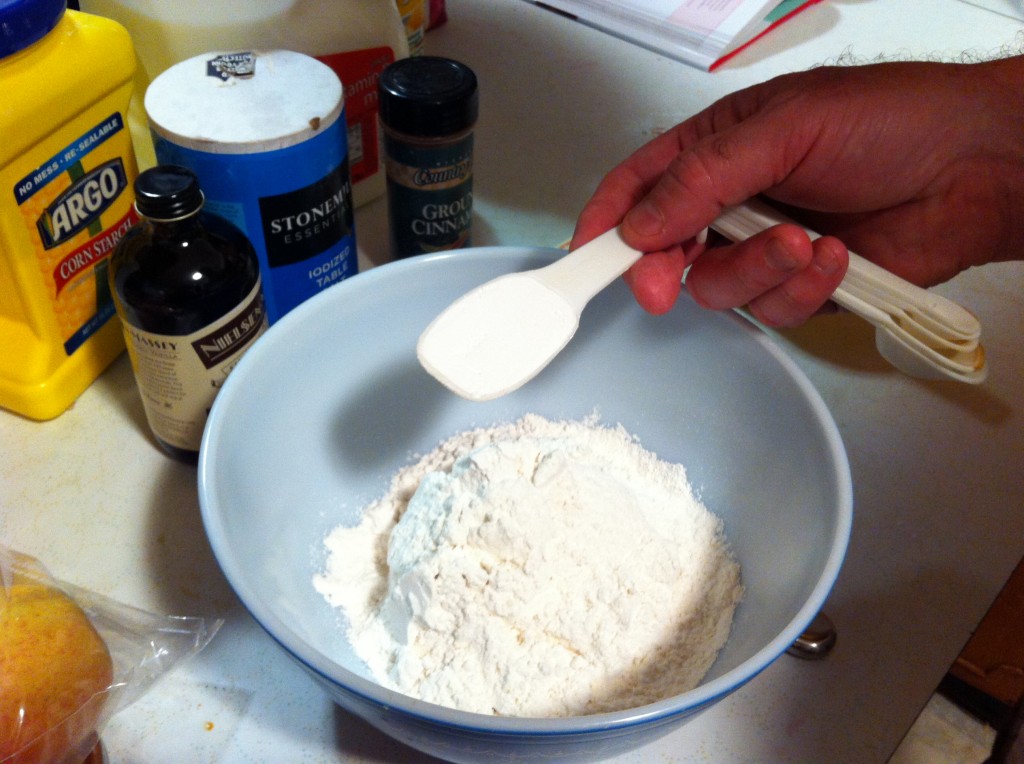 Then adds in some sugar.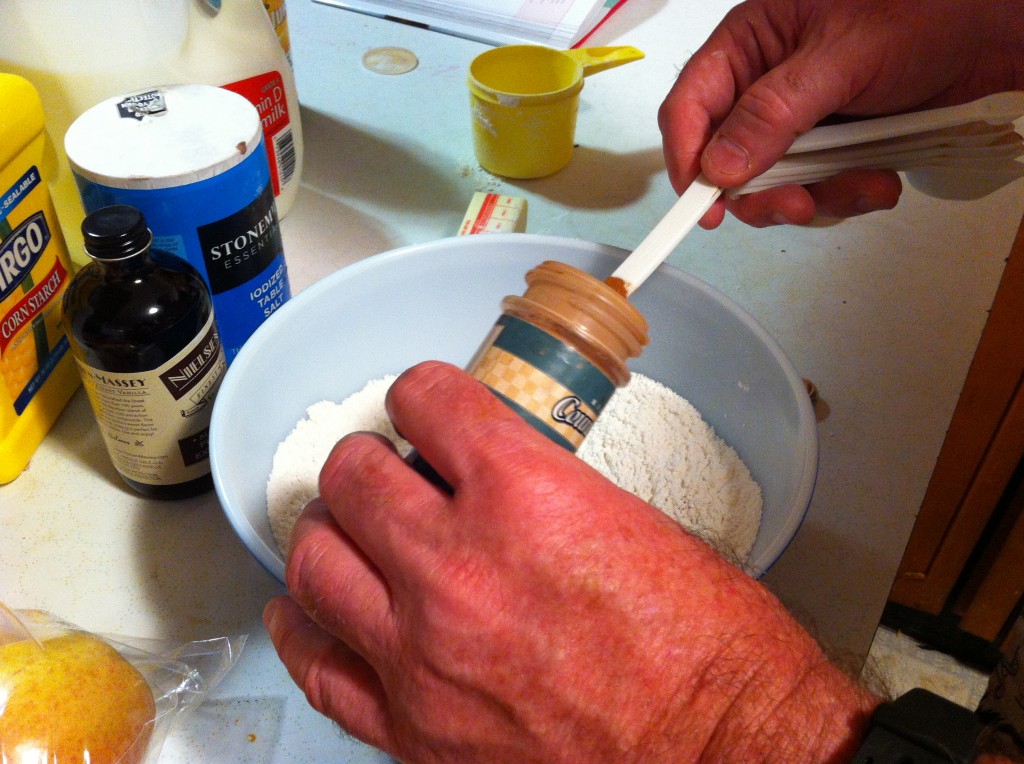 This is when it gets interesting.
Company takes over (again) and decided to measure the cinnamon.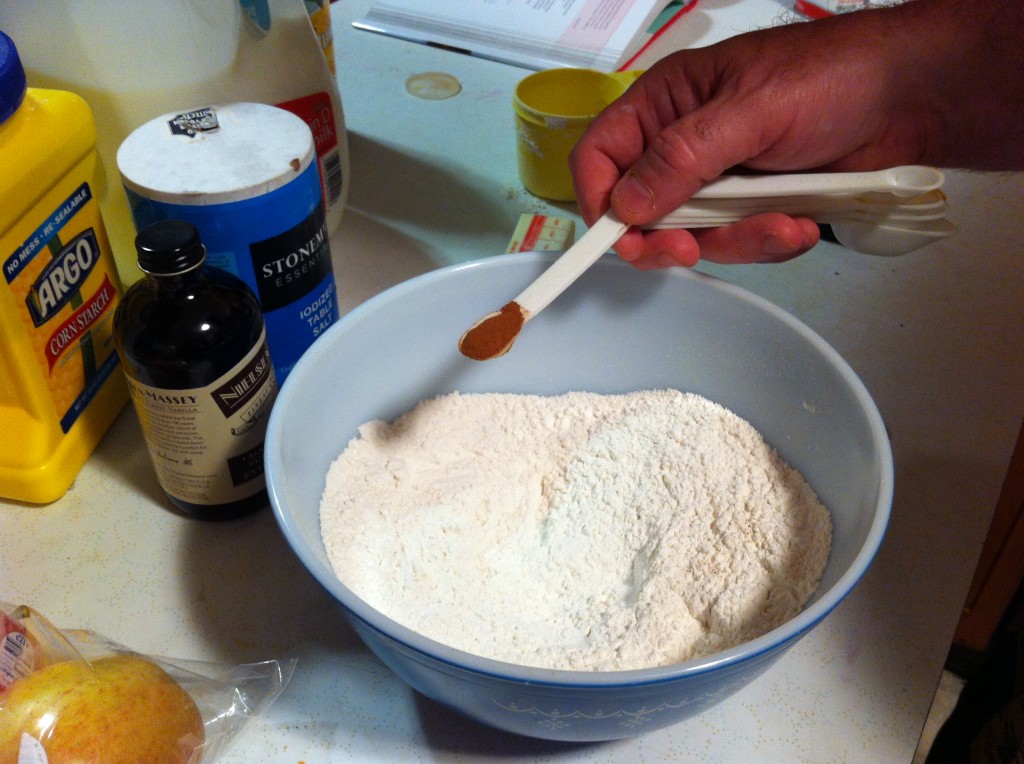 Company was very exact when measuring.
Then…..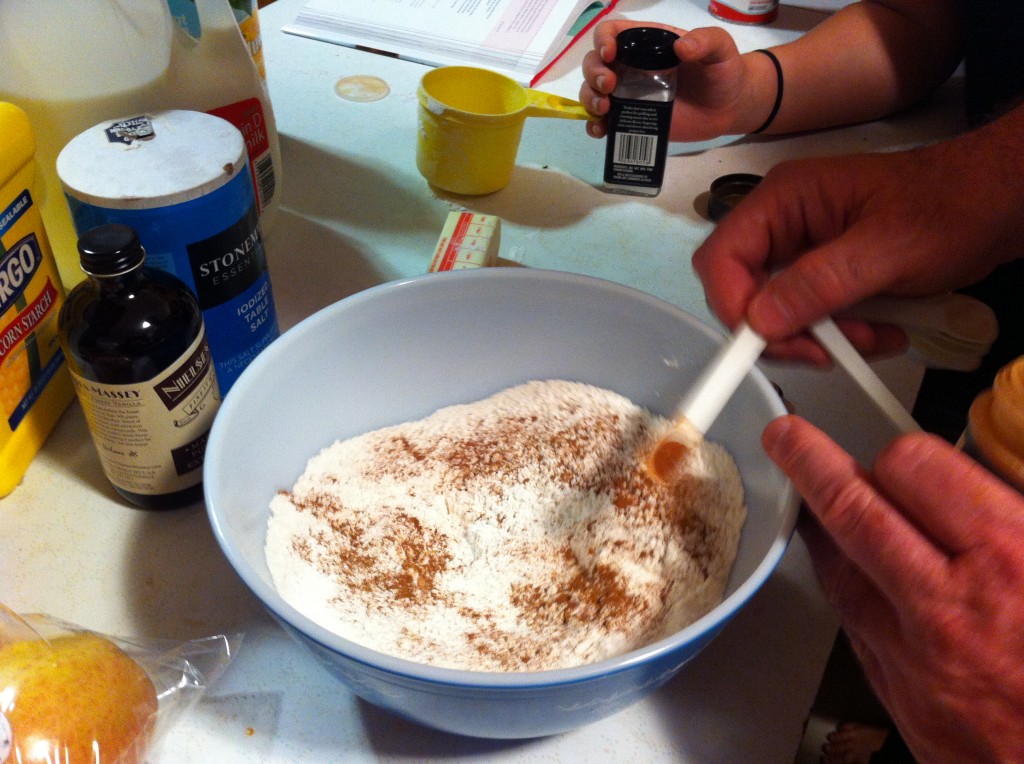 Company has to tap…tap…tap…tap….and tap (again) the cinnamon into the bowl. (it has something to do with the way company's grand ma did it).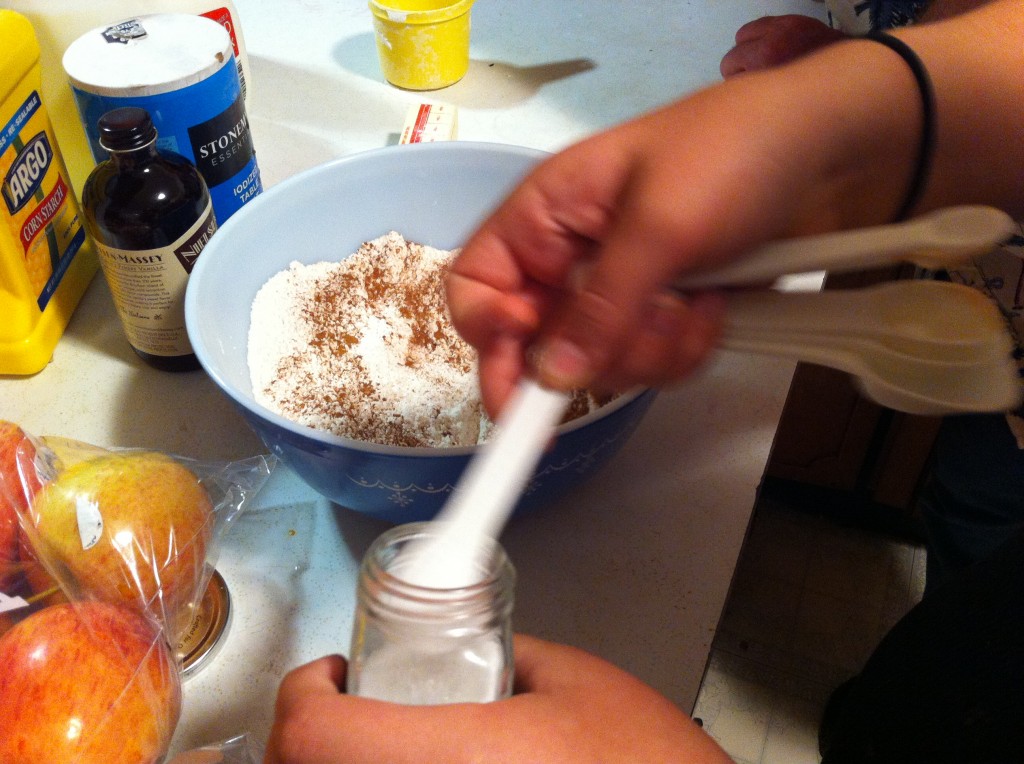 Grand girl, rereads the recipe and finds that we have left out the salt. She does not want to use table salt. so she spends 10 minutes looking for the sea salt.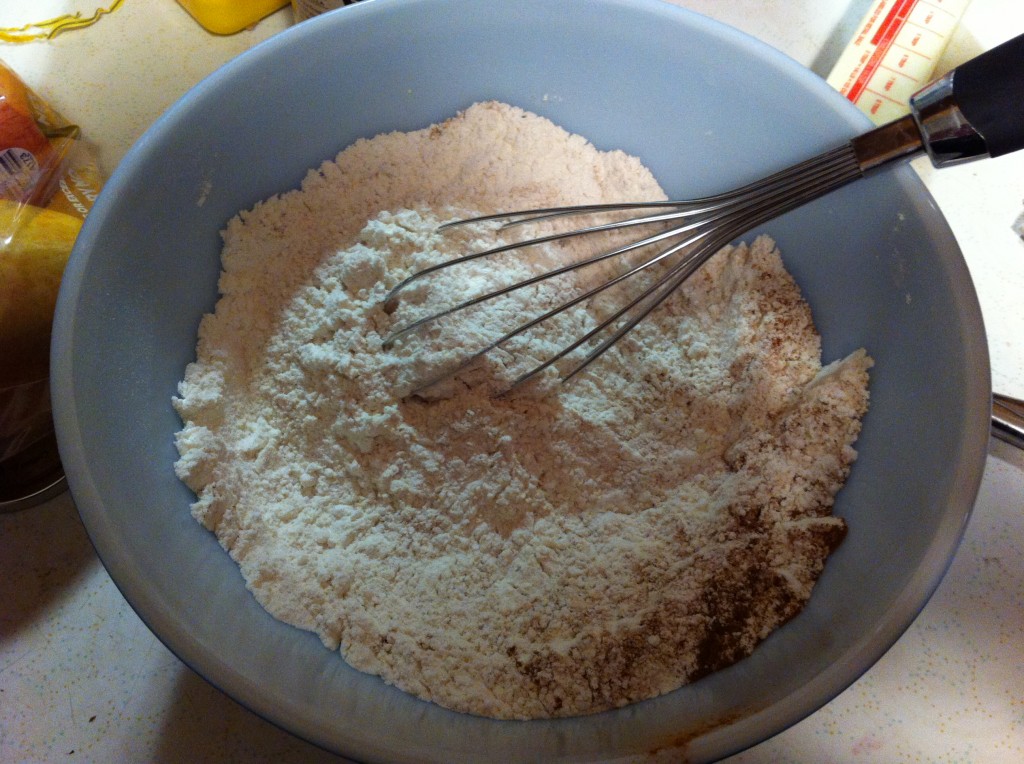 They final let me help by whisking the dry ingredients together.
I think this is about the time that it was getting dark outside. My last working kitchen light bulb had gone out the day before and it was getting pretty dark in the kitchen. (did you notice all the shadows in the pictures?) Company decided to make a Walmart trip to replace the bulbs so we can finish up our cobbler.
So…..oldest grand girl and I wait…and wait….
40 minutes later…..company comes back with a bunch of light bulbs and in no time we have light!
Grand girl takes control (before Company can) and adds the butter.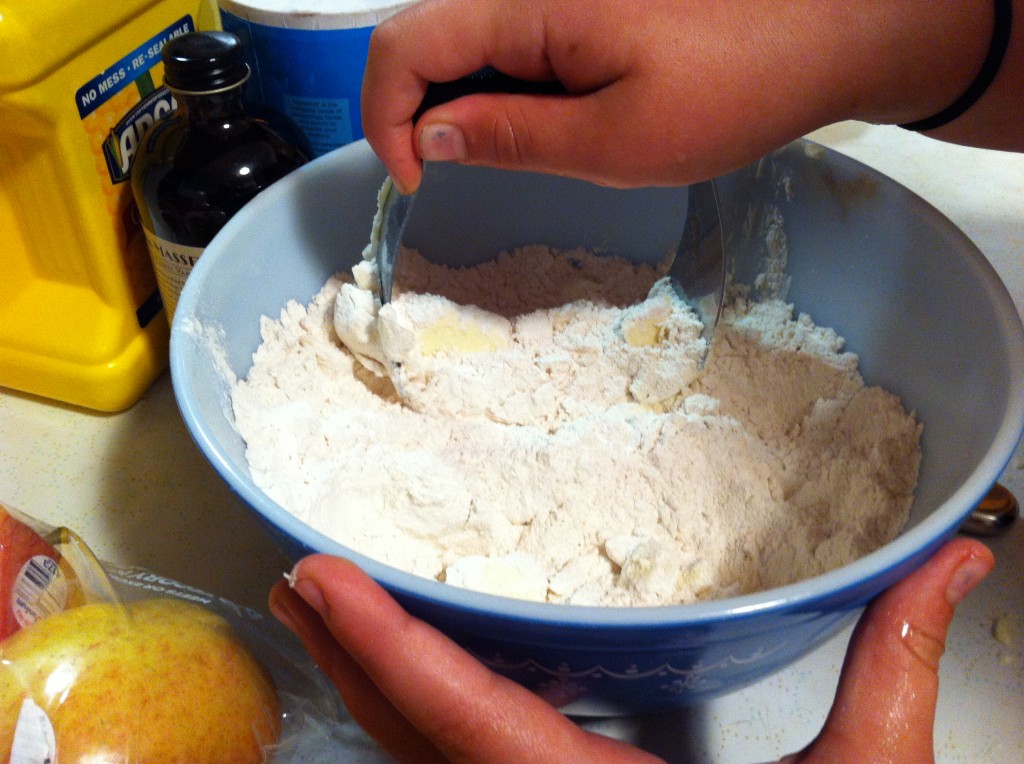 She uses the pastry blender, to cut in the butter.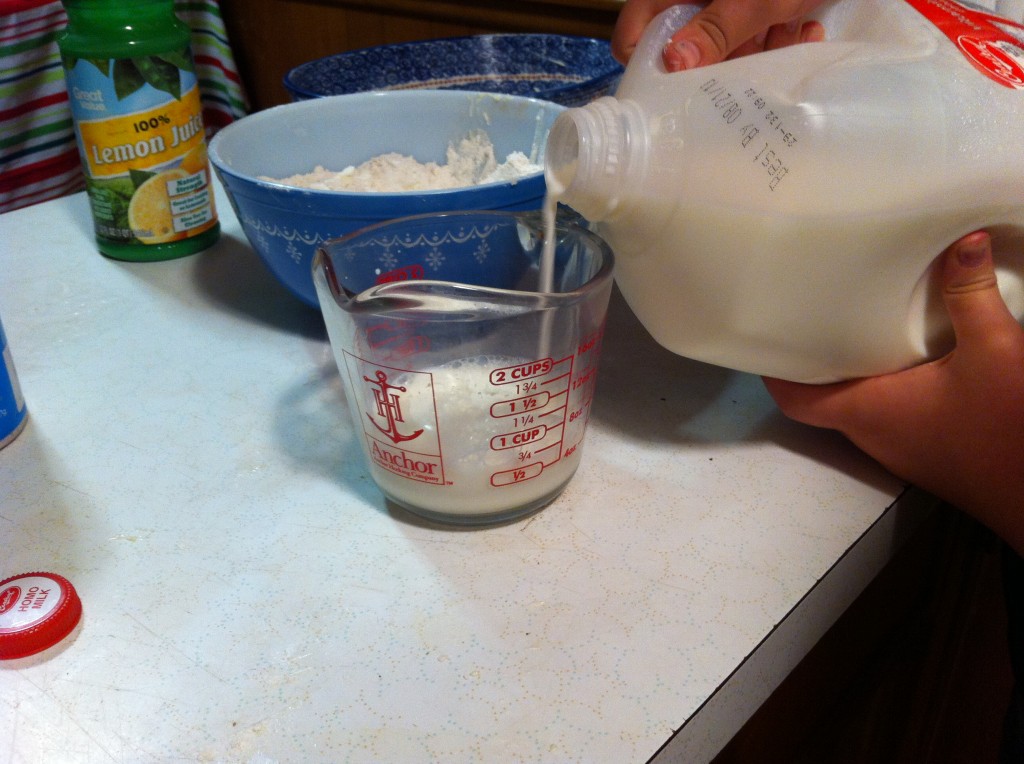 She carefully measures the milk (trying to impress company hehe).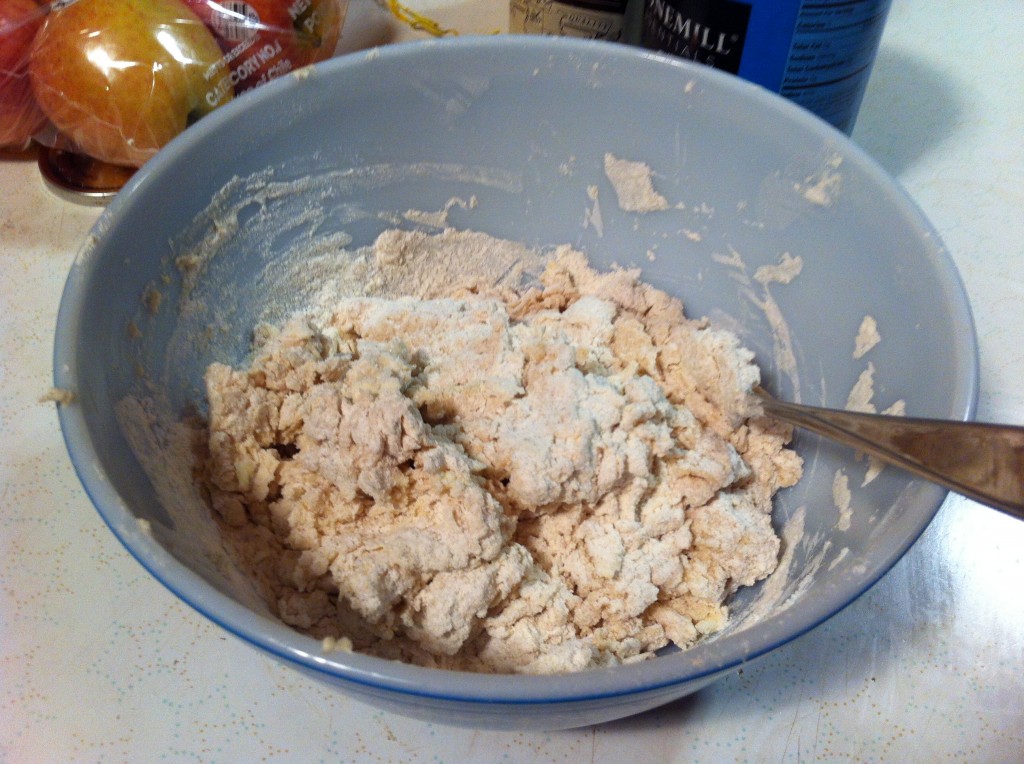 Gently stir the crust together. They actually let me do this.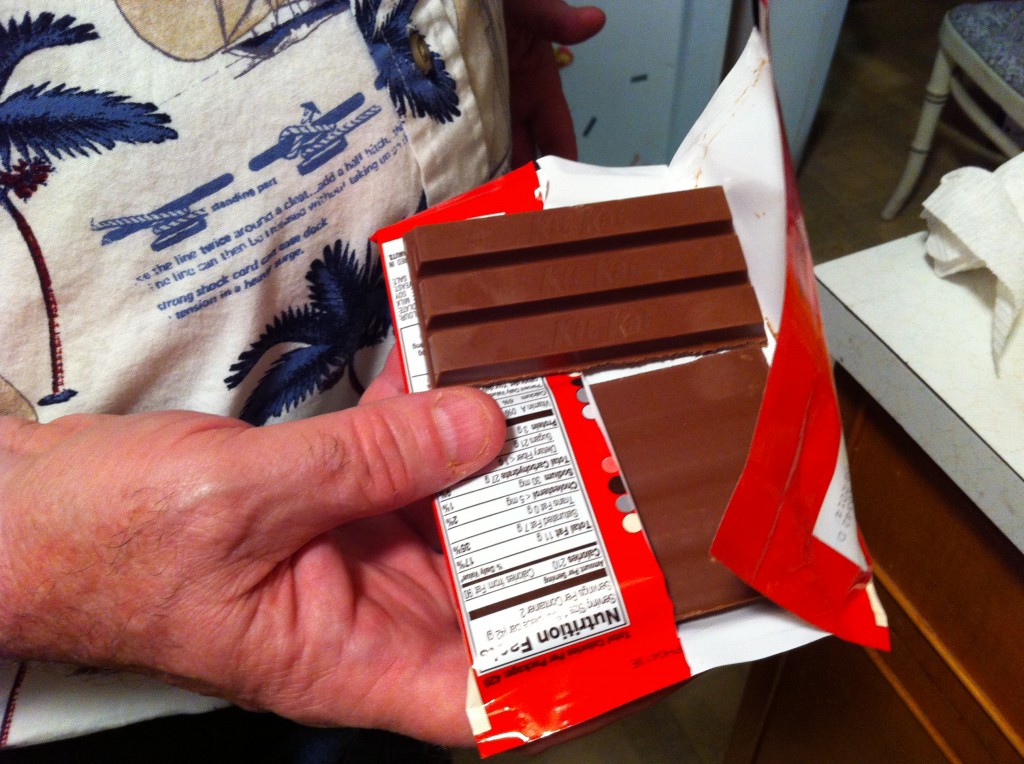 Right in the middle of us finishing up the cobbler crust, company pulls kit kat candy bars out of a Walmart sack. "What!? Are you hungry?"  "Yes…" " We are going to be eating hot blackberry cobbler in about a hour." Company smiles and asks…."Do you want a piece of my kit kat bar?"
"Well….Sure…"
Who can resist a piece of a kit kat bar?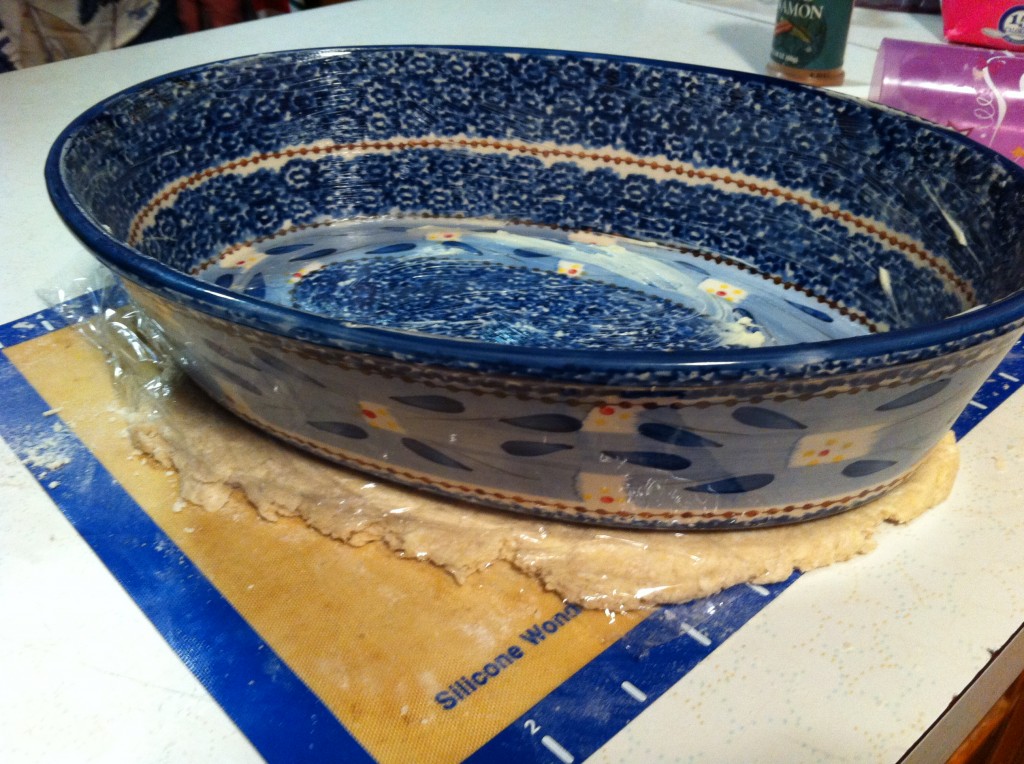 Knead together the crust and roll out between two pieces of plastic wrap. I used a oval baking dish, so I was making sure the crust was the correct shape to fit. Put the crust in the fridge while you make the berry filling.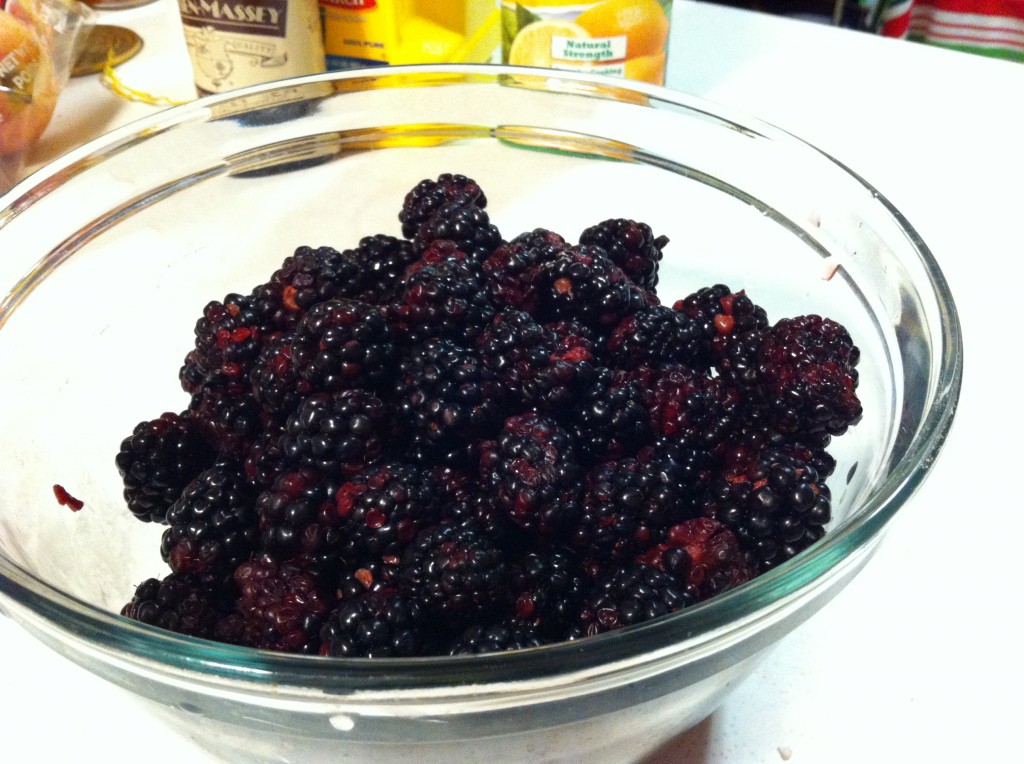 Measure out the blackberries in to a bowl.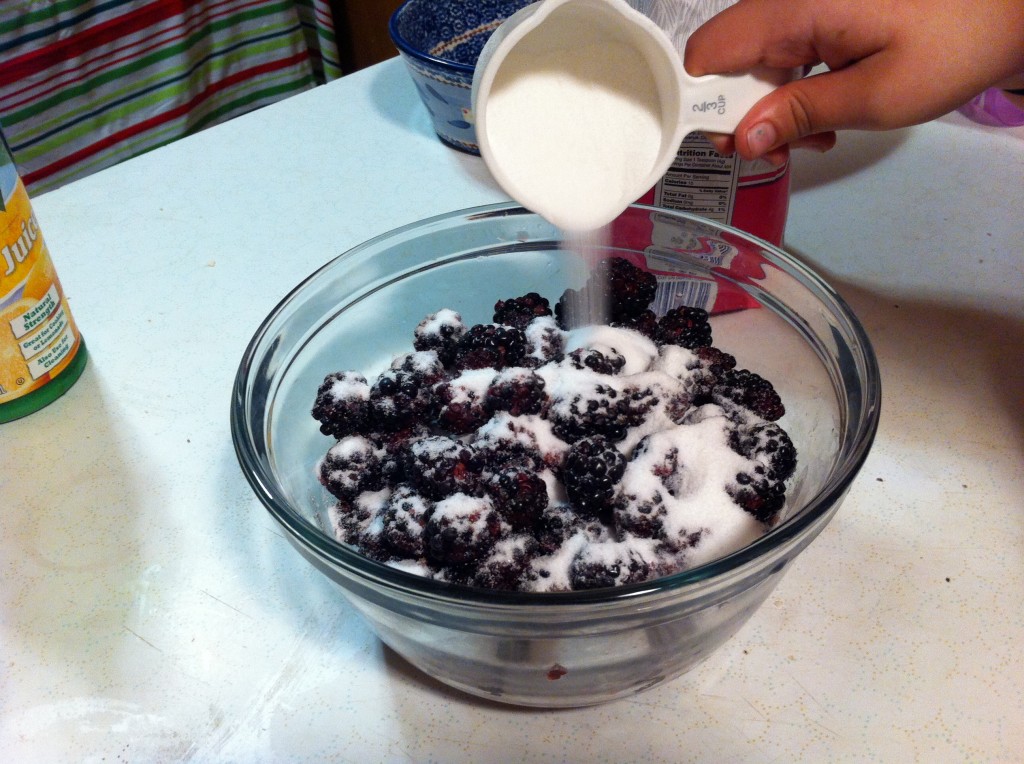 Add the sugar.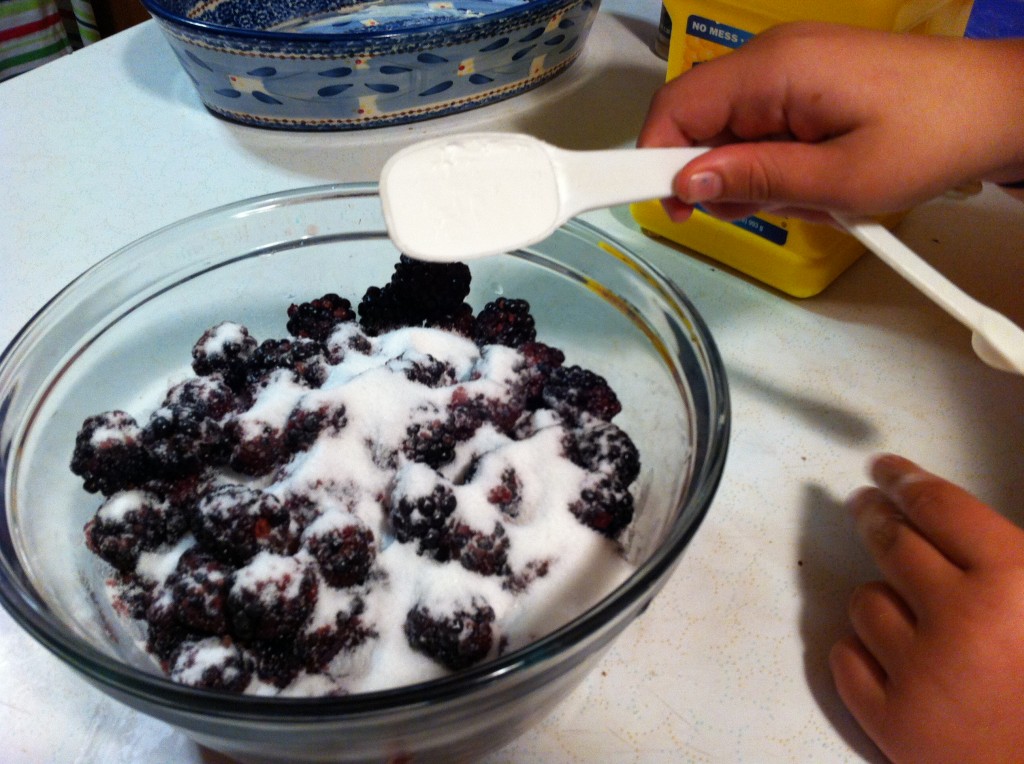 Add the cornstarch next for a thickener.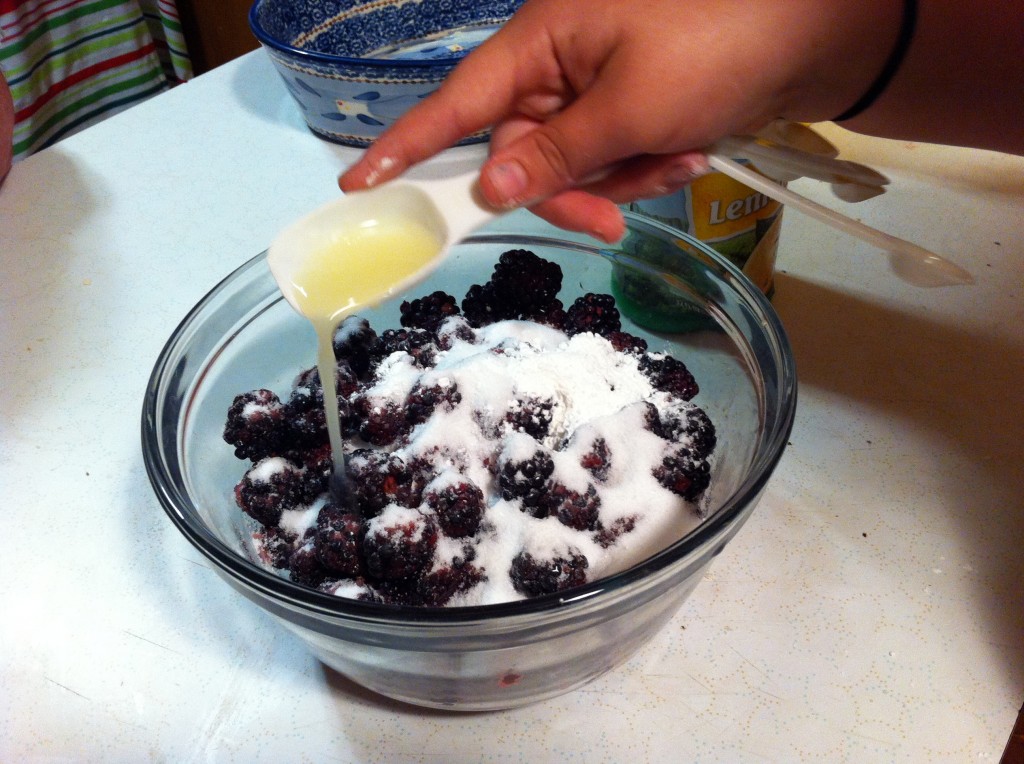 Add the lemon juice.
We are moving a little faster now cause…..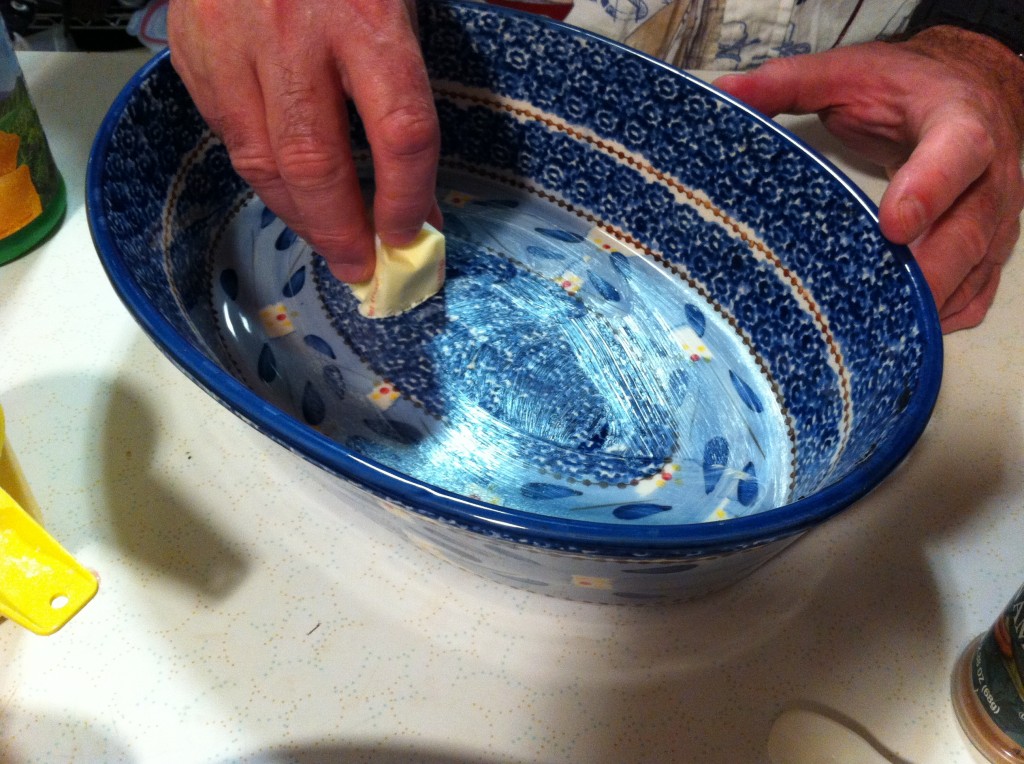 I gave Company something to do while grand girl and I finished up.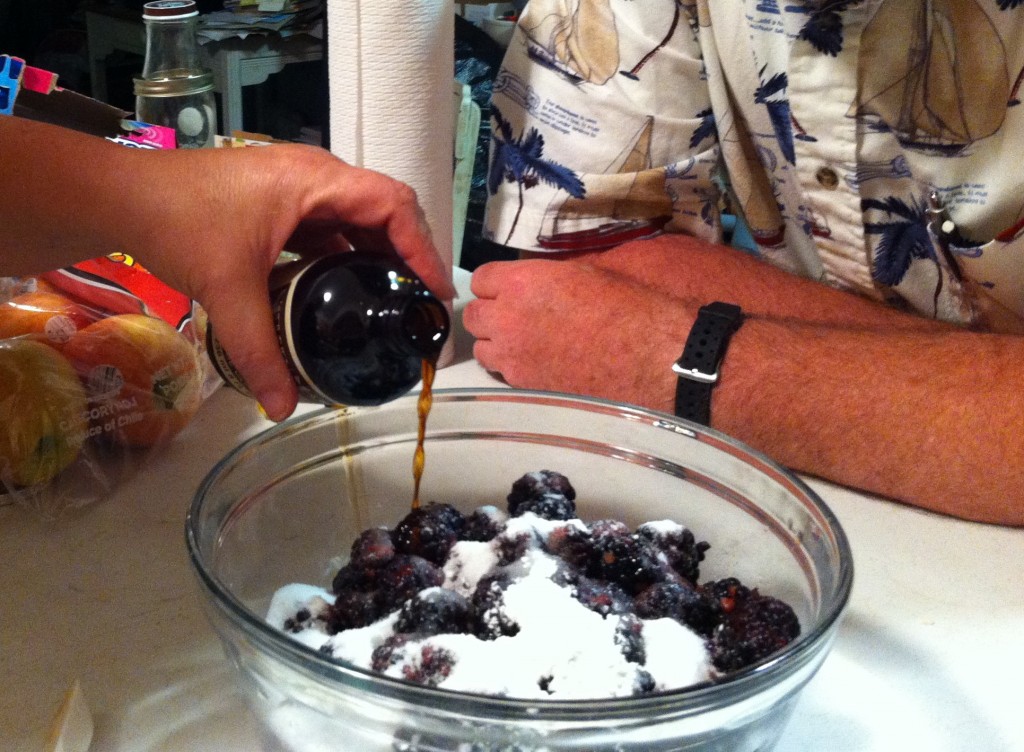 Lastly we added some vanilla.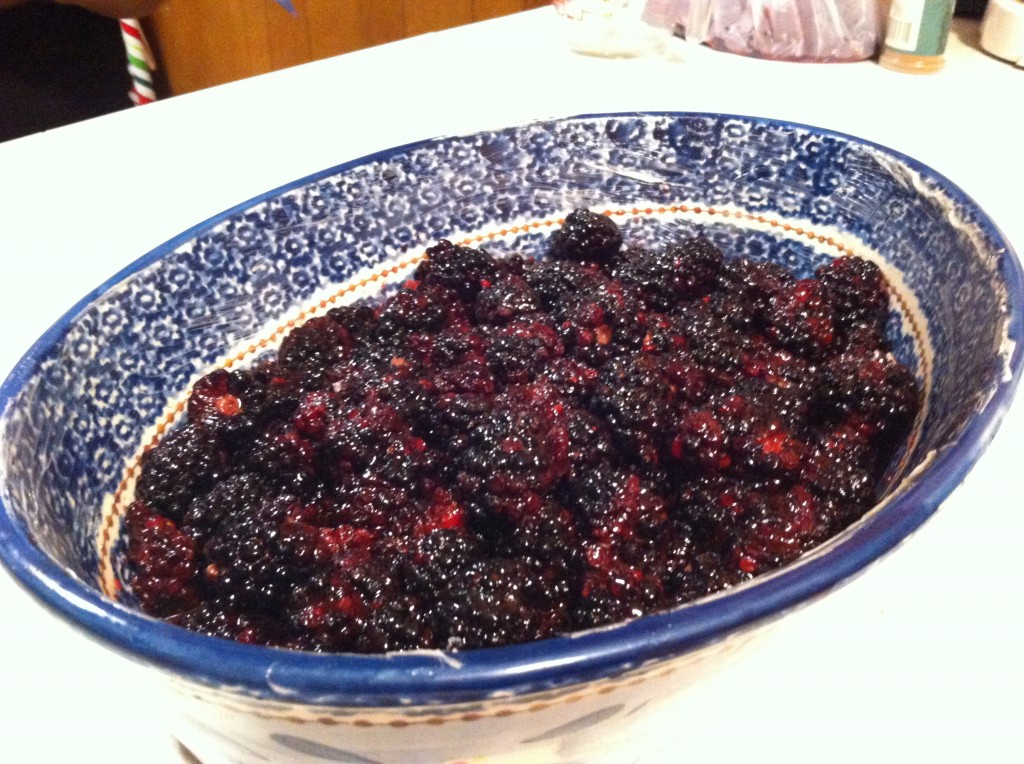 Stir the berries together with the sugar, lemon juice and the vanilla and pour into a prepared baking dish.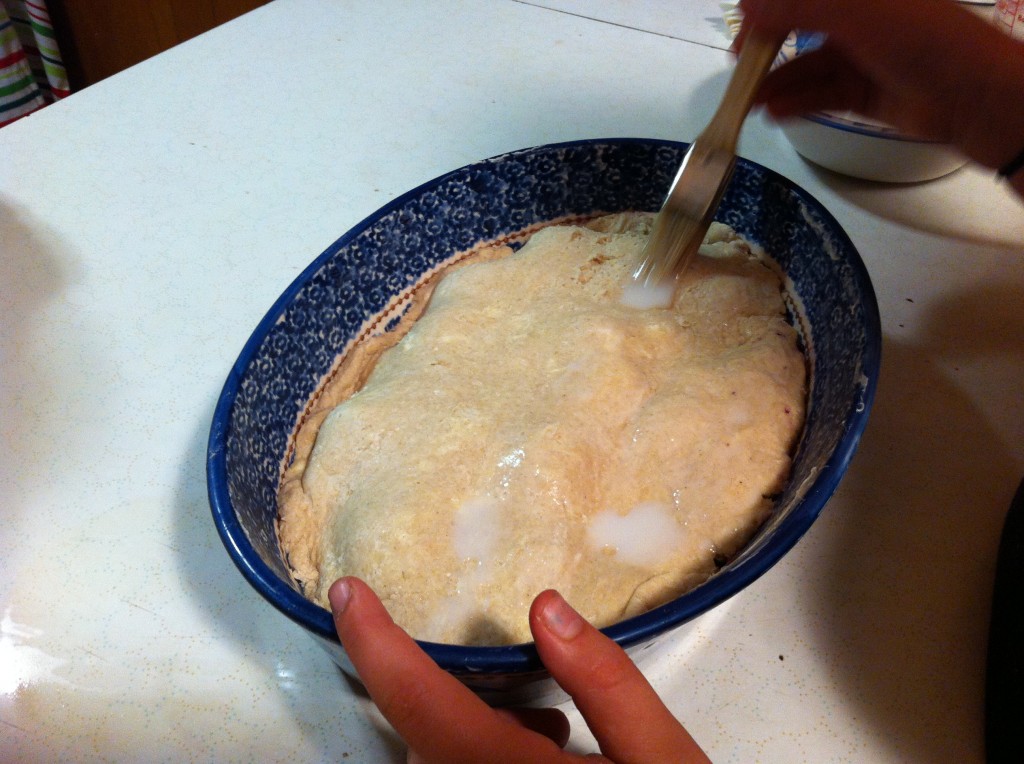 Put the chilled crust on top of the berries (tucking in the crust if it is a bit too big) Brush the top of the crust with cream (grand girl used milk).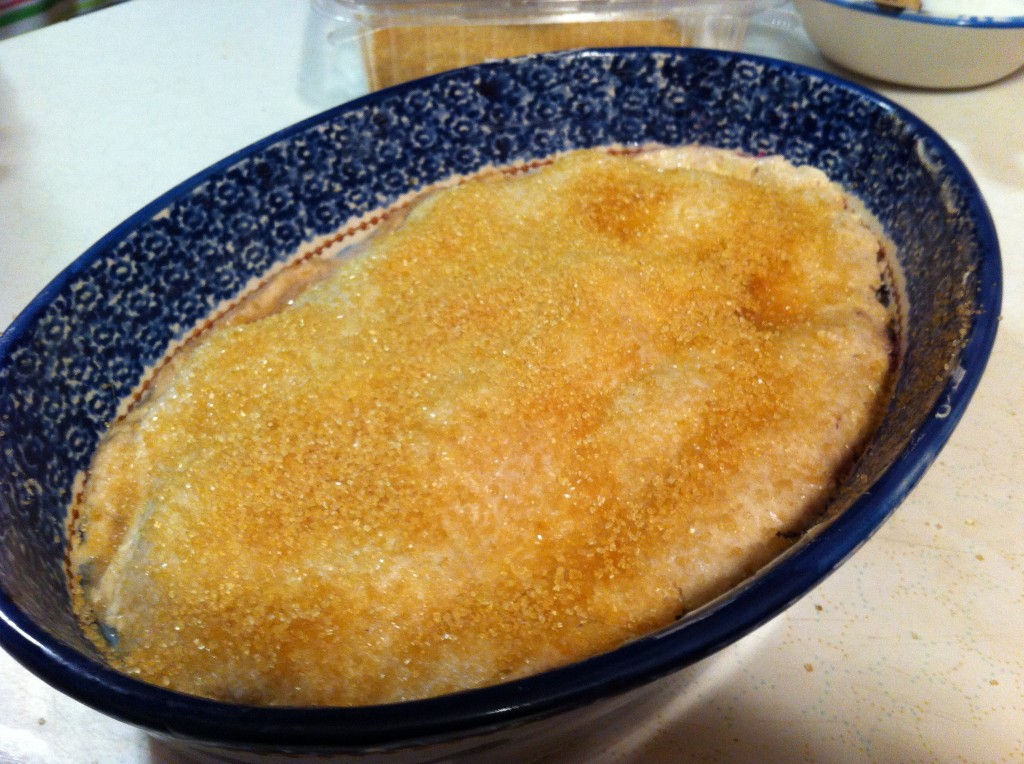 Sprinkle the top with sugar.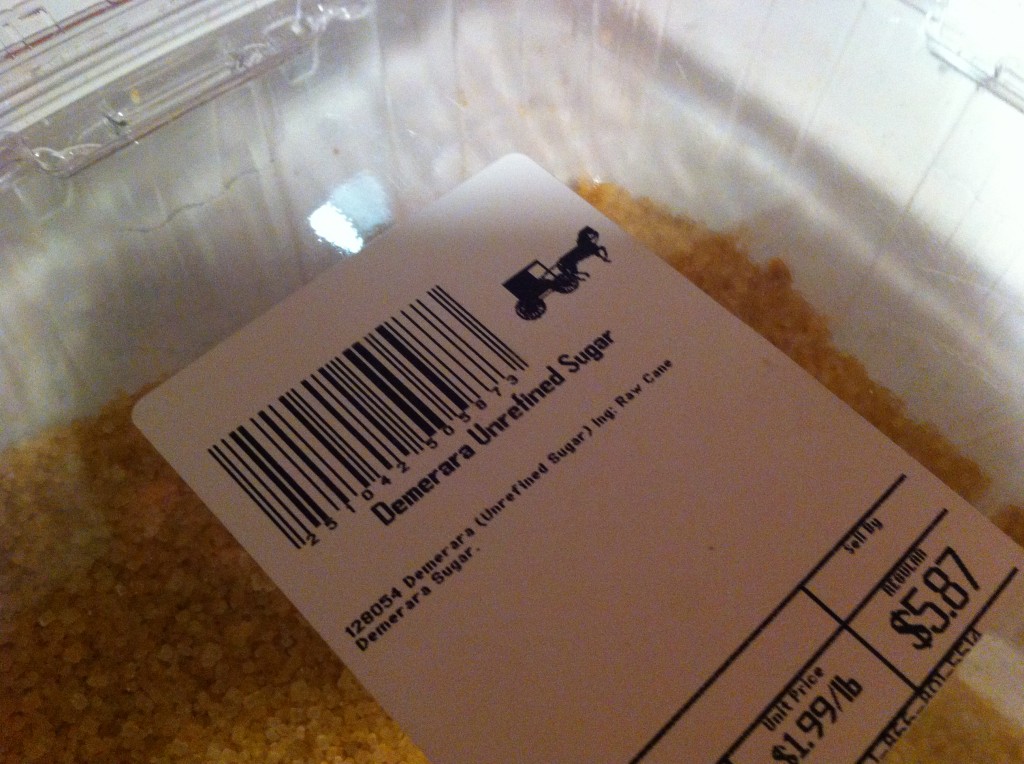 I used this sugar, because it is bigger than regular sugar and has a nice flavor to it. Feel free to use regular or sanding sugar if you want. Put the cobbler in oven and bake until bubble and the crust is brown, about one hour.
While the cobbler was baking, oldest grand girl did magic tricks for us. She even has a levitating box trick.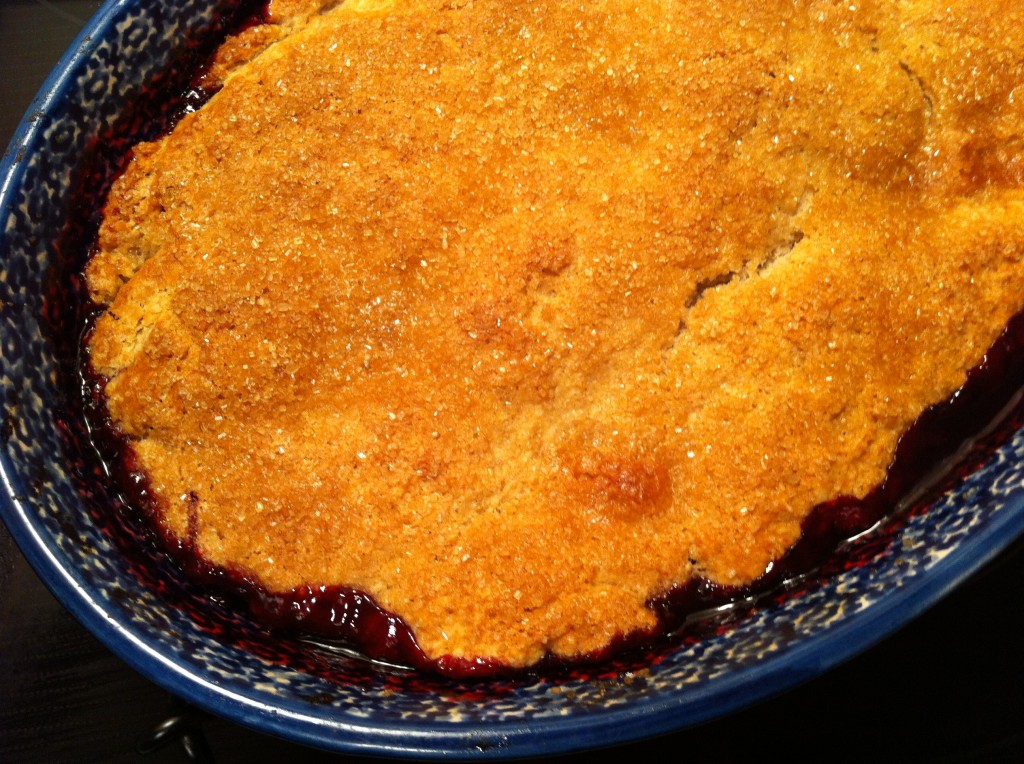 Here is what ours looked like when it came out of the oven. If you need to cook yours longer but are afraid the crust will get too brown, just put a layer of foil on top of the cobbler.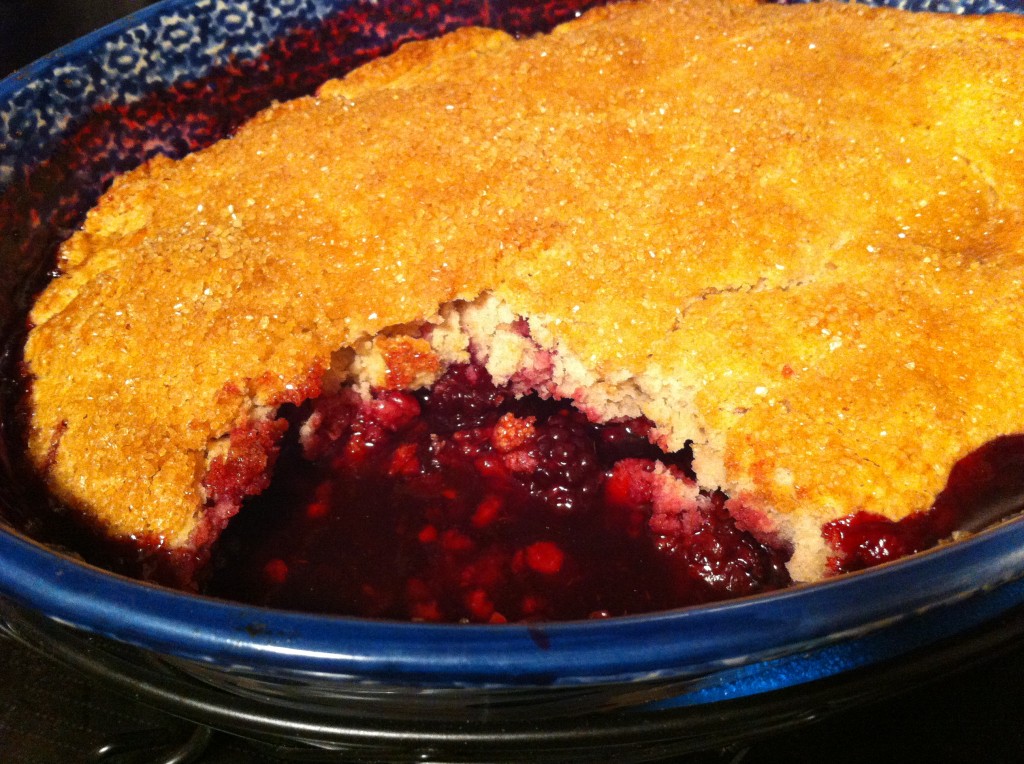 You are suppose to wait for half and hour before eating the cobbler.
Did we wait????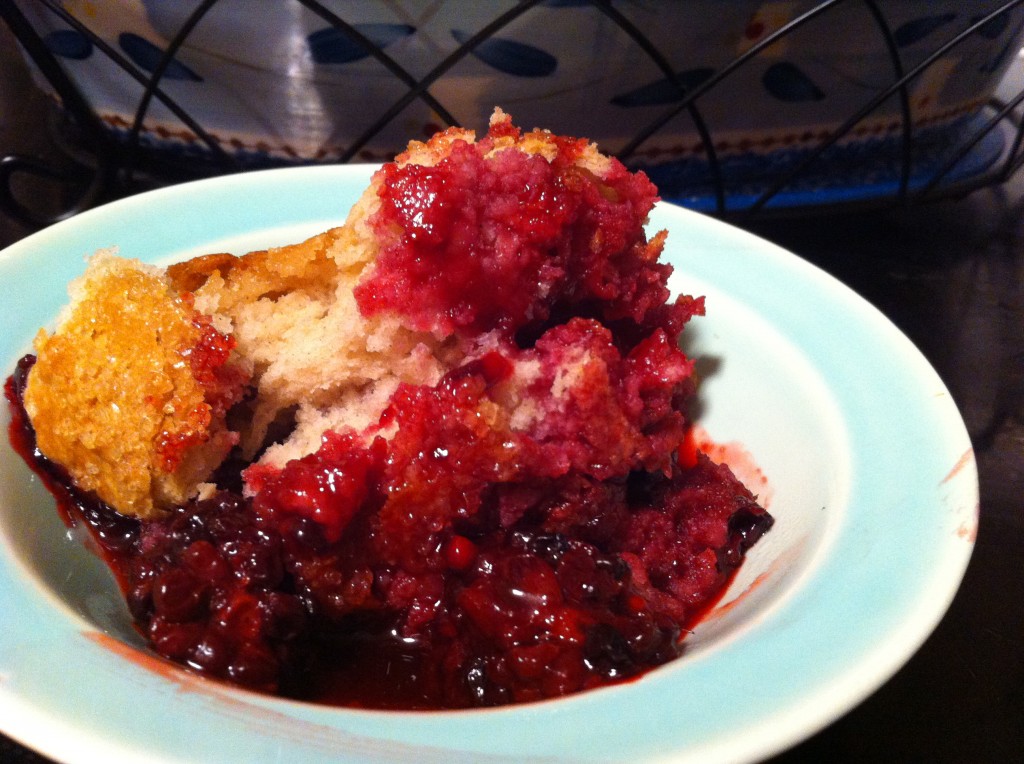 Heck NO!
This is a juicy and tart cobbler. This would be perfect with a scoop of ice cream. Enough juice to swirl over your ice cream and tart enough to go with the sweetness of the ice cream
Did we have ice cream on ours.
Heck NO….cause Company does not like ice cream on his cobbler.
Sometimes, you have to make the Company happy.
Anywho…..if you have time to pick some fresh blackberries or just pick some up at the store, this is a easy and delicious cobbler.
It goes great with Company!
Enjoy!
Becky
Here is the recipe:
Blackberry Cobbler
Adapted from Back in the Day Bakery Cookbook
Ingredients:
2 cups flour
1 tablespoon baking powder
2 tablespoons sugar
1/2 teaspoon salt.
1/4 teaspoon cinnamon
6 tablespoons cubed butter
3/4 cup of heavy cream (I used whole milk cause that was all I had)
Ingredients for the filling:
6 cups fresh blackberries
2/3 cups sugar
1 tablespoon cornstarch
1 tablespoon lemon juice
1 teaspoon vanilla (optional)
Directions:
For the crust:
Whisk together the flour, sugar, baking powder, cinnamon and salt. With a pastry blender, cut in the butter. Gently stir in the butter. Knead together (do not over knead or it will make a tough crust). Roll out crust to desired shape (I put the crust in between two piece of plastic wrap) and place in the refrigerator while you make the filling.
For the filling:
Combined the berries, sugar, cornstarch, lemon juice and vanilla. Pour into a butter coated baking dish.
Place the chilled dough over the filling. Brush cream (I used milk) over the top of the crust and sprinkle with sugar.
Place in a preheated 350 degree oven and bake for about an hour.
Let the cobbler sit for 30 minutes before eating to give time for the crust to absorb some juice and the juice to thicken. (We could not wait…ooops)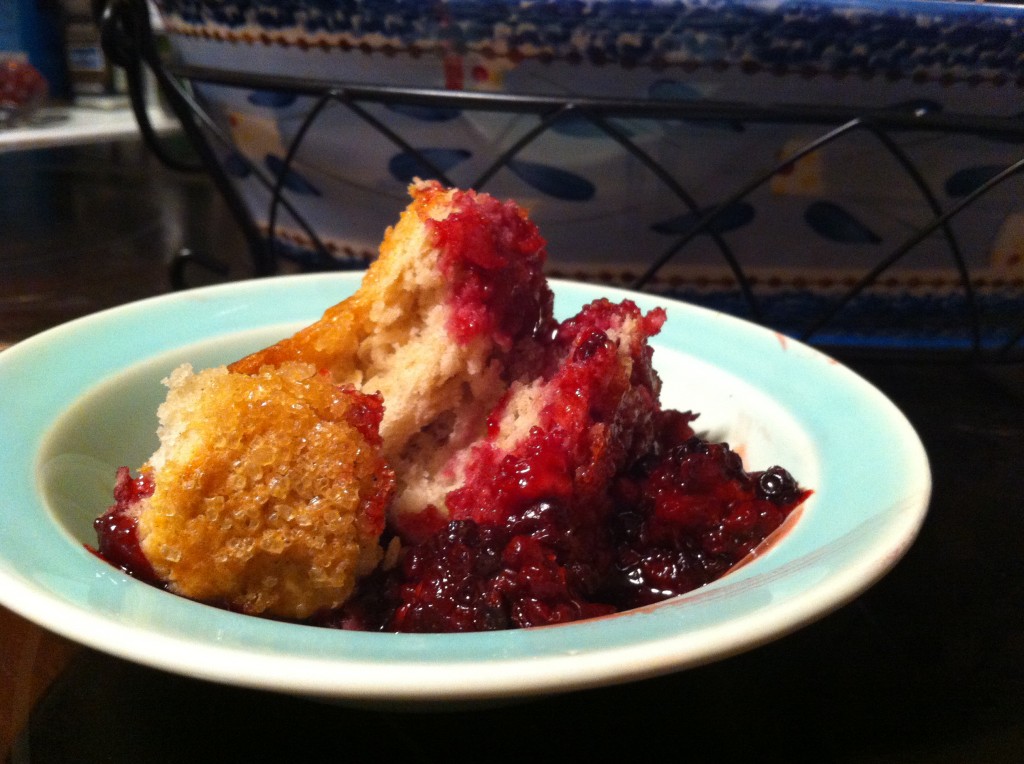 It was great without ice cream too…..Company said so!
Have a great day!
Becky
Recipes you also might like:
Sour Cream Apple Pie                      Three Layer Strawberry Cake                       Poppy Seed Bread