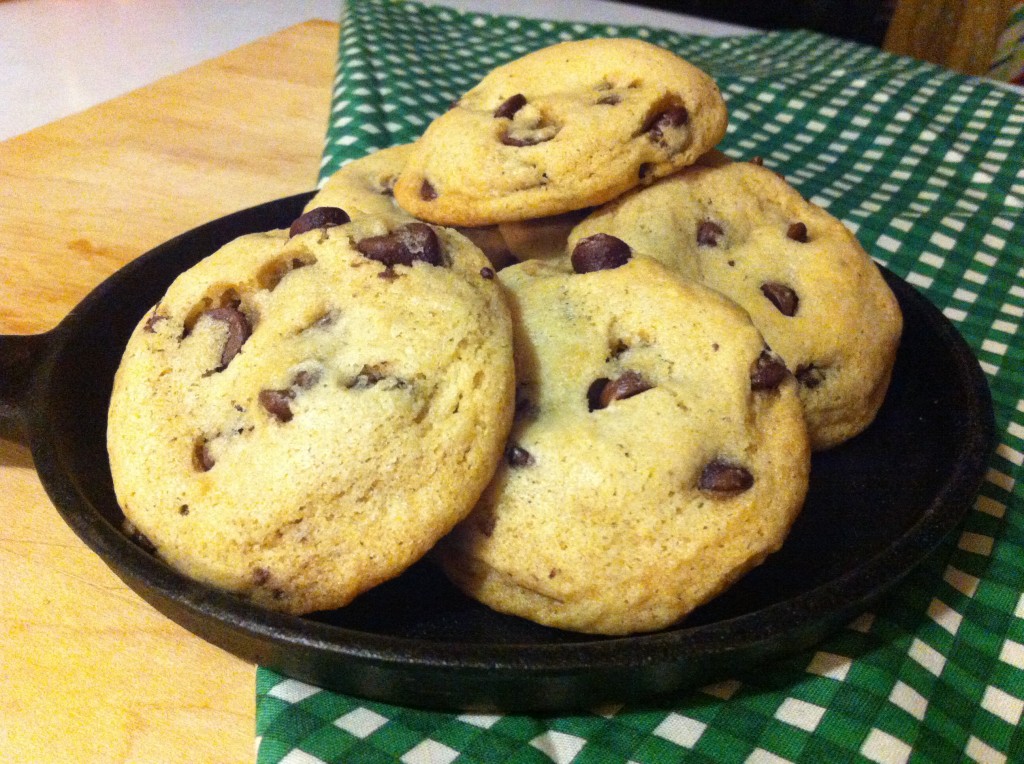 Have you ever felt like you could never make something right?
That no matter what you did, or changed, or tried again, what ever you were making would just not cooperate with you and turn into a total flop.
Well….I hear ya sista!!!
Take the case of the chocolate chip cookies.
When my kiddos at school would try to make chocolate chip cookies, they would end up making a cookie (crisp) pizza, or hockey puck cookies with chocolate chips, or just get a spoon and scoop the cookie dough off the cookie sheet and eat it. Because no matter how long you cooked these cookies they were never going to bake into a resemblance of a firm cookie.
Sounds familiar?
This is called, "The Curse of the Chocolate Chip Cookies."
I have not made chocolate chip cookies at school in my foods lab for years because it was cursed when it came to making chocolate chip cookies.
My kids could make beautiful, buttery and chewy snickerdoodles every time.
But when I spend a small fortune on chocolate chips to go into a cookie it was like pouring liquid chocolate down the drain.
Last year, while I was out with a sub (baby grand girl was in the hospital) my kids at school got to bring stuff in to cook/bake. I called it free cook day. They could bring what ever they wanted from home to cook/bake (within reason and a 44 minute class period) and have at it in the kitchen. My only rules was that they had to clean up and not make chocolate chip cookies. I had one kitchen  of girls that begged to make chocolate chip cookies.
Please, Please,  Please, Please, Please…….
I relented.
I figured I would not be there when the cookie curse monster would wave his wand and ruin their cookies. I would come back in a couple of days and give the hugs and try not tell them I told you so.
Then it happened.
When I came back, the girls left me a note.
"Our cookies turned out great! We think we broke your curse! We hope baby grand girl is feeling better."
Holy Cow….Semi Sweet Chocolate….they did what?
They said they broke the curse.
Two days ago at school, I let all my kiddos at school make chocolate chip cookies. I told them all about the curse and the note the girls left me. I told them because of the braves girls last year we could make chocolate chip cookies.
 Not just any chocolate chip cookie.
 I went with a nontraditional chocolate chip cookie recipe made with corn syrup and without adding an egg.
It is also a award winning recipe from the 1947's.
I kid you not…..every kitchen made perfect chocolate chip cookies.
They are crunchy on the outside, chewy on the inside and you cannot just eat one.
You may need to double the recipe.
The recipe makes around 15 cookies.
I can eat that many (please don't tell anyone.)
Anywho, this is the recipe I promised you I would post today, before I take off and supervise a 9th grade dance.
Get out of your comfort zone and make these super easy chocolate chip cookies.
If you don't the cookie curse monster might find out where you live…
Just kidding.
No curse here, just cookies.
Enjoy!
Becky
Here is your shopping list.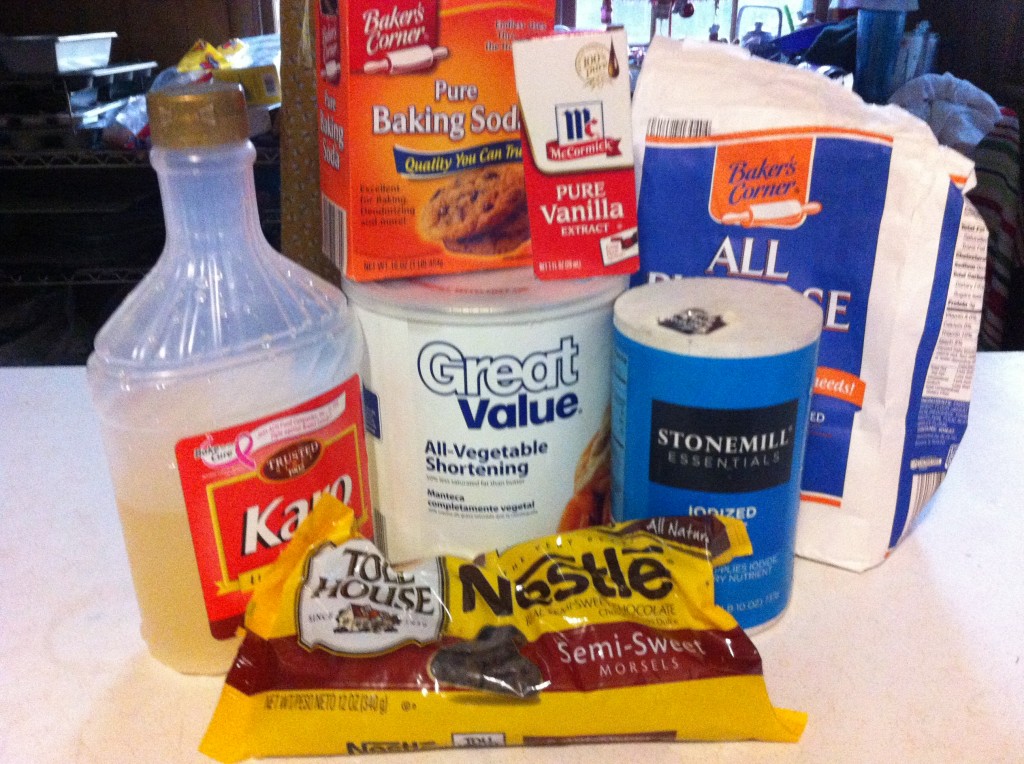 See, no sugar and no eggs. Don't worry, it will be okay!
Measure out the vegetable shortening, put it into a large mixing bowl and mix for 30 seconds to smooth it out.
Pour in the corn syrup and the vanilla into the mixing bowl with the shortening. Add the baking soda.
Add the salt. Combine all the ingredients with the mixer. Stopping occasionally to scrap the bowl.
Add the flour. With the mixer mix in the flour. Add the chocolate chips and if you are adding nuts and mix together.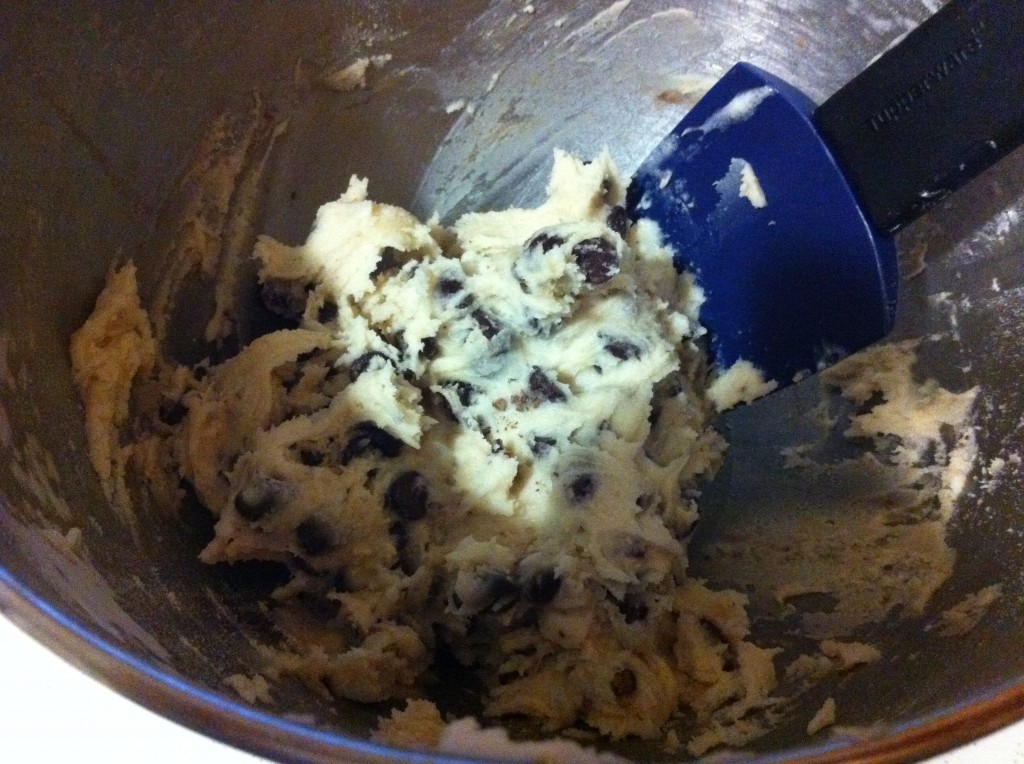 You get this beautiful cookie dough. It is a little pale because there is not any brown sugar in this recipe.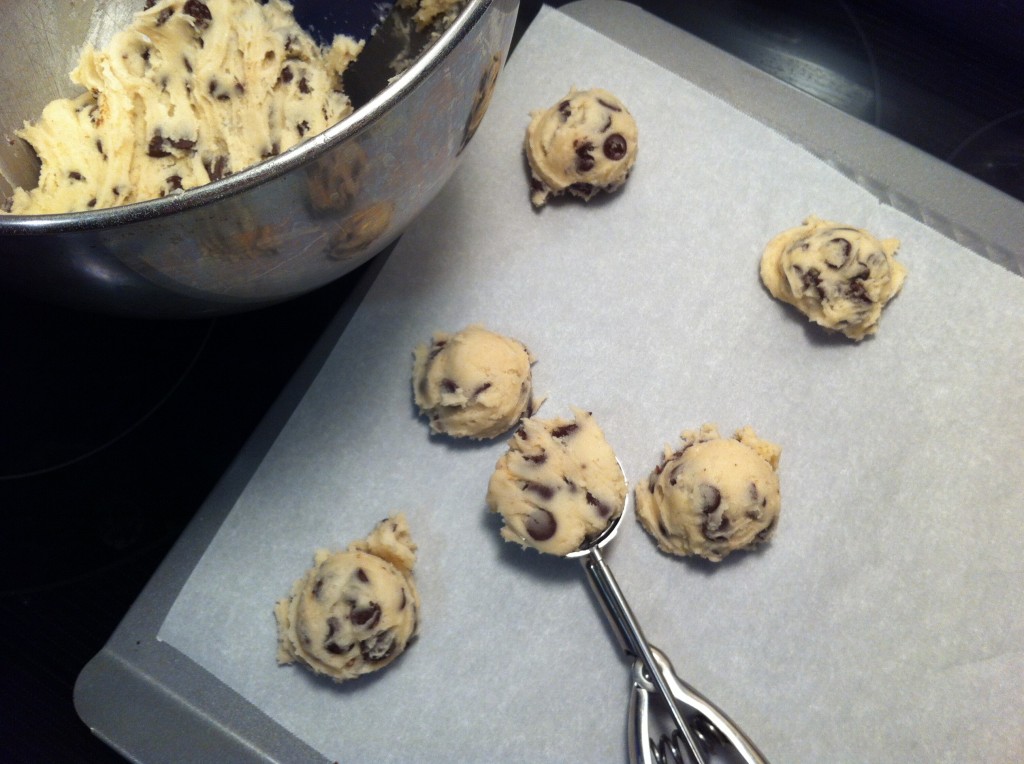 Using a medium size cookie scoop, scoop out 9 cookies and put them on a parchment covered cookie sheet. (I always use parchment paper just because…I don't know…just because) : )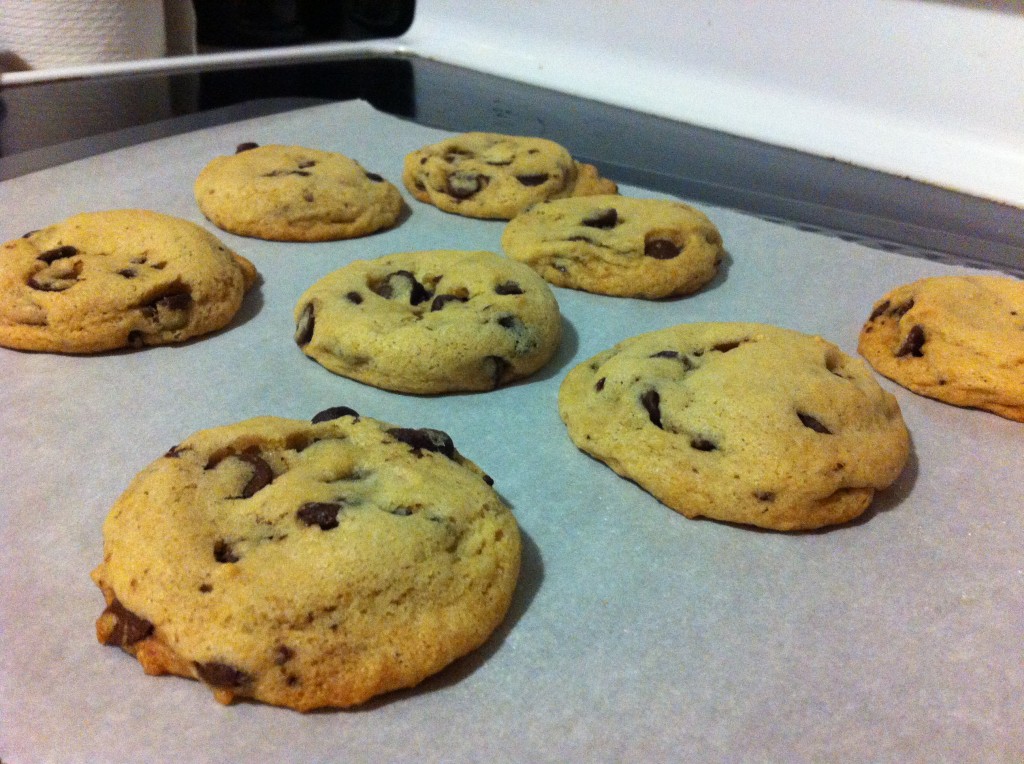 Bake for 12 ot 15 minutes at 350 degrees or until the edges start to get brown. Let the cookies cool on the cookie sheet for 2 to 3 minutes.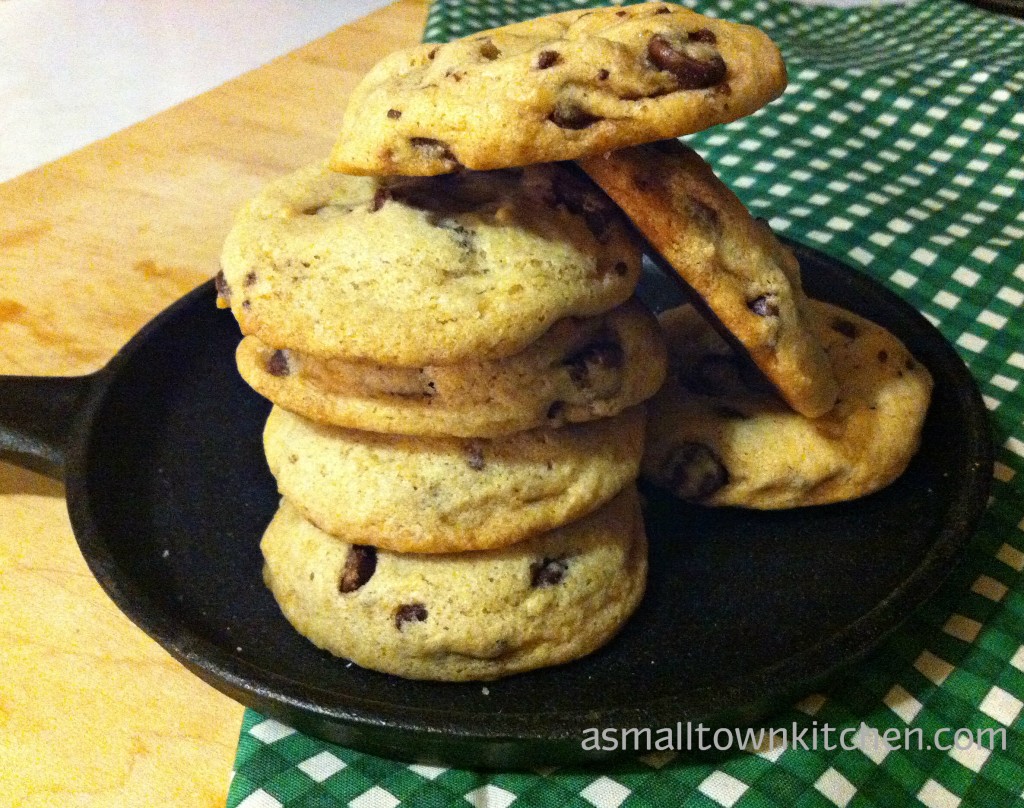 These were so good, oldest grand girl had to pack her a school lunch so she could take a cookie to school.
Here is the recipe
Chocolate Chippers
Adapted from Better Homes and Garden
Ingredients:
1/2 cup shortening
3/4 cup light color corn syrup
1/2 teaspoon vanilla
1/2 teaspoon baking soda
1/2 teaspoon salt
1 and 1/4 cup flour
1 cup chocolate chips (I used semi sweet)
1/2 cup nuts (optional)
Directions:
Preheat oven to 350 degrees.
In a large mixing bowl mix the vegetable shortening to soften it.
Add the corn syrup, vanilla, salt and baking soda.
Mix to combine.
Add the flour and mix to combine.
Add the chocolate chips and nuts. Combine.
Drop by rounded teaspoons onto a greased cookie sheet. bake for 12 to 14 minutes or until edges are light brown.
 Cool on cookie sheet for 2 to 3 minutes and then transfer to a cooling rack.
Makes 13 to 16 cookies depending on the size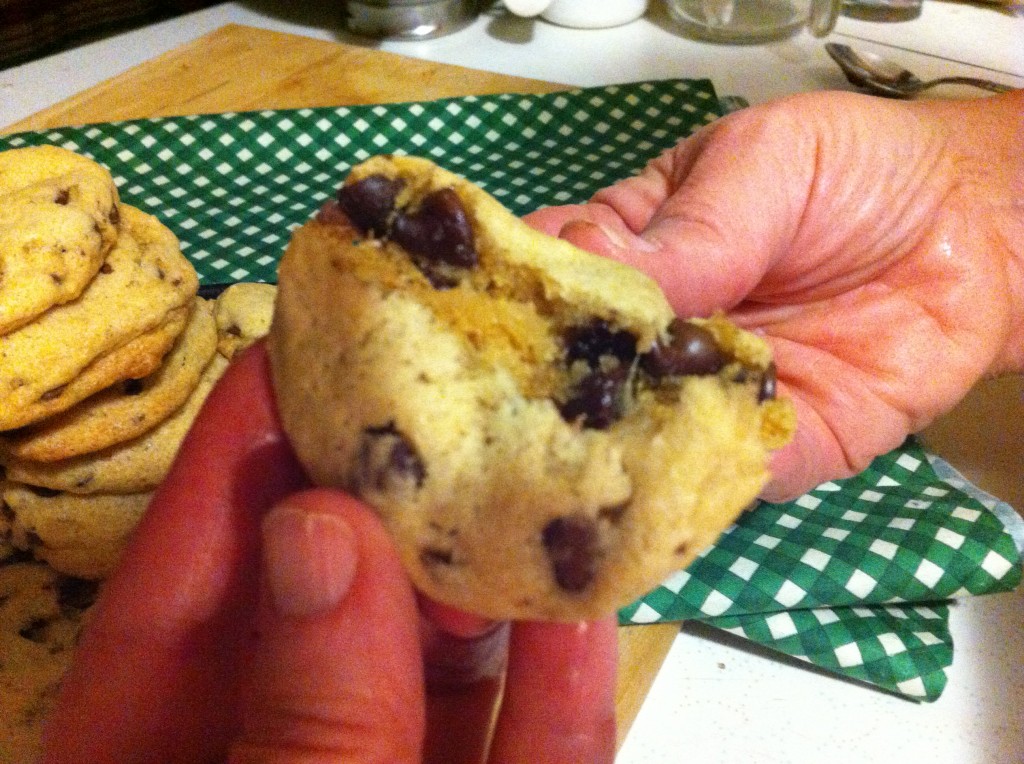 Don't you want a bite.
Let me know how you like this recipe.
Enjoy!!!