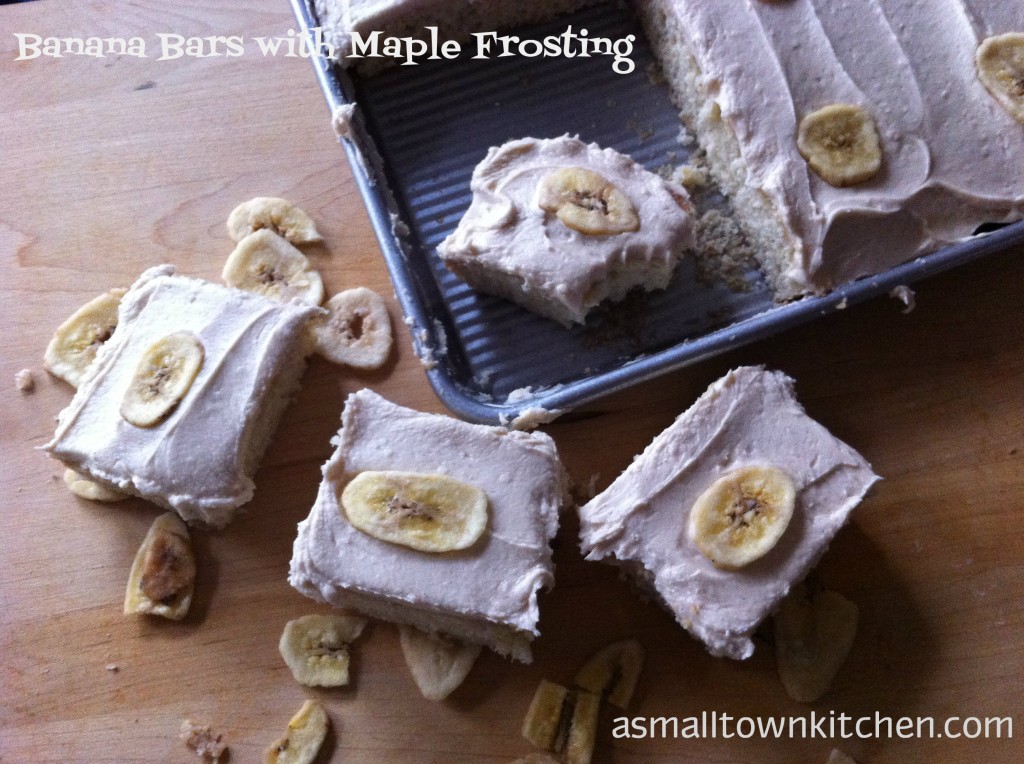 We love to eat bananas at our house.
I bet you do too.
But sometimes you can't eat them all before they start turning a little brown. Right?
What may not be so great for snacking, a over ripe banana is great for cooking.
I wanted to make some kind of goodie goodness for my baby college girl when she came home for her birthday, while making enough to make into a couple of little goodie boxes for a couple of wonderful ladies at school. These two ladies  helped so much with furneral of our custodian at school when he passed away. You can read my little dedication to him here.
When I saw how many bananas I had that I needed to make into something, I started thinking of different ways to use them up instead of making the traditional banana bread.
Remember those Chocolate Shortbread Blondies with Macaroons that I made a couple of weeks ago? Well anywho, in that same magazine there was this recipe for banana bars.
MMMMM…..that sounds good.
I looked the recipe over and decided to change it up a bit and came up with a Banana Bar with Maple Frosting. This recipe will drive your taste buds bananas with it's smack your lips maple icing and the perfectly moist banana bar it sits on.
You can make these up in a jiffy. They cut into perfect bars which makes them great for gifts boxes or to take to that potluck supper when you don't know what to make.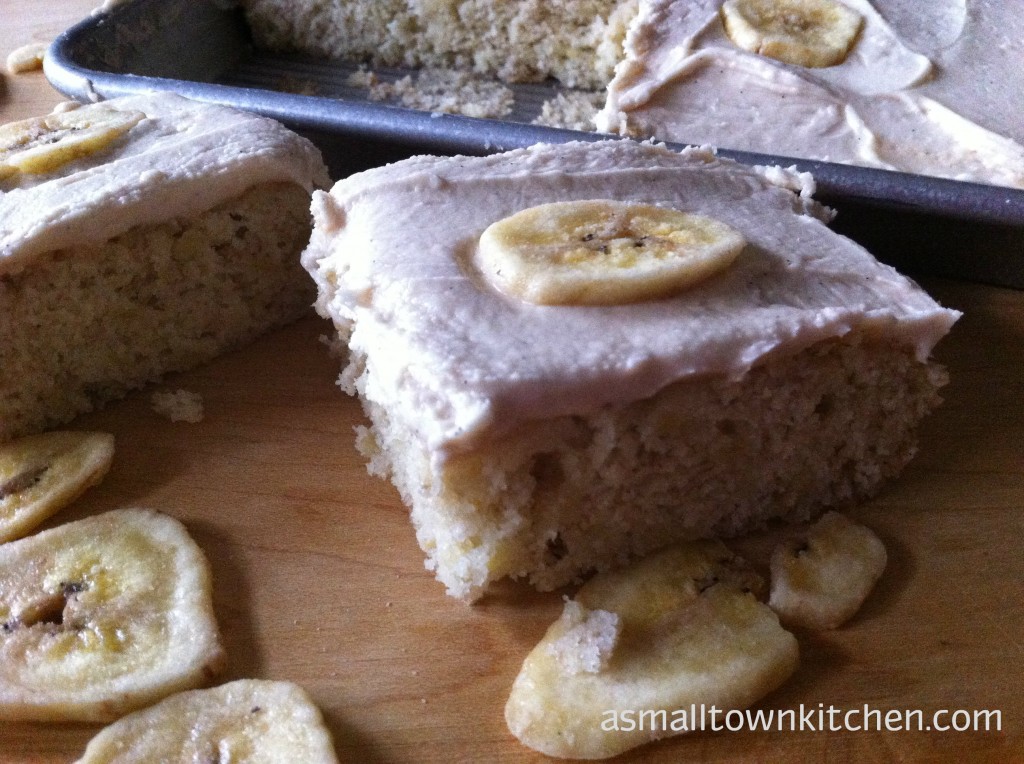 Here are your step by step instructions.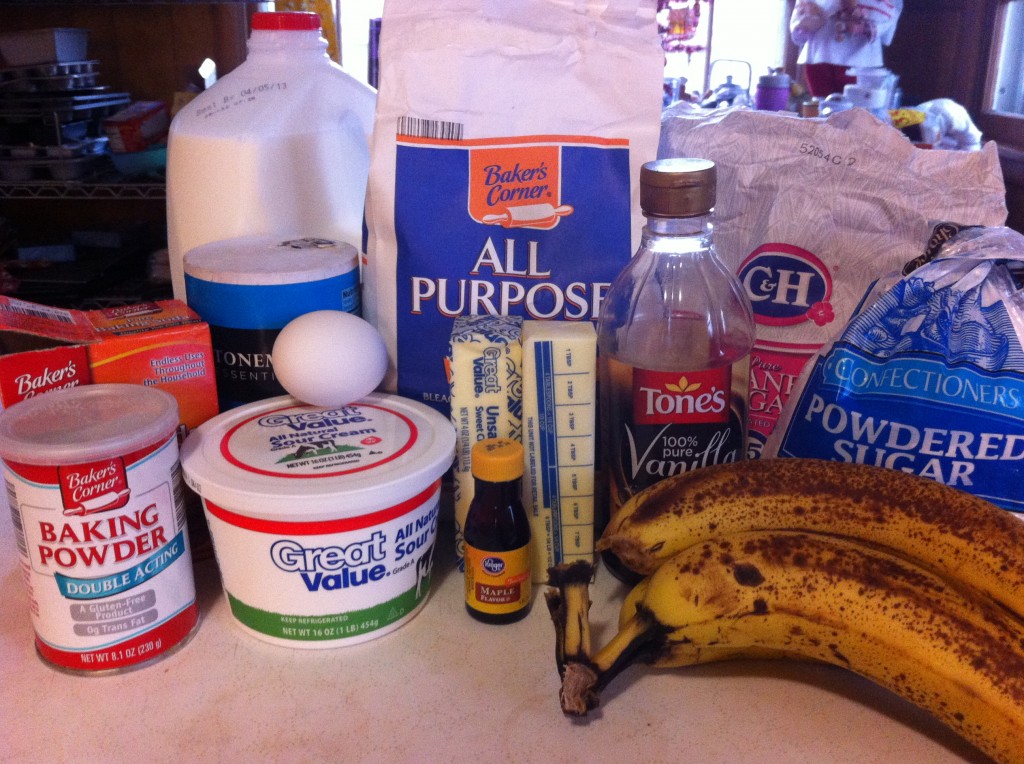 This is all you need to make these bananalicious bars.
Put the stick of butter into a mixer bowl and cream.
Add the sugar and the baking powder.
Add the baking soda. Cream together the butter, sugar, baking powder and baking soda.
Add the smashed bananas and the eggs That is grand girl putting in the eggs. She loves to crack the eggs.
Add the sour cream and the vanilla. I forgot to add the salt earlier so I had to add it now. OOPS….nobody is perfect : D   Cream all the wet ingredients together.
Add the flour and mix with the wet ingredients until just mixed together.
Now it is time to get your pan ready.
I bought a new pan for these bars….but you do not have too.  I found this cute pan at Bed Bath and Beyond for a try me price of $9.99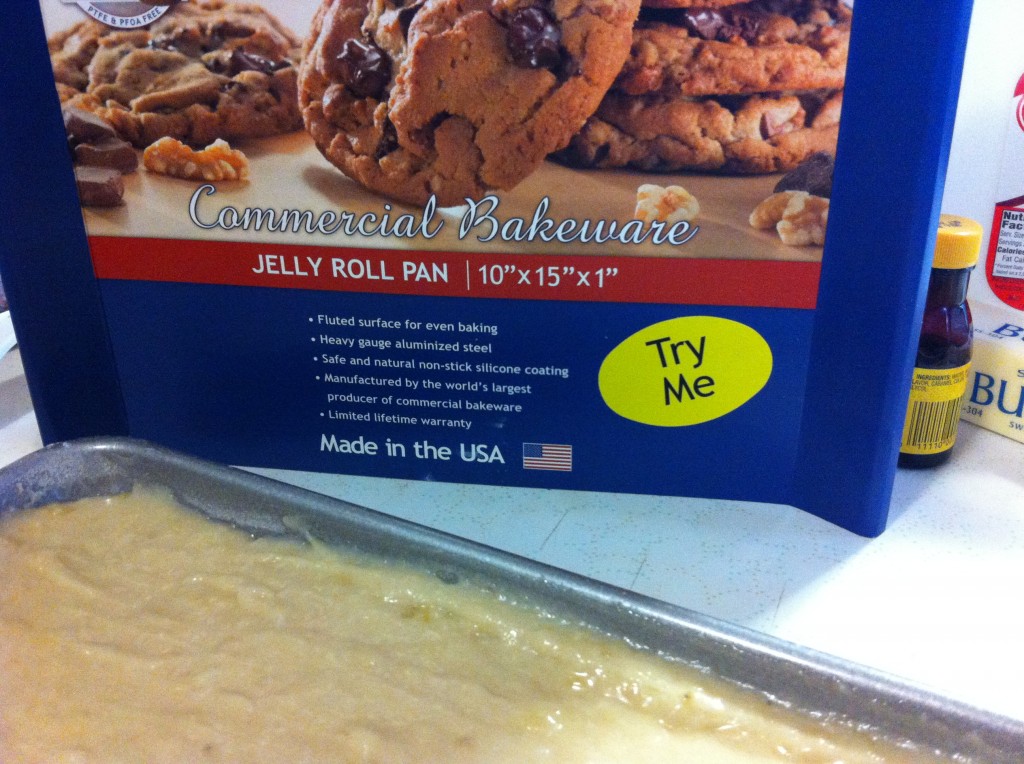 I was really looking for a new jelly roll pan and found this smaller pan and I thought I would try it out. It worked great!!
One thing that good pans mention is that even though they can go into the dishwasher they recommend that you wash them by hand so you do not get a residue on them. They also recommend that you do not use cooking spray but instead grease your pan the traditional way but using butter or Crisco and put a thin layer on the pan. The you coat the pan with a thin layer of flour.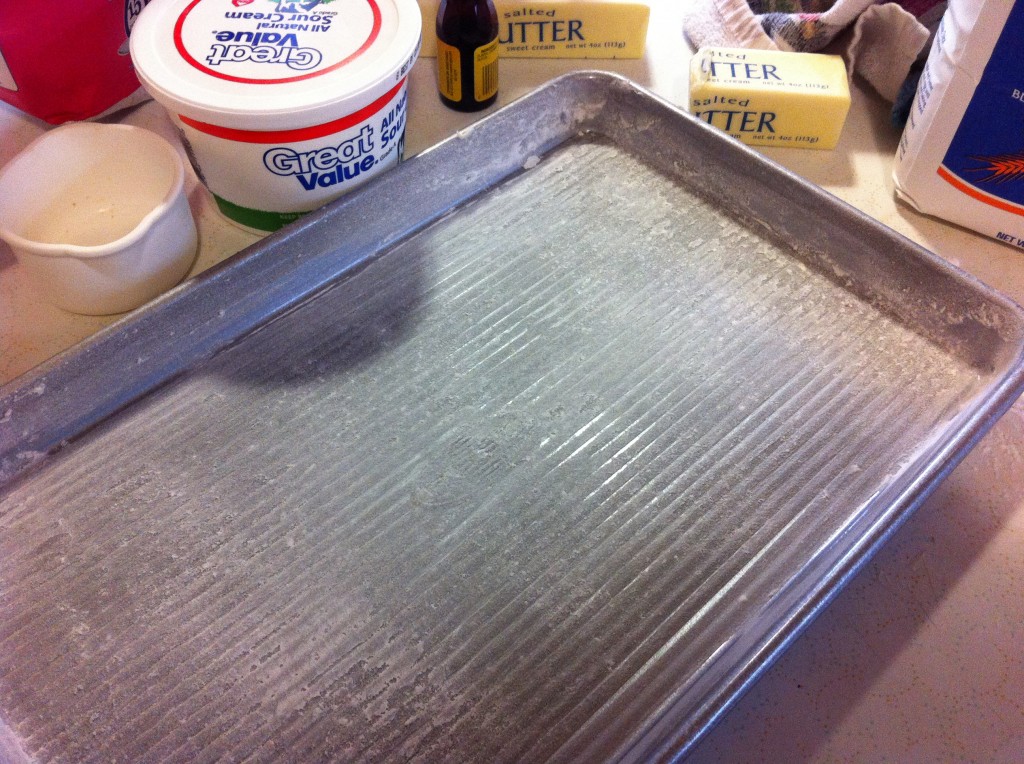 This is how great cooks have been doing it for years….so why use cooking spray that can gum up on  your pan?
Pour batter into pan and bake at 350 degrees until a toothpick comes out clean.
While it cools, it is time to make the yummy maple frosting.
Put the soften butter into a mixer bowl and cream until smooth.
Add 3 cups of powdered sugar and beat in.
Add in maple flavoring and vanilla.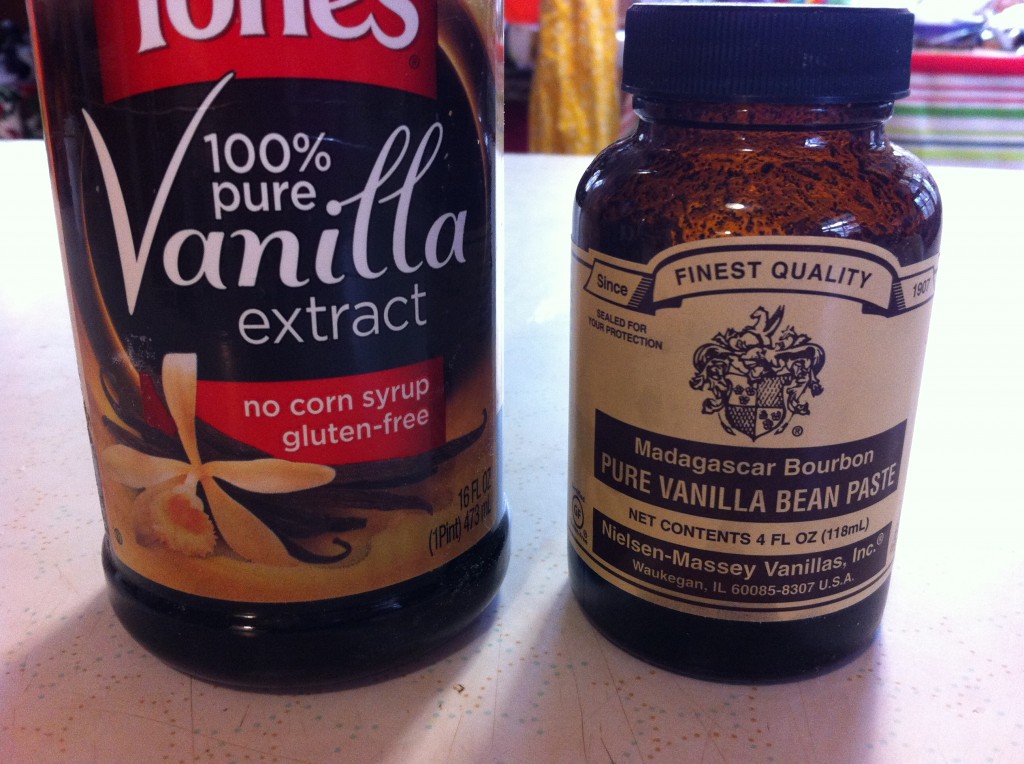 I love using real vanilla. The only thing I love more is using pure vanilla bean paste. I love this stuff and will often use it in icing when I want a more intense flavor. And, of course I love those little specks of vanilla beans you get to see. You can use either one and this icing will turn out just fine.
Add another 3 cups of powdered sugar and enough milk to make reach a spreading consistency.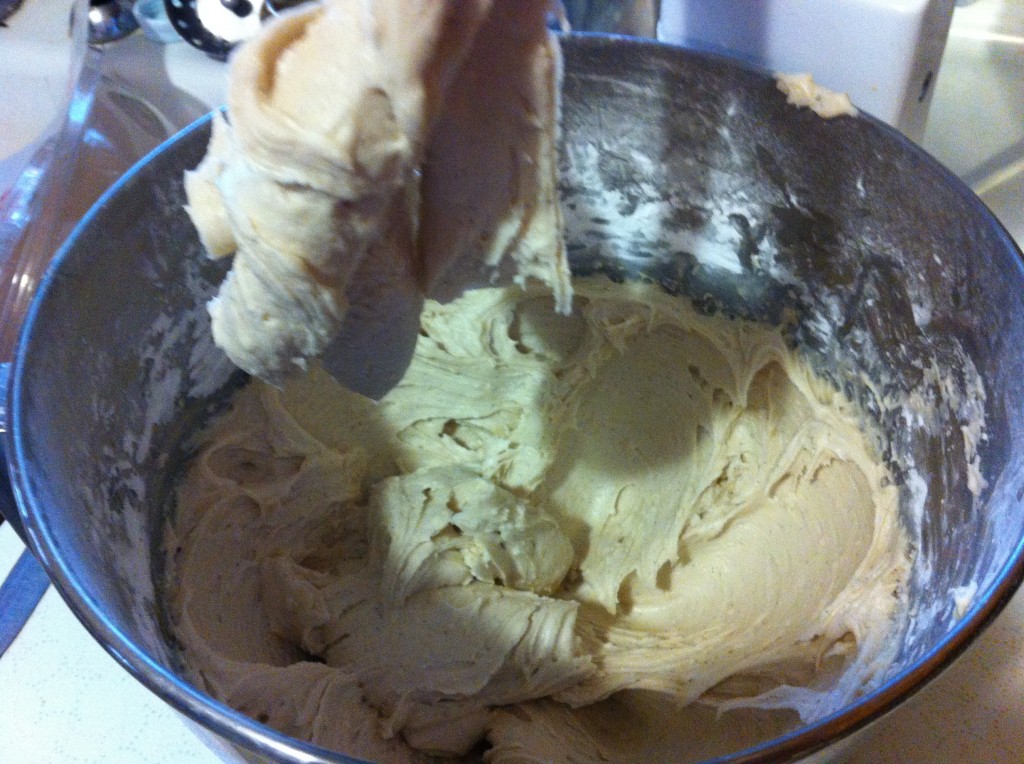 This looks perfect. It taste perfect too.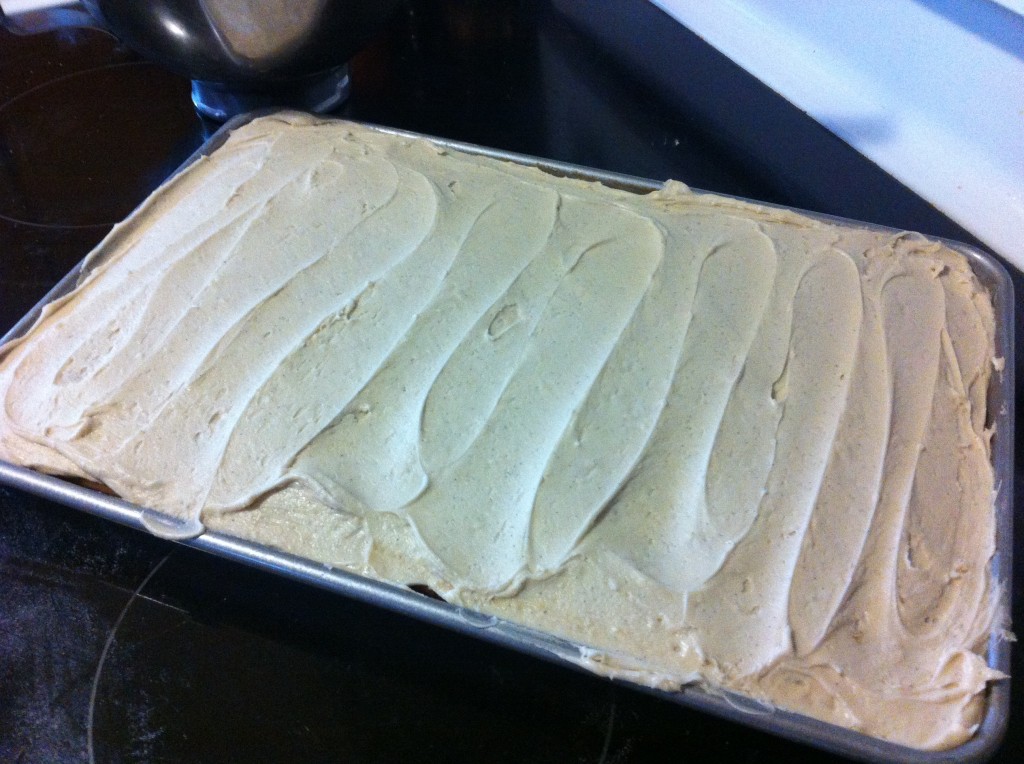 Spread frosting over the cooled bars.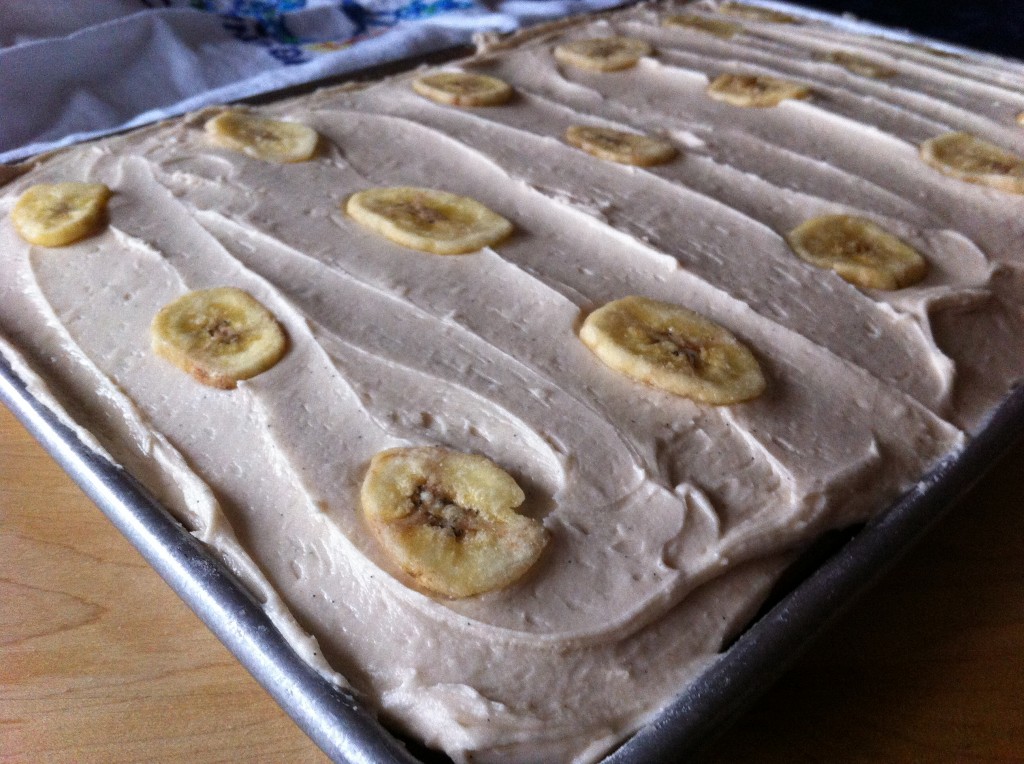 Decorate with dried banana chips.
See how easy they are to make? Your family will go bananas over this recipe.
I hope you do too!
Enjoy,
Becky
Here is your recipe:
Banana Bas with Maple Frosting
Adapted from Better Homes and Garden
Ingredients for Banana Bars:
1/2 cup of butter, softened
1 and 1/3 cups of sugar
1 and 1/2 teaspoons baking powder
1/2 teaspoon baking soda
1/4 teaspoon salt
1 egg
1 and 1/3 cup mashed bananas (about 3 medium bananas)
1/2 cup sour cream
1 teaspoon vanilla
2 cups of all purpose flour
Ingredients for Maple Frosting:
1/3 cup of softened butter
6 cups of posdered sugar
2 teaspoons vanilla
1/2 te aspoon maple flavoring
enough milk to make the frosting reach a spreading consisitency
Banana Chips are optional
Directions:
Preheat your oven to 350 degrees. Grease a 15 x 10 x 1 inch baking pan.
In a large mixing bowl beat butter with an electric mixer. Add the sugar, baking powder, baking soda and salt. Beat until ingredients are combined. Add the egg, mashed bananas, sour cream and vanilla until all the ingredients are mixed together. Mix in the flour until it is mixed in without over mixing it.
Pour batter into prepared pan. Spread evenly. Bake for about 25 minutes or until a toothpick comes out clean.
Cool.
While the bars cool, make the frosting.
In a mixing bowl beat butter until smooth. Add 3 cups of powdered sugar, beating well. Beat in vanilla and maple flavoring. Gradually beat in the remaining 3 cups of powdered sugar. Add enough milk to have the frosting reach a spreading consistency.
Spread frosting on cooled bars. Decorate with banana chips if your desire.