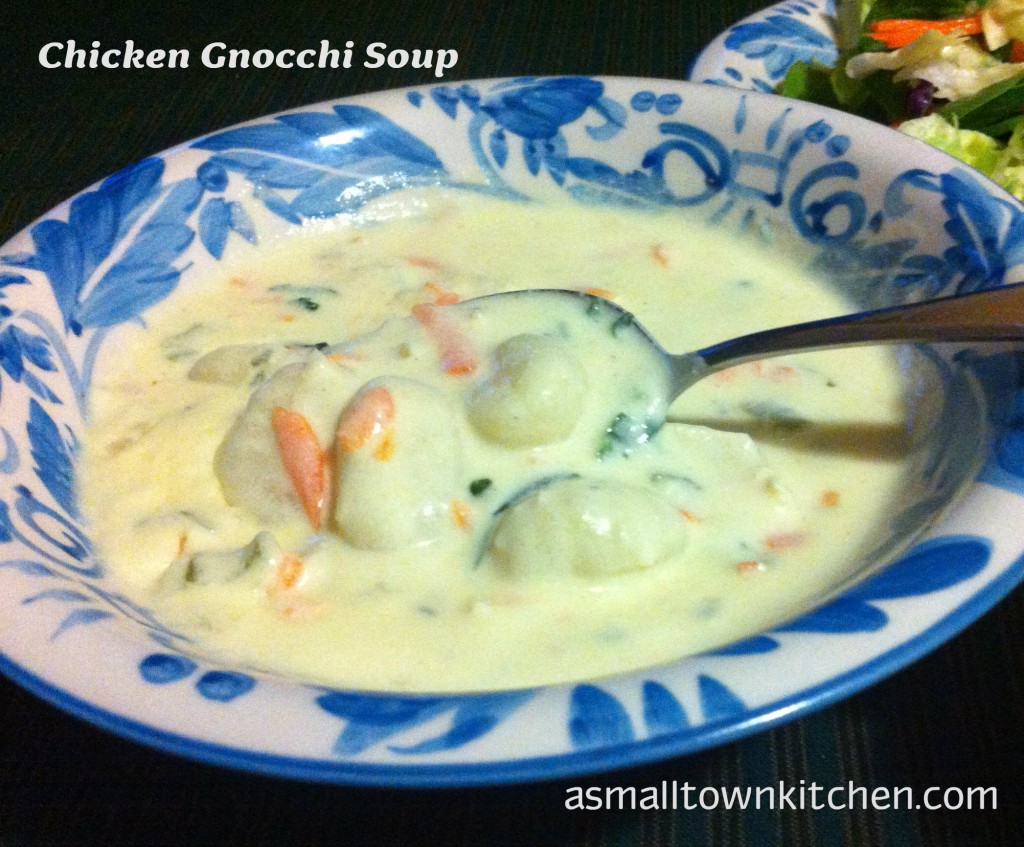 Last week we had a meeting for school at the board office. We were lucky enough to get lunch catered in. It is always such a treat to get real take out food when you are working at school. I hardly ever eat school lunch and frozen dinners and sandwiches get kinda old. So when I seen they had catered in Olive Garden for lunch, I wanted to run up the stairs in the front of the building and do the Rocky cheer!.
Don't worry I didn't.
I did something better.
I  managed to get first in line….almost.
There was a few other teachers that were as excited as I was and beat me to it.
But, not before I got a big steaming bowl of Olive Garden Chicken Gnocchi Soup.
I carefully carried my almost too full bowl back to my seat and I did not come up for air until I had eaten the whole bowl. Good thing I got it when I did because they ran out.
See, everyone loves Chicken Gnocchi soup.
What is not to love about it? It has chicken, potato gnocchi, half and half, onions, garlic, chicken broth and even some spinach.
I have been dreaming about this soup ever since and decided I would try to make it at home. What else can I do when there is 10 inches of snow outside. I could clean house, YIKES, but decided to look on the internet and compared some recipes.
I finally came up with one.
It is thick and rich and makes into a  spoonfuls of goodness.
I know you can make it too!
Now, that I can make my own soup, I will need another excuse to go to Olive garden.
Here is the step by step instructions: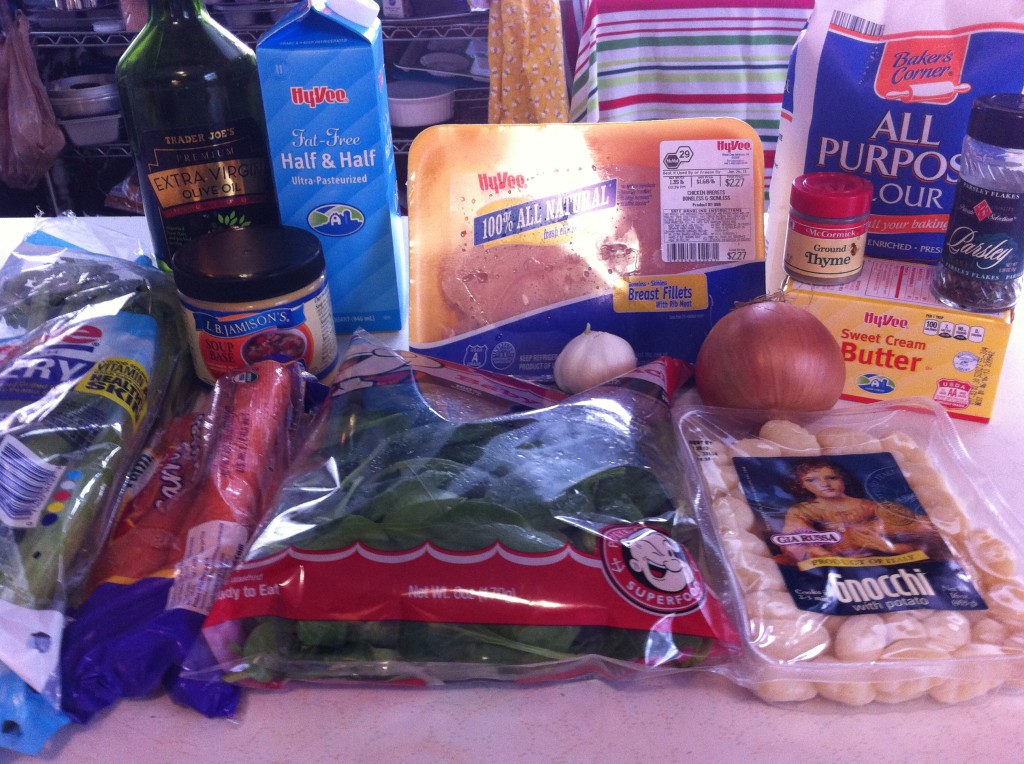 Here is what you will need. Notice how I bought fat free half and half. It was a hard decision at the grocery store until I compared the calories. Don't worry you will not even taste that it is fat free!
I started with the chicken.
The first thing you need to do is come up with some cooked chicken. You could use canned chicken, or even left over rotisserie chicken. I had some boneless skinless chicken breast in the freezer and just seasoned and baked them in the oven. You will need two large chicken breast for this recipe, or 2 cups cooked chicken. After you have you chicken, dice it up in small bite size pieces.
While the chicken is baking in the oven, you can start diceing and chopping up all the vegetables.
Chop up one small onion and mince 4 garlic cloves.
Chop up 1 cup of celery and get carrots ready to grate by peeling them first.
Grate 1 cup of carrots and chop 1 cup of spinach.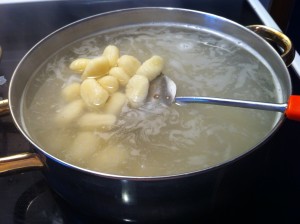 Cook the gnocchi by following the directions on the package. My package said to add the package of gnocchi to salted boiling water and boil for 2 to 3 minutes. Very Easy!  I love Easy!
Now lets start the soup. You are getting hungry right?
In a large sauce pan, add the oil and butter. Melt together over medium heat.
Add the onions, garlic and celery and saute until the onions are tender. Add the flour and stir to start making a roux.
Stir the flour into the sauteed vegetables and cook for at least one minute. You want to cook the raw taste of the flour out. Now the fun starts. Slowly add the half and half in small amounts at a time and stir. Keep stirring until you add all the half and half.
Add the grated carrots and the diced chicken. Simmer until the soup starts to thicken.
Pour in your chicken stock. I used water with soup base added (1 cup of water to 1 teaspoon of soup base). Next add in your cooked gnocchi.
 Add the chopped spinach and stir in. Add the thyme and parsley. Simmer, until all the ingredients are heated through. Salt to taste.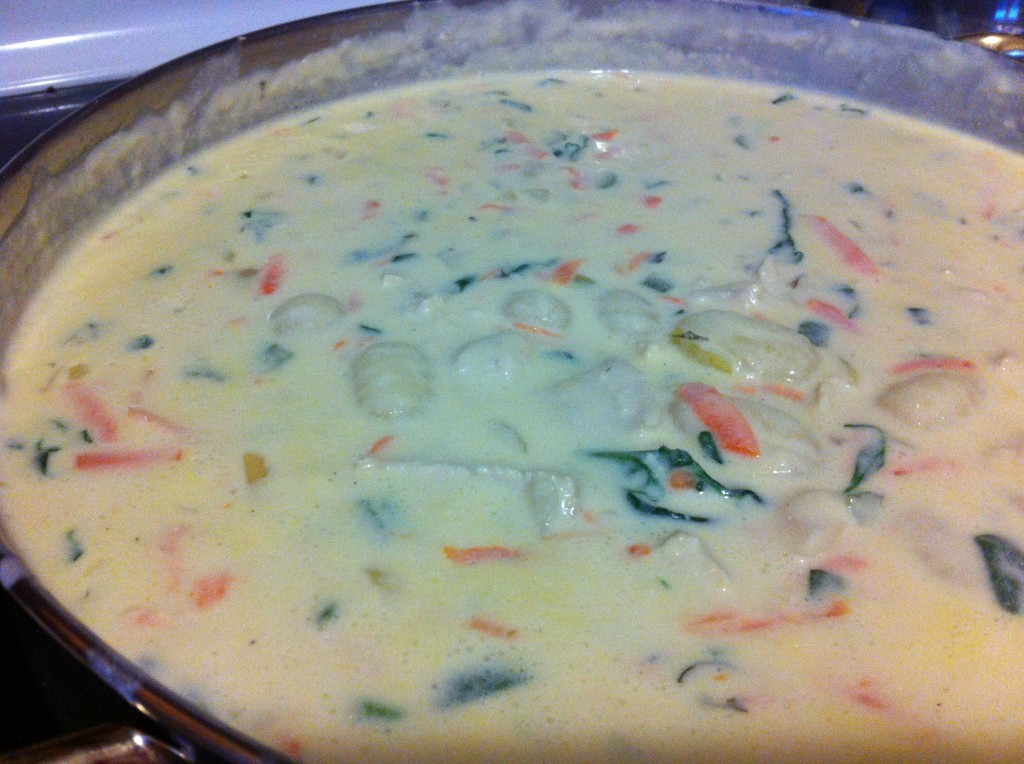 Calling all spoons!
This soup is ready!
Enjoy!
Becky
Here is the recipe:
Chicken Gnocchi Soup
Ingredients:
2 cups of cooked and dice chicken or 2 large cooked chicken breast, cooked and diced
1-16 ounce package of potato gnocchi (usually found in the pasta aisle)
3 cups of chicken stock (I used soup base with a ratio of 1 cup of water to 1 teaspoon chicken soup base) Also, if you like you soup a little less thick add another cup of stock.
1 quart fat free half and half (if you want to buy regular half and half, that is fine)
4 tablespoons of butter
2 tablespoons of olive oil
1 onion, diced
4 garlic cloves, minced
1 cup celery, diced
1/3 cup of flour
1 cup carrots, grated
1 cup fresh spinach, chopped
Thyme and Parsley, 1/2 to 3/4 teaspoon of each 
Salt to taste
Directions:
In a large sauce pan, saute the onions, garlic and celery in the melted butter and olive oil. Saute until the onions are tender.
Add the flour to start making a roux. Cook the flour with the sauteed vegetables for at least one minute. This will ensure that the raw flour taste will be gone. Slowly pour in the half and half while stirring. The mixture will start to thicken.
Add the carrots and the chicken. Simmer for a few minutes while the soup continues to thicken.
Add in the chicken stock and stir.
Add the cooked gnocchi and the spinach.
Add the thyme and parsley.
Salt to taste.