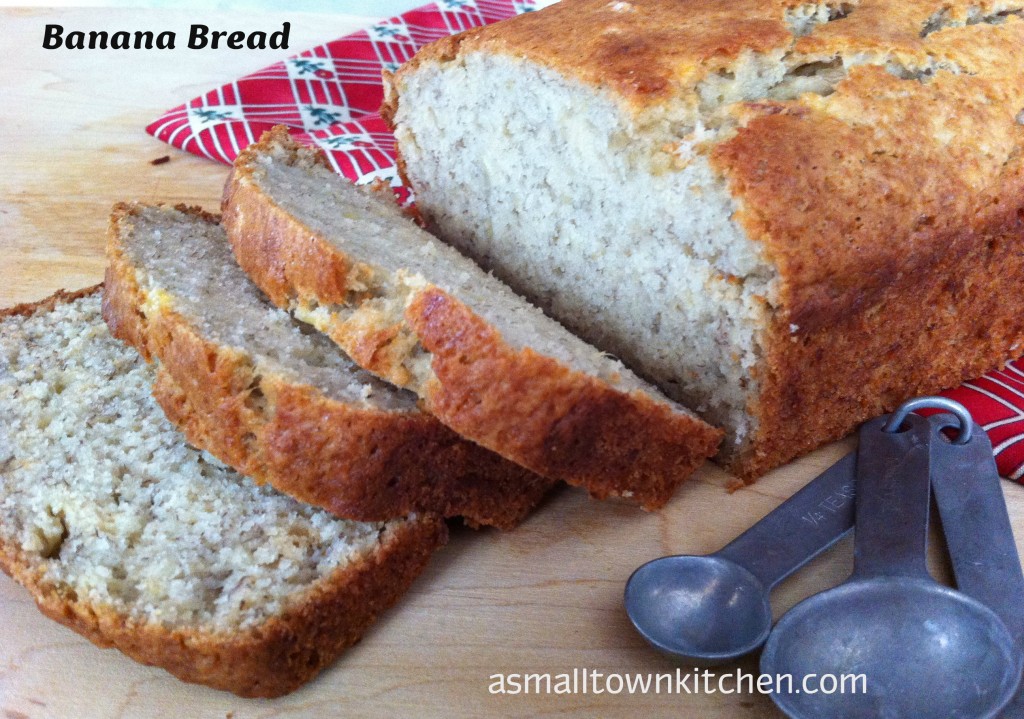 Well, the weather outside is frightful….but the fire is so delightful….now that I have banana bread…let it snow, let it snow, let it snow!
Today was a major snow day here in central Missouri.
A major snow day means that I have the day off…..wooohooo, school is not in session!
I have a surprise to tell you too…..school is not in session tomorrow either. Hot digigity dog!!!
There is good and bad about having a snow day. The good is that I can stay home, watch it snow,  make banana bread and eat banana bread. The bad, is that I can stay home, watch it snow, make banana bread and eat the whole loaf of banana bread.
Which means I have to pay the treadmill a visit.
This banana bread is worth it.
I got this recipe from my friend Roberta. I just happen to go over to her house when she had finished baking some. Of course, I had to ask for a slice, well maybe two slices. Then I had to ask for the recipe.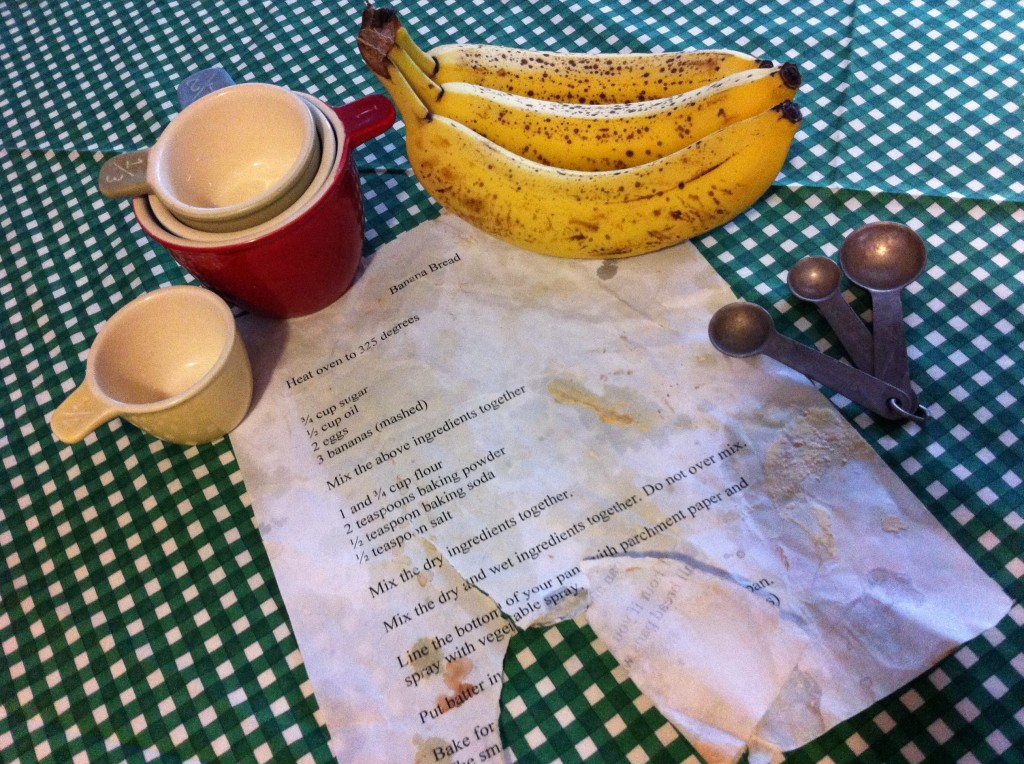 This is a much loved recipe, can you tell?
Also, this recipe does not have a bunch of doodads.
You know what doodads are right?
Doodads, are all those extra ingredients, like chocolate chips, nuts, cinnamon chips and maybe a crumb topping. All of these doodads are great. But, when you just want to make a good, basic, moist and bananalicious banana bread, this recipe delivers.
I am sure that you have all the ingredients in your kitchen to make your own banana bread right now.
You can be like me,  stay home from work, make banana bread and eat banana bread.
The only thing you might be missing is the 10 inches of snow outside!
Tomorrow, I might have to make friends with the snow shovel.
Does that mean I can eat another piece of banana bread today?
I need to peel out right now, and head to the kitchen.
Enjoy!
Becky
Here is your step by step directions.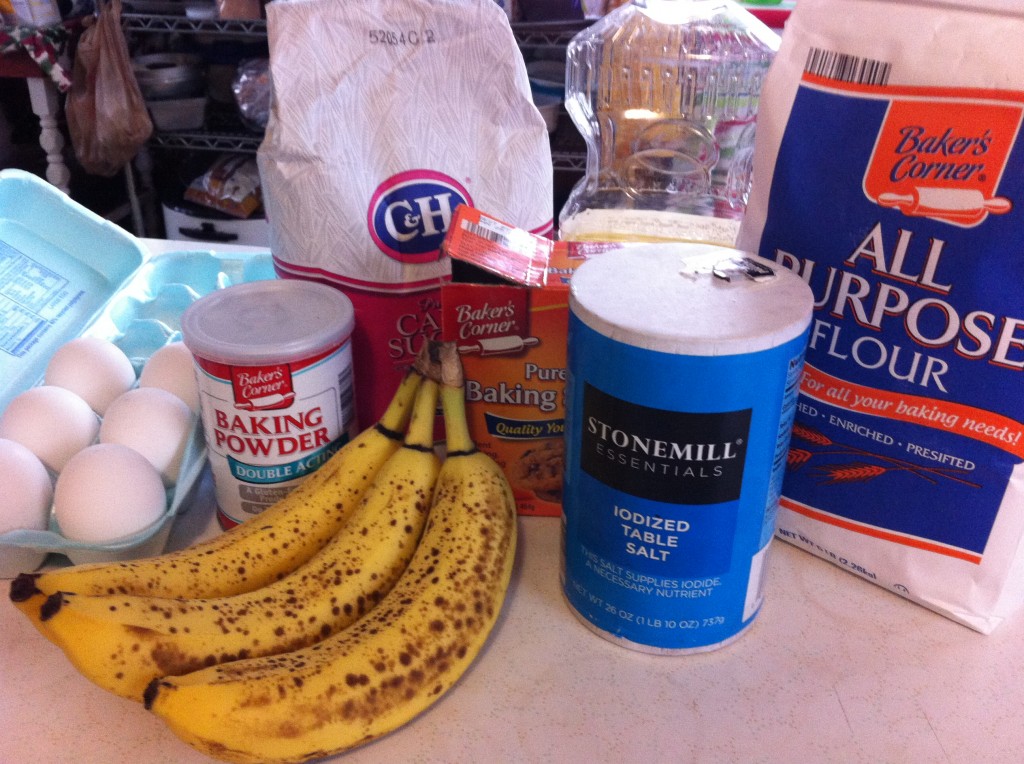 This is all you need to make this bread. Amazing right?
Take three ripe bananas and mash them up. I just use a mixer to mash them.
Add the oil, eggs and sugar. Mix together.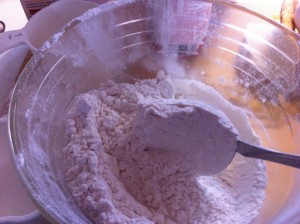 In a separate bowl, add the flour, baking powder, baking soda and salt. Stir together.
Add the flour mixture to the banana mixture and gently stir together.
Do not over mix the batter or will become tough. When mixed pour into a prepared baking pan lined with parchment paper.
Place in the oven and bake at 325 degrees for 40 to 45 minutes. Or until toothpick comes out clean when put in the middle. Let bread cool in the baking pan for about 5 to 10 minutes. Run a knife around the outside edge and remove bread to cool completely.
Cool and slice with a serrated knife. Or if you are really dying to try a piece, just break one off. Tell everyone it got stuck in the pan and that is why that piece broke off. I have never done that. Well, I did not do that today at least.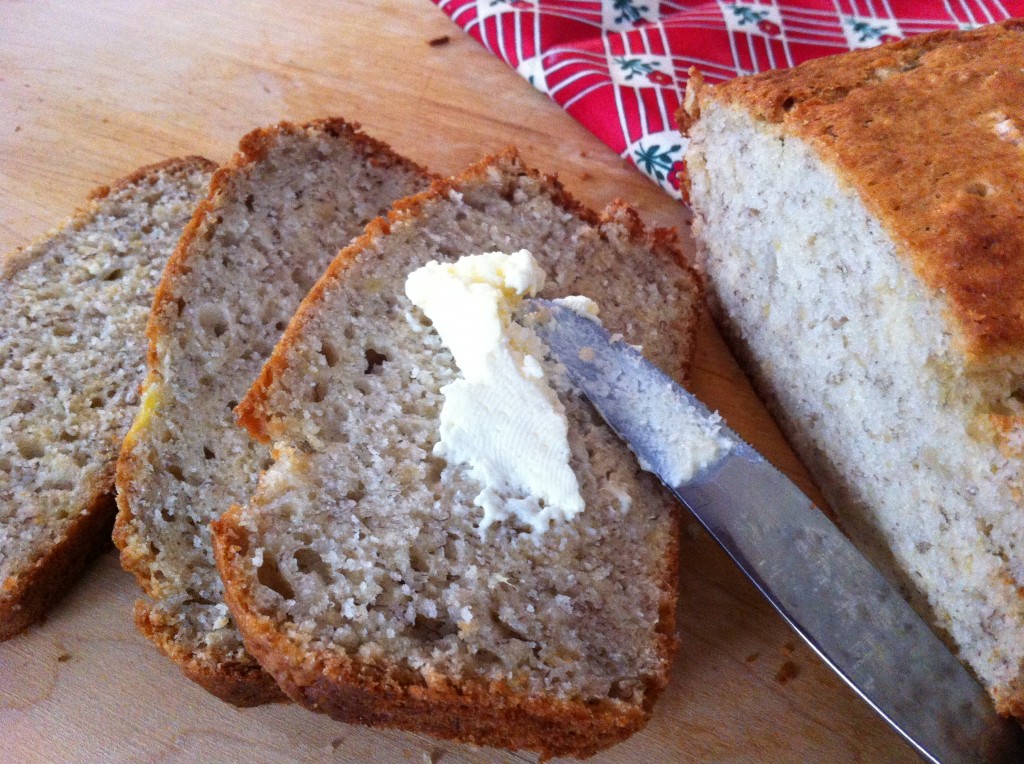 There is one doodad that I love to eat with banana bread……Butter. : )
Here is the recipe:
Banana Bread
Given to me from Roberta
Preheat oven to 325 degrees
Ingredient:
3/4 cup sugar (sometimes if I feel like the bananas are not sweet enough I use 1 cup of sugar)
1/2 cup oil
2 eggs
3  ripe bananas, mashed
In a large bowl, mix the above ingredients together.
1 3/4 cups flour
2 teaspoon baking powder
1/2 teaspoon baking soda
1/2 teaspoon slat
In a smaller separate bowl, combine the dry ingredients together.
Add the dry ingredients to the banana mixture and gentle stir together. Do not over mix as it will make your batter tough.
Pour the batter into a prepared baking pan lined with parchment paper.
Bake in the preheated 325 degree oven and bake until center is done by taking a tooth pick and sticking it in the middle to see if comes out clean. Around 40 minutes.
You will go bananas over this recipe.
Enjoy Becky