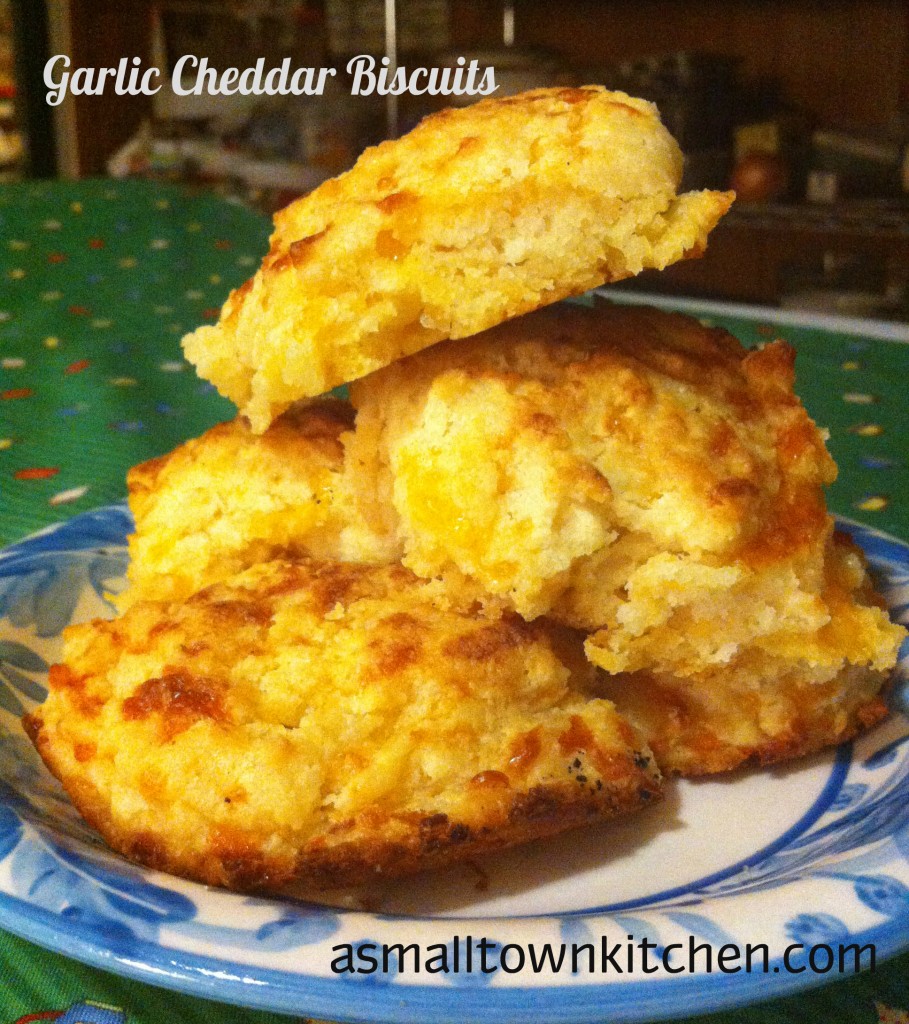 Have you ever gone to Red Lobster just so you could eat all those delicious, warm and buttery cheddar biscuits?
You don't want to say?
OK, I will go first.
YES, I have.
Have you ever asked for more biscuts, just about the  time you are about to leave, so you can put them in your to go box?
REALLY, you don't want to say….again?
OK, I will admit I have.
There, does that make it better? : D
Anywho, I have been making several versions of the recipe for a few years now. Most of them call for baking mix and milk and of course butter. Those recipes were fine, but I wanted something a little more…..well….buttery.
I follow this blog called Chickens in the Road. She posted her version of THE RECIPE.
It looked more like what I wanted mine to look like.
So I made them.
So I ate them.
So my kids ate them.
So my kids wanted me to make them again.
So I did.
If you don't want to go to Red Lobster and walk out with those biscuits hiding in your coat, or your purse, or a diaper bag. (come on, I know you have done it). Try this recipe.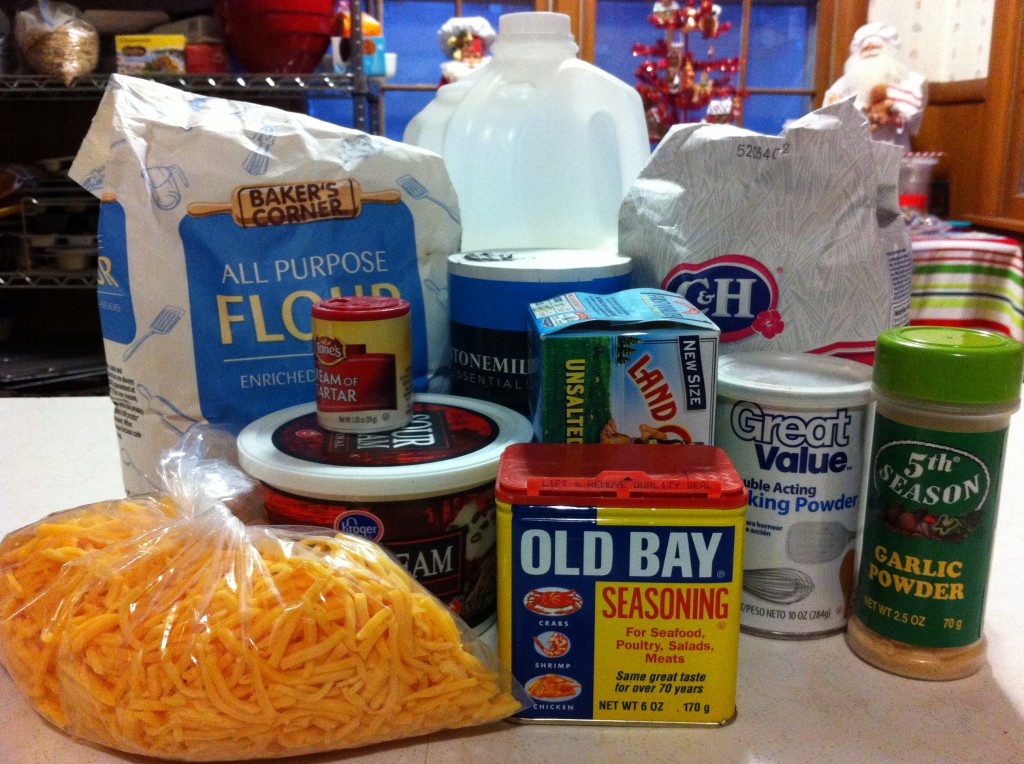 Here is what you will need.
It is ok to throw your scales out the window for a few days after you make these biscuits.
In a bowl, add your flour, baking powder, sugar, cream of tartar, salt and Old Bay Seasoning. If you do not have Old Bay Seasoning you can substitute cayenne pepper. Stir the dry ingredients together. Add the butter and with a pasty cutter, cut the butter in.
Add the cheddar cheese, sour cream and the milk. Stir together until it is mix together, but do not over mix.
Scoop out big spoonfuls of the dough and place it into a 9 x 13 pan. In another bowl combine, melted butter, garlic powder, parsley and a dash of salt. Brush half the butter mixture on top of the biscuits.
Bake in a 450 degree oven for around 25 minutes. When they come out of the oven, brush the rest of the garlic butter over the biscuits.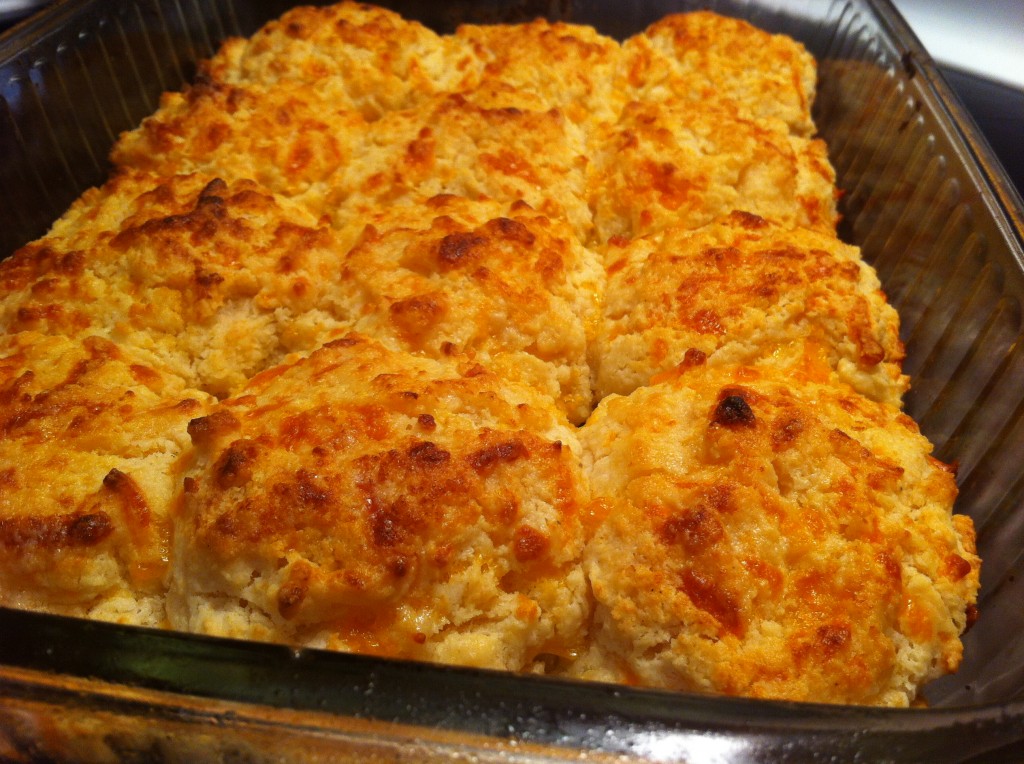 Don't you just want to take a fork and grab one.
These are super easy to make!
It is the closest version I have tried to the Red Lobster biscuits.
These are perfect with soup or with a meal or with a snack or with a glass of milk or with a…….gee I got to stop.
Try these and let me know what you think?
Enjoy Mateys,
Becky
Here is the recipe:
Cheddar Garlic Biscuits
Adapted from Chickens in the Road blog
Ingredients for the biscuits:
2 1/2 cups all purpose flour
1 tablespoon baking powder
2 teaspoons sugar
1/2 teaspoon cream of tartar
1/4 taspoon salt
1/2 teaspoon Old Bay Seasoning (you can substitute cayenne pepper)
1/2 teaspoon garlic powder
1/2 cup salted butter softened
1 1/4 cup grated cheddar cheese
1/2 cup sour cream
1 1/4 cup milk
Ingredients for the topping:
6 tablespoons salted butter, melted
1 teaspoon garlic powder
1 teaspoon parsley
dash of salt
Directions:
Place flour, baking powder, sugar, cream of tartar, salt, garlic powder and old bay seasoning in a bowl and combine. With a pastry cutter, cut in the butter. Stir in the cheese then add the sour cream and the milk. Stir.
Scoop out large spoonfuls of dough and place them on a greased 9 x 13 pan casserole pan.
For the topping: Melt the butter and stir in the garlic powder, parsley, and a dash of slat. Spoon or brush half the topping over the unbaked biscuits. bake at 450 degrees for around 25 minutes.
When the biscuits are baked, brush the rest of the butter topping over the warm biscuits.
It makes approximately 20 biscuits.