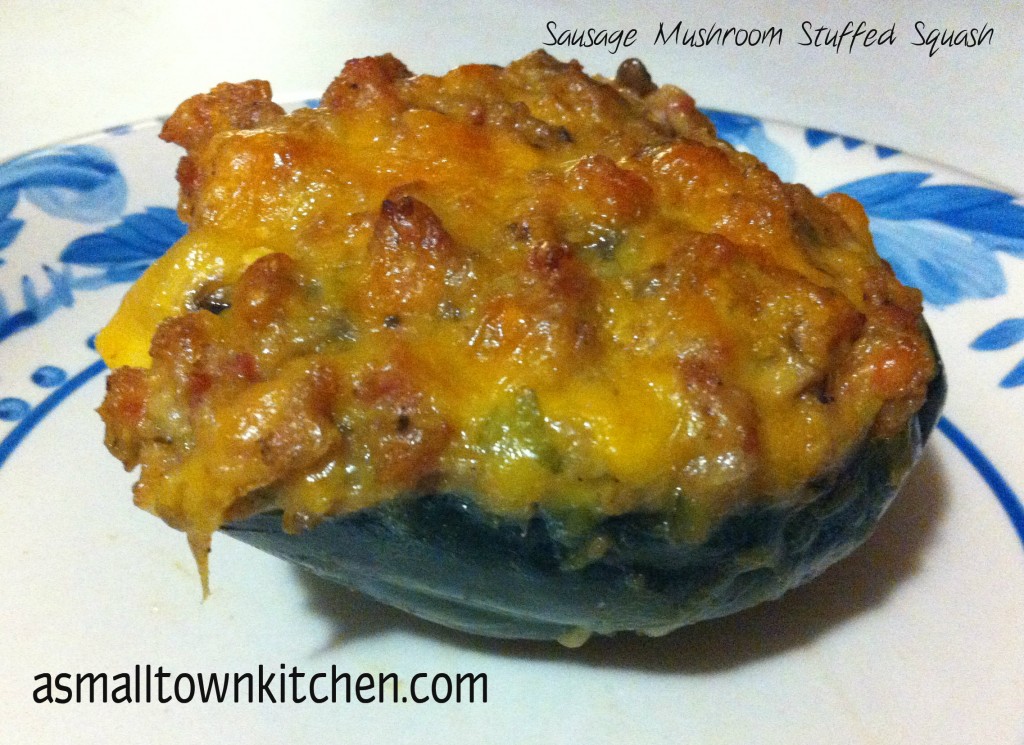 One of my teacher friends at work, named Angie, brought me in one of these stuff squashes last year for lunch. She had been talking about how good they were and how she could eat two of them. Angie's family buys a box of produce each week from area farmers in our area, called the bounty box. Each week her family recieves a different assortment of fruits and vegetables in their box. In the winter time, they get a lot of winter produce, such as squash. They were looking for a recipe that her boys would eat and one that they could use with acorn squash that they would get in the bounty box.
I really wanted to try one. So the next time her family made them, she brought me one in.
I was in squash heaven.
After trying the squash, and falling in love with it, I have been  after this recipe for almost a year! She finally texted it to me over the weekend. I about fell out of seat when I read the text message. Yesterday, while I was out shopping, I found some acorn squash for $1.00 each at Aldi's. I picked out three of the biggest ones they had and put them in my cart. I was so happy, I felt like skipping down the aisle to the checkout.
I came home and made them for my kiddos for dinner.
They even got the oldest grand girl's seal of approval.
Here is how you make them.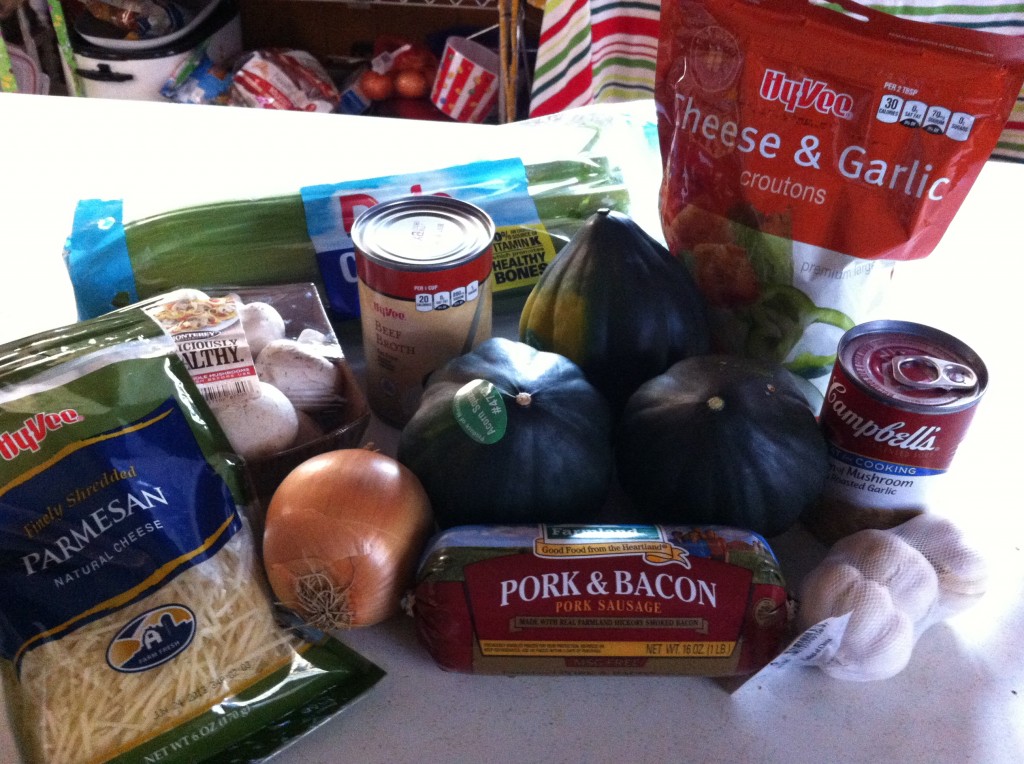 You will also need milk and cheddar cheese. (Sorry, I forgot to put them in the picture)
Carefully cut acorn squash in half. Scoop out the seeds.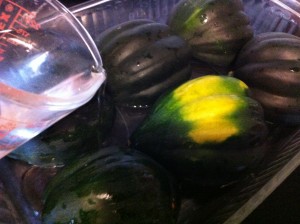 Place squash face down in a large baking dish and pour water over them. Seal the dish with foil and bake in the oven.
Chop up the celery, onions, garlic and the fresh mushrooms.
In a large frying pan, fry the sausage, onions, garlic, mushrooms and celery together until browned and the sausage is cooked thoroughly.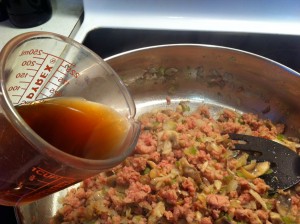 Add beef broth and bring to a boil.
Add the cheese, milk, mushroom soup and croutons. Stir until all the cheeses are melted.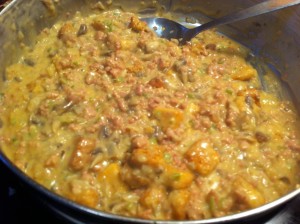 This is what it looks like when all the cheese in melted. Don't you want to get a spoon? I did!
After the squash has baked in the oven. Drain the water off the squash and fill each squash with the sausage and mushroom filling. Top each one with cheese and bake in the oven.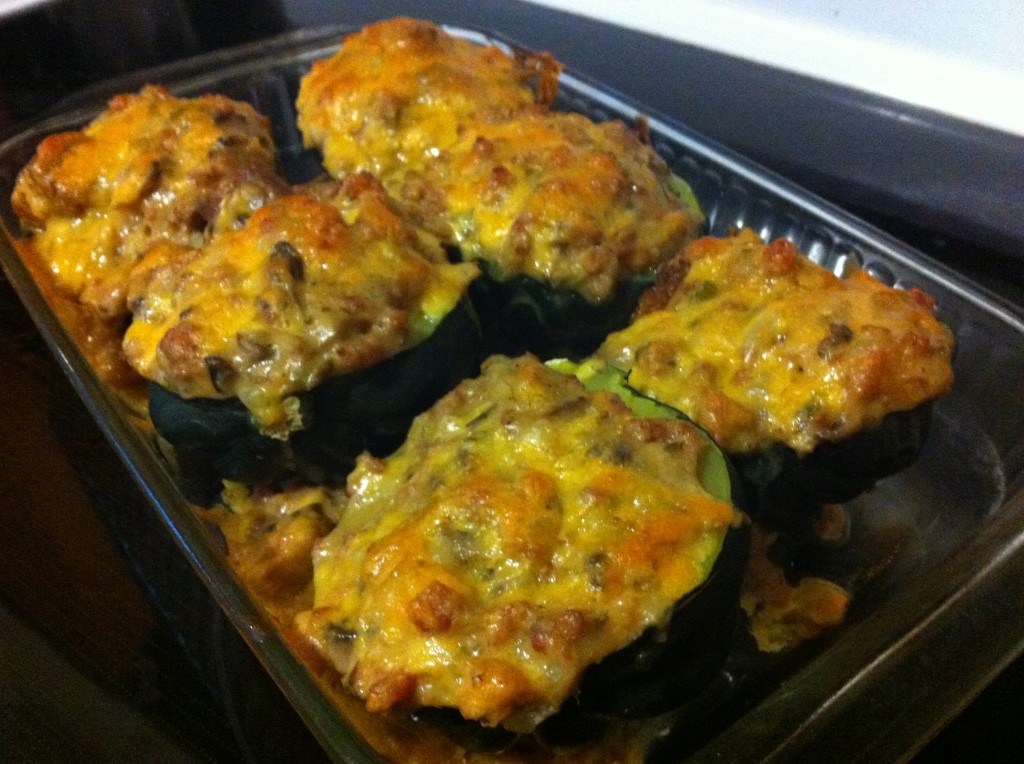 Go find a fork fast or they will be gone!
Enjoy!
Becky
Here is the recipe: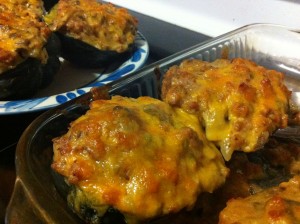 Sausage and Mushroom Stuffed Squash
Recipe adapted from Taste of Home
Ingredients:
3 medium acorn squash
1 1/2 cups of water
1 pound buld pork sausage (I used a roll of sausage I already had)
1 pound portabella mushrooms (sliced)
1 large onion, chopped
1 celery rib, chopped
1 clove of garlic, minced
1/2 cup of beef broth
1 can of condensed cream of mushroom soup, undiluted. (I used roasted mushroom soup because I happen to have some)
1 cup salad croutons
1/2 cup milk
1/3 cup shredded Parmesan cheese
1 cup sharp shredded cheddar cheese, divided (I think I used more like 1 1/2 cup because I added more cheese on top)
Directions:
Cut Squash in half. Scoop out the seeds. Place cut side down in a ungreased large baking dish. Add water and cover with foil. Bake at 350 degreess for 40 to 50 minutes or until tender.
While the squash is cooking, in a large skillet, cook the sausage, mushrooms, onion, celery and garlic over medium heat until the sausage is no longer pink. Drain off the grease. Add the beef broth and bring to a boil and reduce liquid by half. Stir in the soup, croutons, milk, Parmesan cheese and 3/4 cup of the cheddar cheese.
Drain the water from the baked squash. Turn the squash over and stuff with the sausage and mushroom filling. Sprinkle with the rest of the cheddar cheese. Bake uncovered for 20 to 25 minutes or until heated through and the cheese starts to brown.
Yield: 6 servings.
1 stuffed squash equals 463 calories.
Who would of thought that these green acorn looking vegetables could turn into something this yummy?