Have you ever heard of the term must goes?
Maybe the term Re-Runs? (Minerva, I know you have )
I bet you have heard of the word left overs.
They all mean the same thing.
I had some" left overs" in my refrigerator that "must go" or be turned into a "re-run" meal.
Some things I had to throw away..
Chicken flavored rice that was in a cool whip container hidden way back in the fridge.
A large container of fresh spinach, that I tried to salvage into something edible but there were too many little slimy leaves in them. Yuck!
A small amount of bbq pork.
I did find one little gem.
Part of a left over rotisserie chicken, my oldest daughter who does not cook, brought home for dinner a couple of days ago. 
It looked like lunch to me.
My plan was to boil the whole chicken, make a great broth with it, use part of the broth to go into some spinach soup and the rest of the broth and the chicken meat made into chicken and dumplings. Of course after I looked closer at the spinach, the spinach soup idea turned into a must go into the trash. 
                         Here is the broth.                                                    Here is the chicken I pulled offed the bones.
Next, I made some homemade dumplings.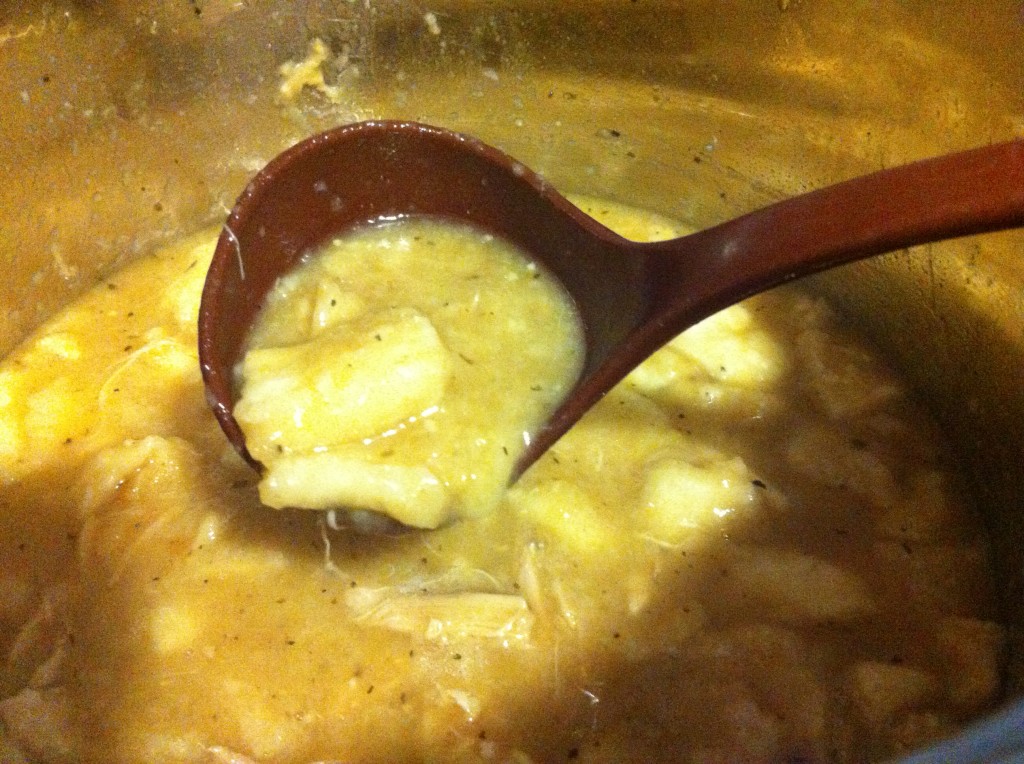 You can call it a re-run, a must go or a left over.
My kids are going to be calling it lunch : )
Becky
In case you want to make the dumplings, I have included the recipe below. These dumplings are very tender, so do not over stir them while they cook or they will start to fall apart. If you do not have a homemade broth, just use can chicken broth and add some cooked chicken to the broth. Then add the dumplings. The flour on the dumplings will thicken the broth.
If you like a firmer dumpling, I have another dumpling recipe that has an egg in it, that is a little firmer, I will make sometime in the near future for you.
Rolled Out Tender Dumplings
Ingredients:
2 cups flour
2 teaspoons baking powder
1 teaspoon salt
1/3 cup shortening
1/2 cup milk.
Directions:
In a bowl mix the flour, baking powder and salt together. With a pastry blender, cut the shortening into the flour until you get the shortening into a small pea size. Add the milk and stir. (I had to add just a tad more milk to get the dough to come together.)
On a floured counter, knead the dough together and roll out to 1/4 inch thick. With a pizza cutter cut the dough into 1 inch size squares. Have your broth on a slow boil and gently drop the dumplings in the broth, one at a time. Gently stir to keep the dumpling from sticking together. Gently boil until the dumplings are cooked through.