I am so sorry!
With the new semester of school starting and trying to get to know over 100 new names, I almost forgot to give you the recipes to the rest of the appetizers I made for New Year's Day.
I BAD!
So, tonight while I have a couple of minutes, before oldest great grand girl tells me I need to get on the treadmill, I am going to give you another recipe.
How about……(drum roll)…..
Sweet and Savory Meatballs.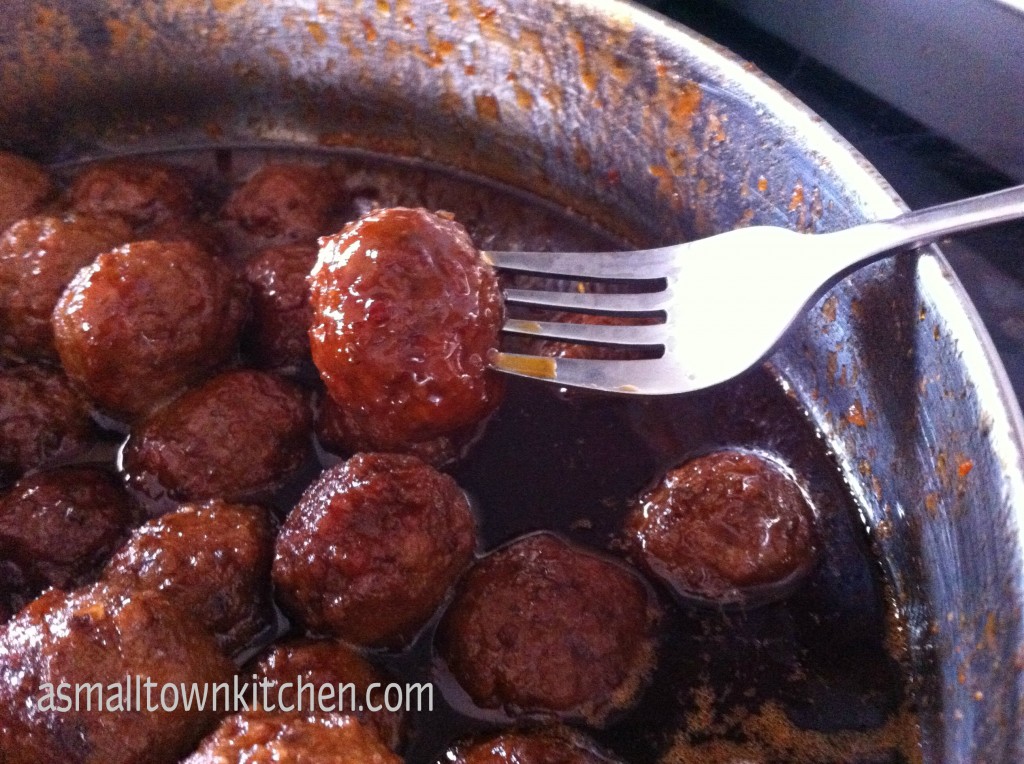 This recipe is a legend.
I bet Paul Bunyan even ate them while he was cutting down all those trees, I bet he even feed them to Babe his Blue Ox…..OK, that might be a little big of a TALL TALE but round these parts, this recipe taste so good, even forks want to drown in the sauce.
OK, I will stop, but if you want to read about Paul Bunyan's kitchen go here.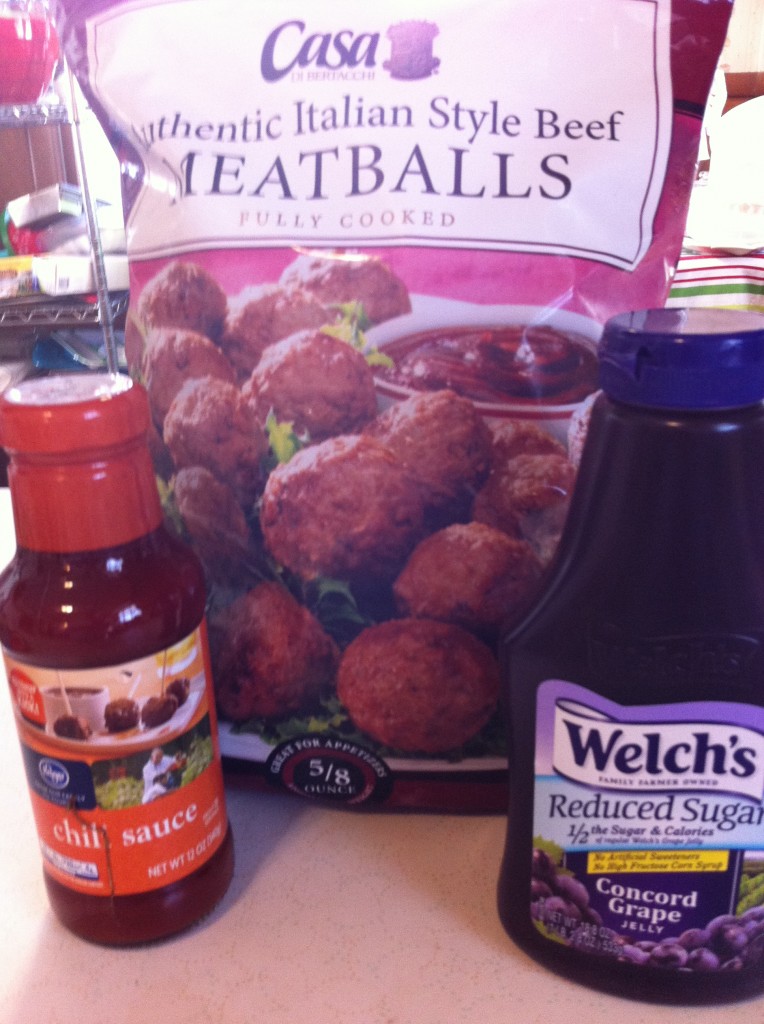 This recipe is made out of store bought frozen meatballs, grape jelly and store bought chili sauce. You can buy the jelly at the store too….hehe….with a coupon, like I did. : ) So, in other words, all the ingredients are store bought. Do I sound like Sara Lee????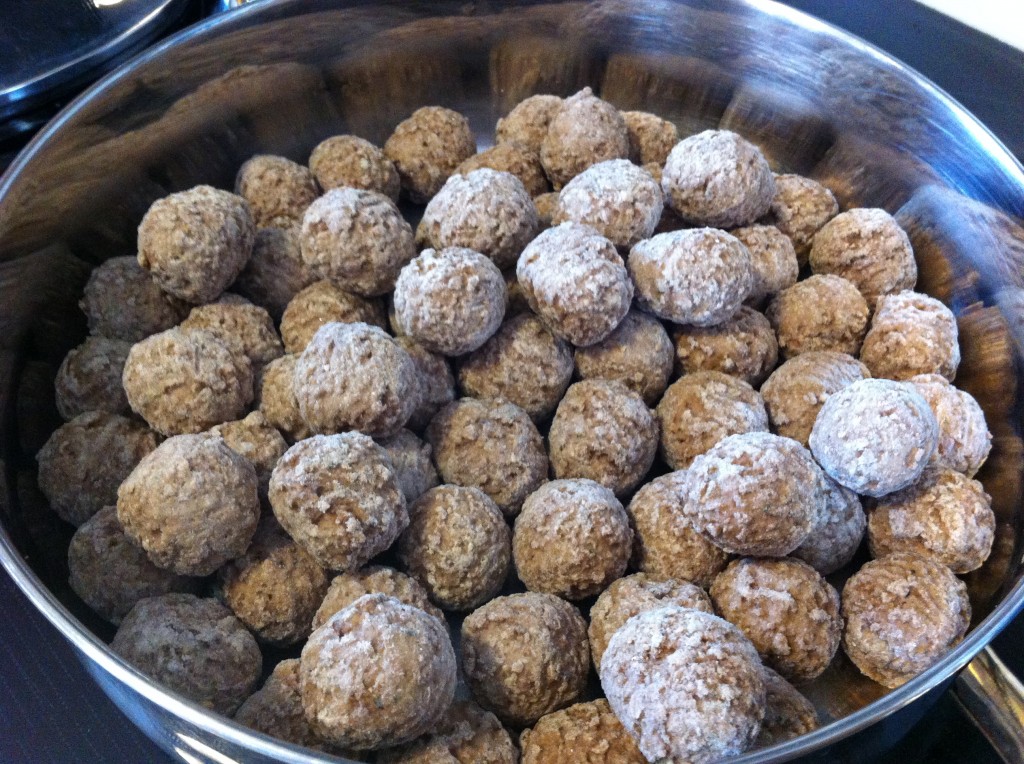 First thing you do is, take the frozen meatballs and put them in a pan to thaw and brown them up a little bit. I put a small amount of water in the bottom to help them steam and then I  put a tight fitting lid on the pan.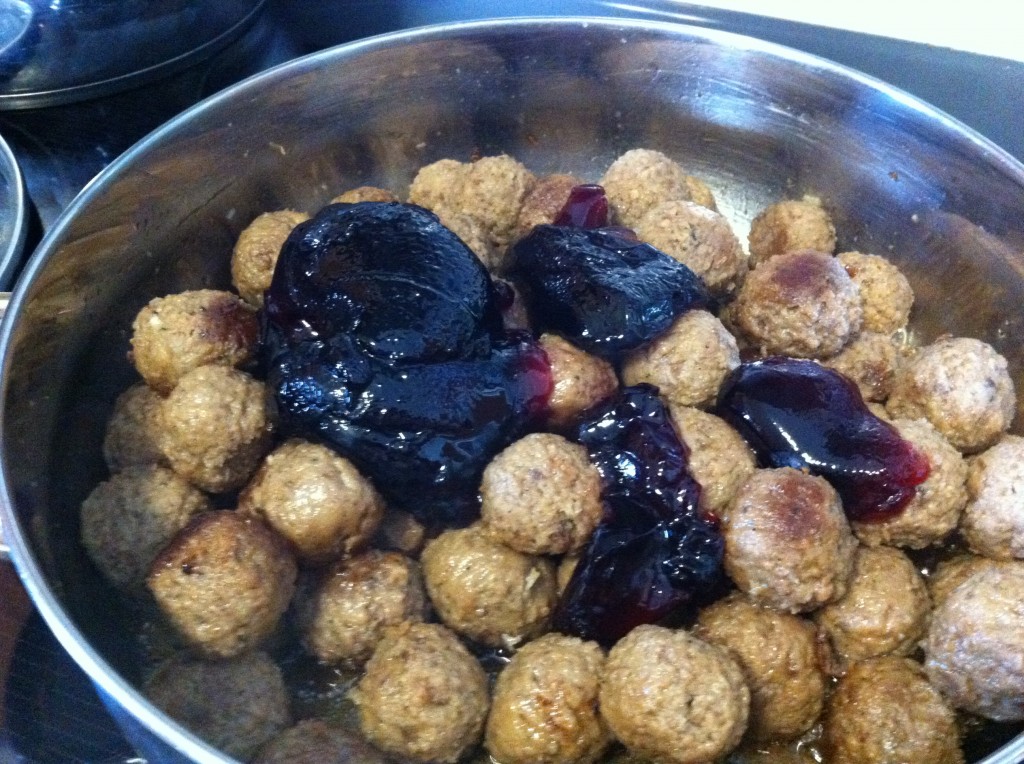 After the meatballs are thawed and browned, add half a bottle of grape jelly.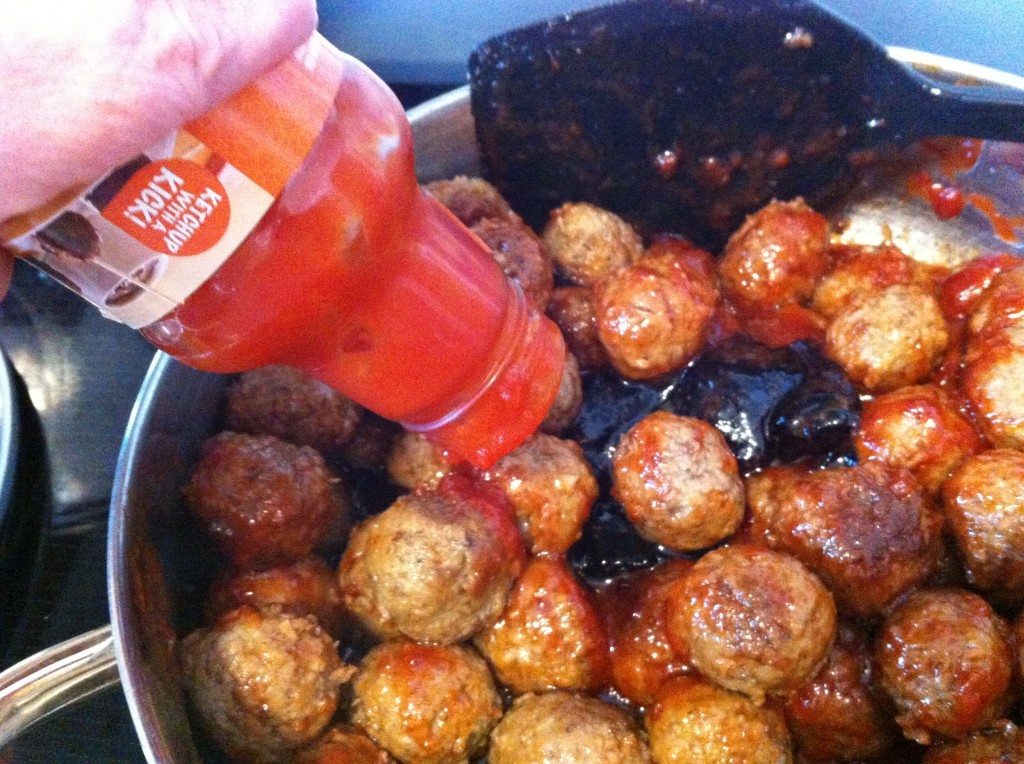 After you add the jelly, pour the entire bottle of chili sauce over the meatballs.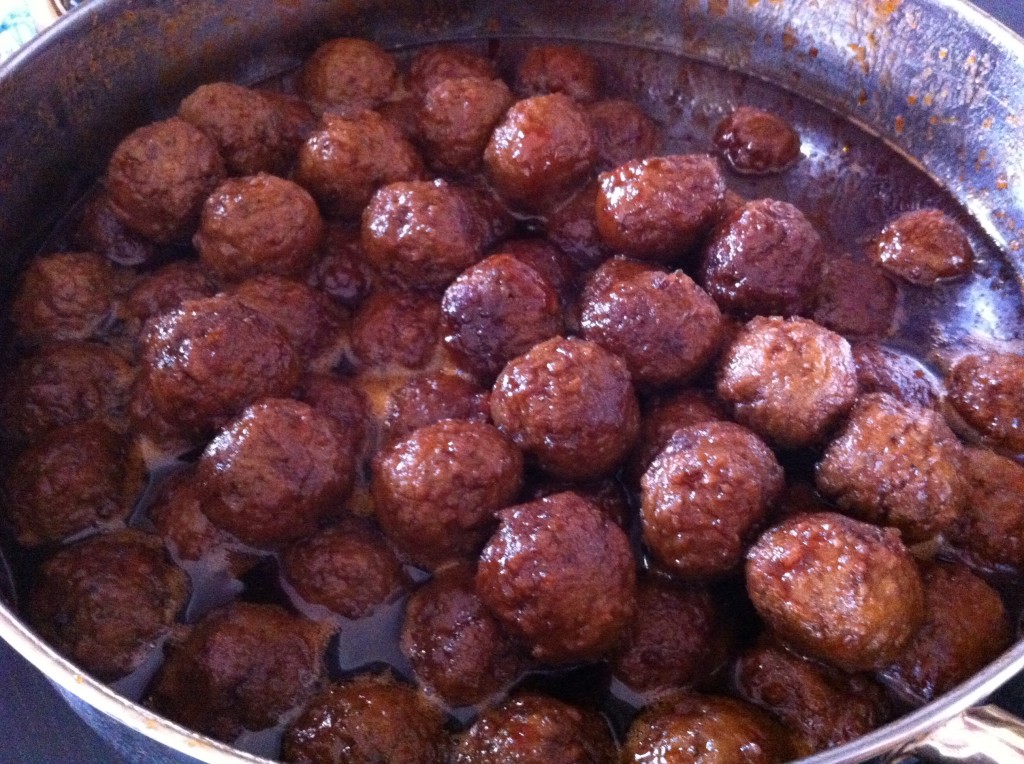 Turn the heat on low, and gently stir while the jelly melts and mixes with the chili sauce.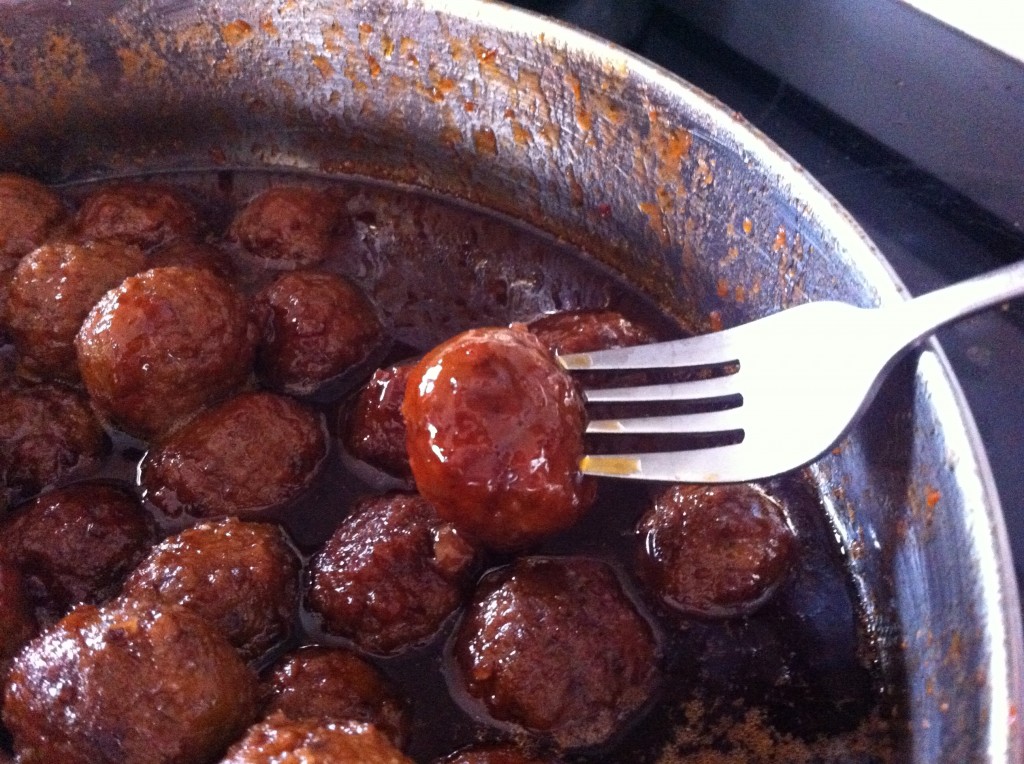 Seriously, that is all there is to it.
Who knew something this simple would taste so good!
If you like them a little sweeter, add more jelly, if you like them with a little more savor, add less jelly.
With super bowl right around the corner, keep this simple, sweet and savory recipe in mind!
Becky
Sweet and Savory Meatballs
Ingredients:
Frozen Italian Meatballs precooked approximately 2 1/2 pounds
1/4 cup water
1-12 ounce jar of chili sauce
15 ounces (half and a large jar 32 ounce jar) of grape jelly.
Directions:
Place meatballs in a large pan. Place a small amount of water (1/4 cup) in the bottom of the pan. Place a tight fitting lid on the pan and slowly steam and brown the meatballs. You can also place the frozen meatballs in the microwave (in a microwaveable dish) and thaw the meatballs. I prefer the pan because you get the all the drippings from the meatballs to add more flavor.
When the meatballs are thawed and slightly browned, add the jelly and chili sauce. Gently stir to melt the jelly and combine the jelly and sauce together.
Now it is time to serve.
Oh, am I almost forgot…..EAT.
Enjoy,
Becky