I fell in love with this recipe when we all listened to the BeeGees and wore disco skirts. Whew, that dated me didn't it? I first sampled this at a Christmas party I attended not long after I graduated from college. I loved the little crunch from the water chestnuts, the chopped spinach, the little vegetables that you get from the soup mix and of course the assortment of crackers you can eat with it.
It is an old recipe.
You used to be able to buy a box of Knorr Vegetable soup mix and it would be on the back of the package. Now, the recipe is replaced with new and improved ways of using the vegetable mix.
I had to look just a bit until I found the right recipe with the right ingredients. I wanted it to taste just like the one I fell in love while singing to Staying Alive.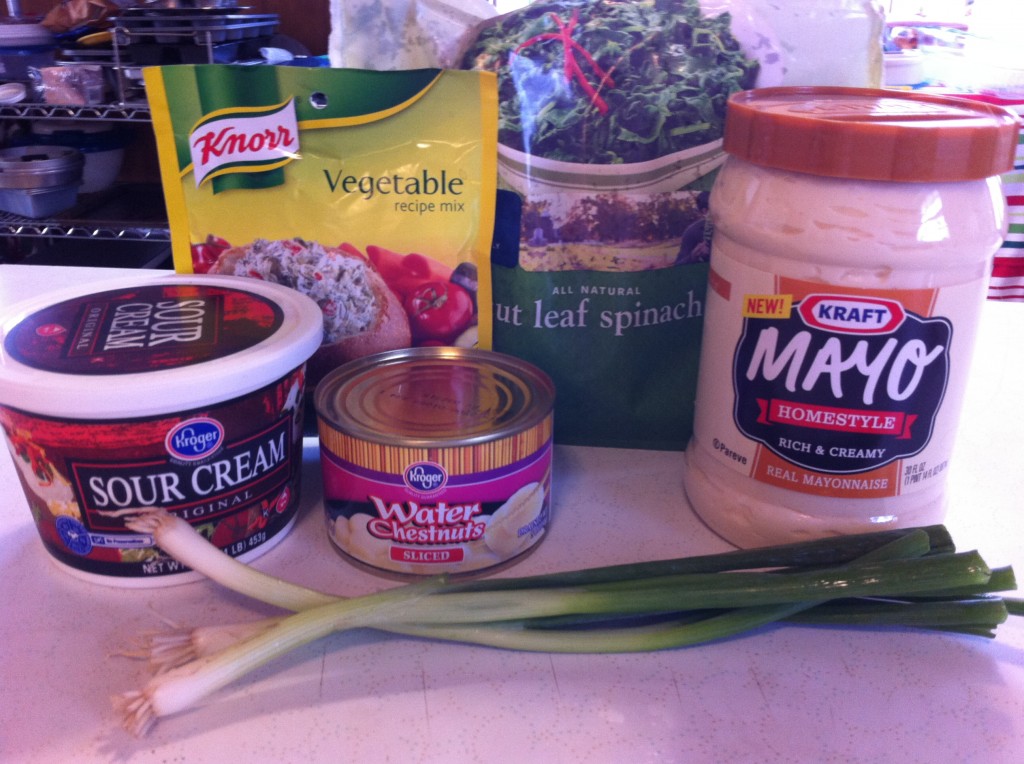 This is what you need to make real Knorr Spinach Dip.
First thing you need to do is chop up the water chestnuts and green onions.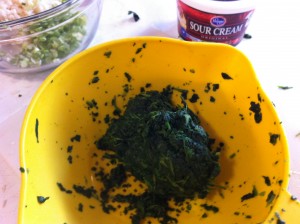 Drain and squeeze out all the water from the frozen spinach. You will be amazed how much water comes out of the spinach. When you think you are done, squeeze some more! You do not want the water from the spinach watering down your dip.
In a bowl, add your water chestnuts, onions and spinach. Next add your Knorr Vegetable Mix.
Next, add in your sour cream and real mayonnaise. Stir together, making sure to get all of the spinach mix in.
I can't help it, I had to get a little bite!
It taste just like I remember!
Helpful hints. Look for the Knorr Vegetable Mix in the soup aisles at the store. Oldest daughter who does not cook tried to find it in the dressing and pickles aisles. The dip taste better if you make it several hours before you serve it. It gives the dehydrated vegetables time to hydrate and add more flavor. This dip looks great in a large round bread loaf. Just cut a circle in the loaf of  bread and take it out and fill it with dip.
Go retro and make some dip. You might even want to listen to some BeeGee's music while you munch out.
Keep Staying Alive!
Becky
Knorr Spinach Dip
adapted from Knorr
Ingredients:
1 10 ounce package frozen chopped spinach. (cooked, cooled and squeeze dry) (I cooked mine in the microwave)
1 container 16 ounces of sour cream
1 cup mayonnaise
1 package Knorr Vegetable  Mix
1 can 8 ounces water chestnuts drained and chopped
3 green onions chopped.
Direction:
Combine all the ingredients and chill for 2 hours before serving.