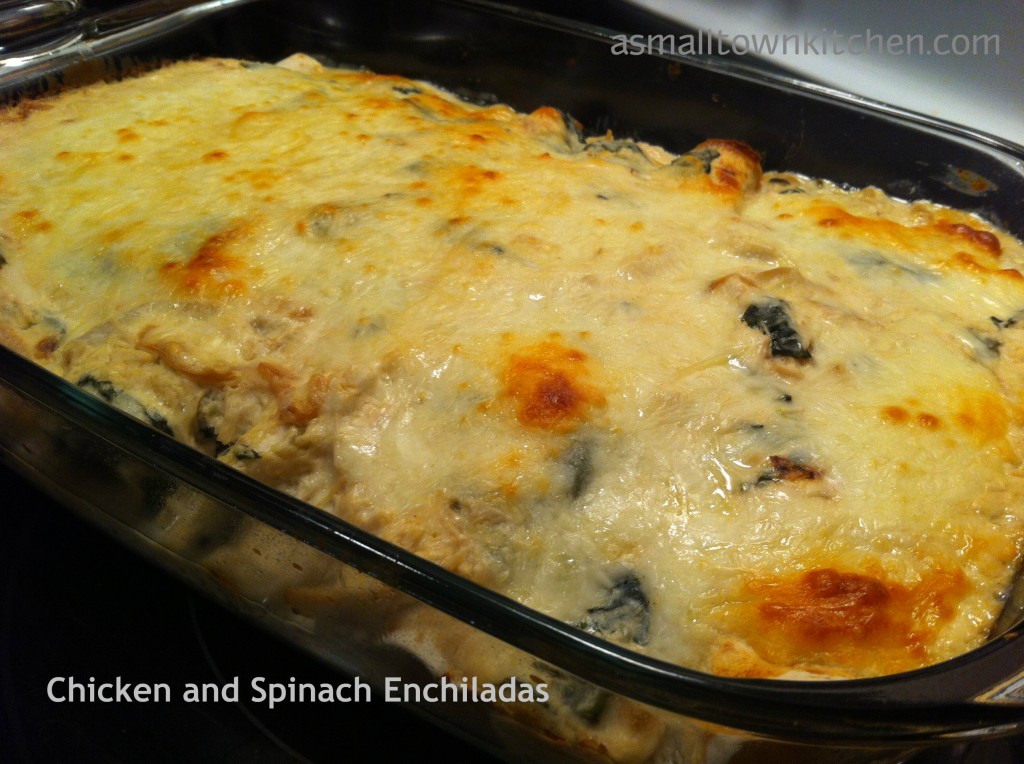 Are you craving comfort food?
I am too.
Winter will do that to you. It is cold outside and the crisp cold air just zaps all the warmth right from you. It seems like nothing will warm you up but some comfort food made fresh from your kitchen.
Casseroles made a  great comfort food.  They will satisfy that craving, but they also will feed a crowd of people and provided lunch left overs for a couple of days. I count both of those as blessings in my book. I love to cook, but sometimes finding the time to cook every night can pose a challenge for me. So, when I can find a recipe that gets my taste buds going, and can feed everyone for a couple of nights, I can't wait to try it.
I found this recipe for Chicken and Spinach Enchiladas. It is filled with mozzarella cheese instead of cheddar cheese. I thought that would be a nice and different cheesy change. I also loved the addition of cooked fresh spinach and sauted onions. I only had one problem. Company was coming over for dinner after work and he hates onions and is not too fond of cooked spinach. Boo….So, I committed myself into making these enchiladas, I knew I had to make two pans, one with the spinach and onions and one without. Casseroles are perfect that way. You can change, add or leave out  an ingredients and it still works.
Tonight I came home and made casseroles for Company. Kids and Grandgirls. We all sat at the table and ate as a family instead of us all eating in different rooms, on our ipads, computers or watching tv.
It was nice.
Comfort food and casseroles and eating altogether at dinner. It is a perfect combination.
Here is what you will need to create your own perfect combination.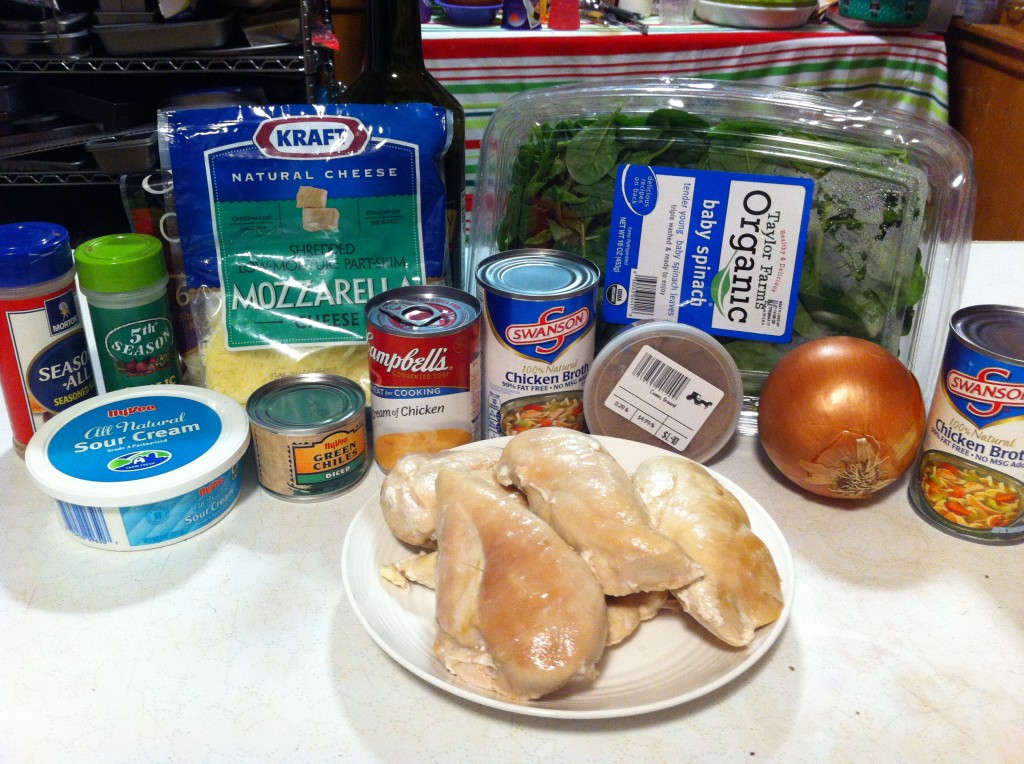 I baked 5 chicken breast for this recipe. You probably only need to use 4, but if you like a lot of chicken (I know I do) you can bake 5 chicken breast to shred for this recipe.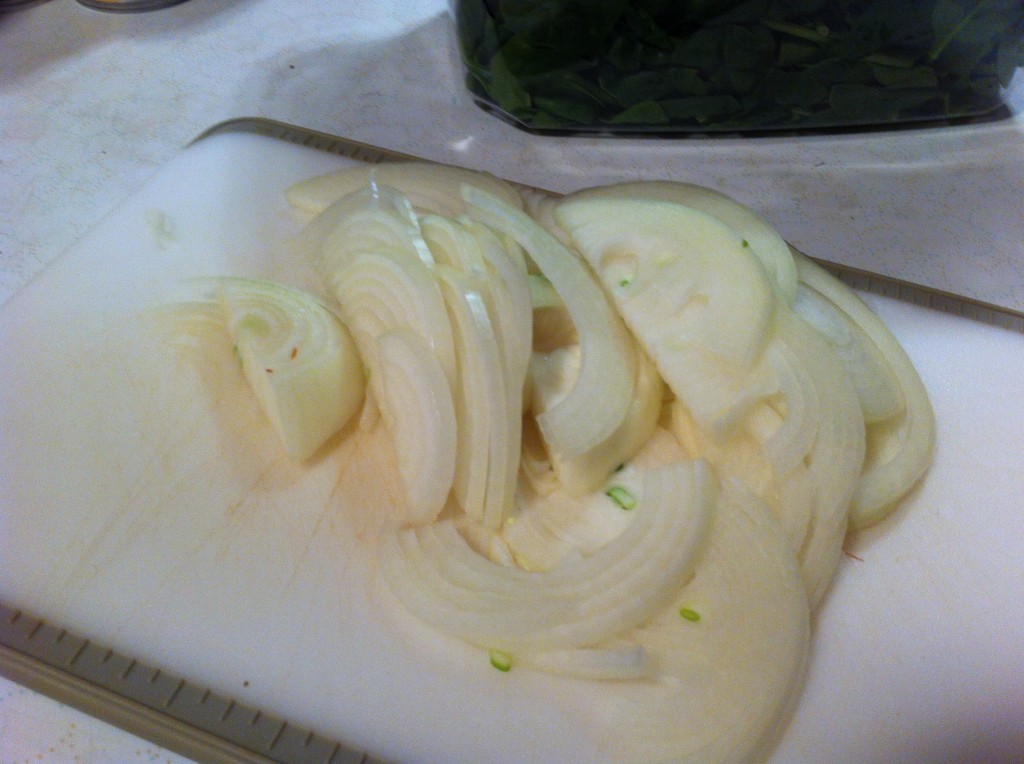 The first thing you will need to do is slice a whole onion. If you would rather dice your onion, that would work too.
Add some olive oil in a large stock pot and sauté the onions on medium heat for around 5 minutes.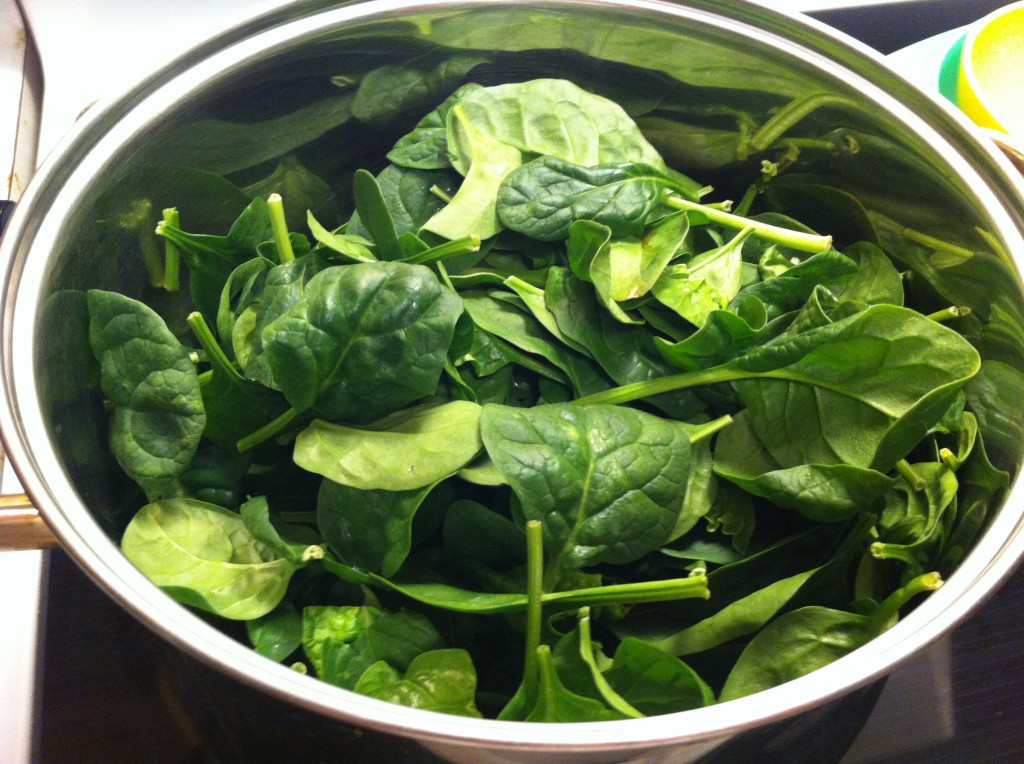 Add all the fresh spinach to the sautéed onions.
I put a lid on my stock pot and in no time the spinach wilted and cooked down in volume. Take the spinach and onions out of the stock pot and put in a strainer and with a spatula, press all the excess liquid from the spinach out. This will keep your casserole from being runny.
Now, in a mixing bowl, mix together the cream of chicken soup and one cup of the chicken broth. Wisk together till smooth.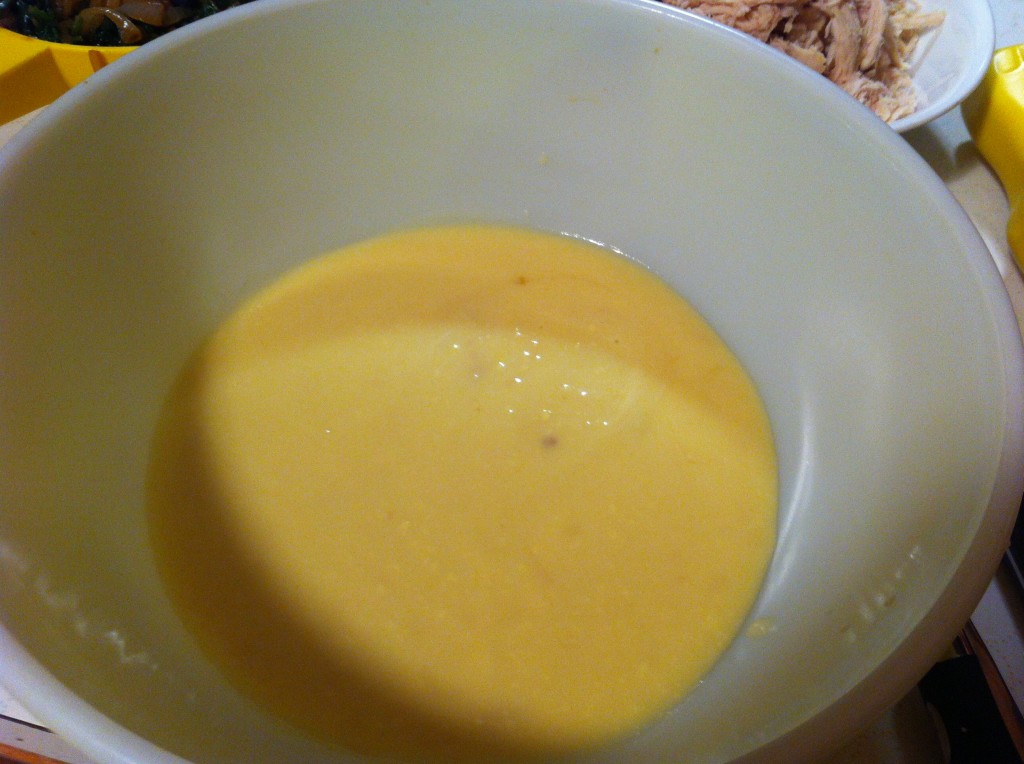 Next, you need to find a large bowl. Pour in your chicken soup mixture in.
Add in the sautéed onions and spinach and the shredded chicken.
Add in 2 cups of the cheese and the seasonings. (season salt, garlic powder and cumin)
Now, add in the green chilis and the lemon (or you can use lime) juice.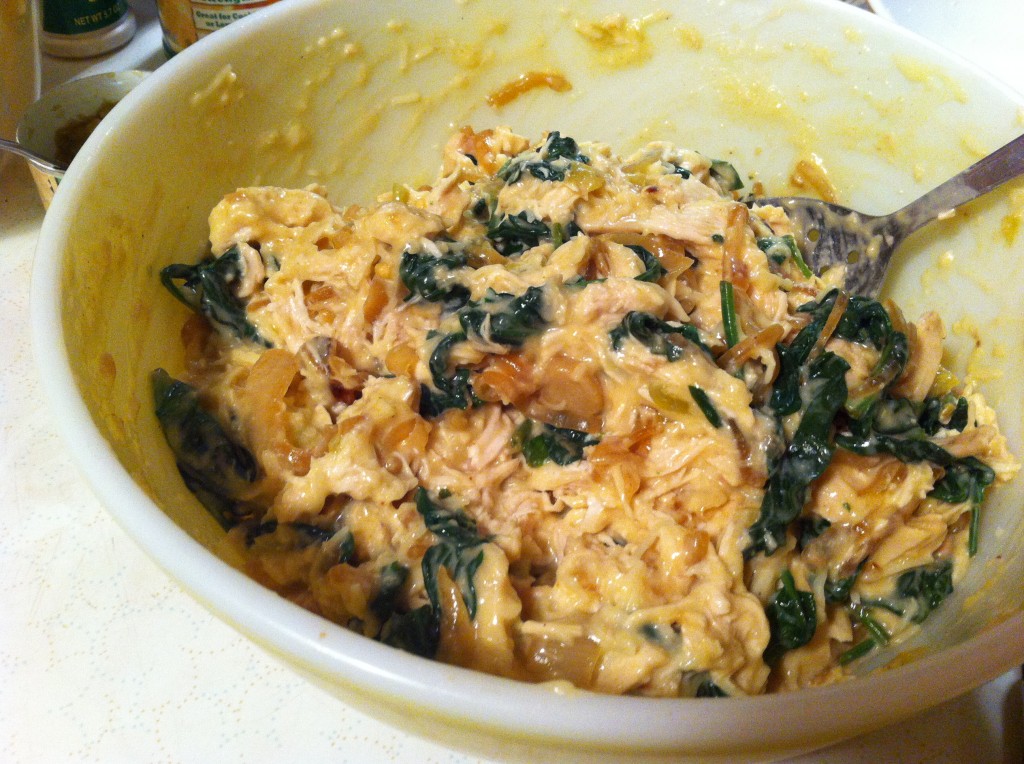 It is time to stir everything together and start making enchiladas.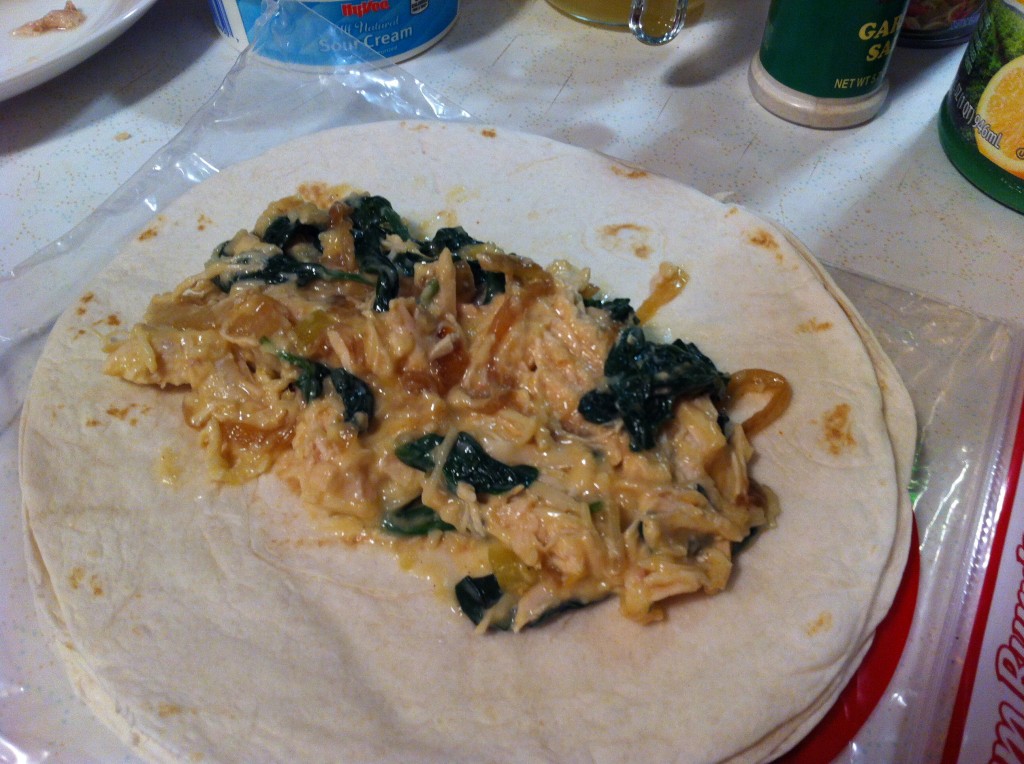 Fill each tortilla with about 2/3 cups of the chicken and spinach filling. You will have left over filling.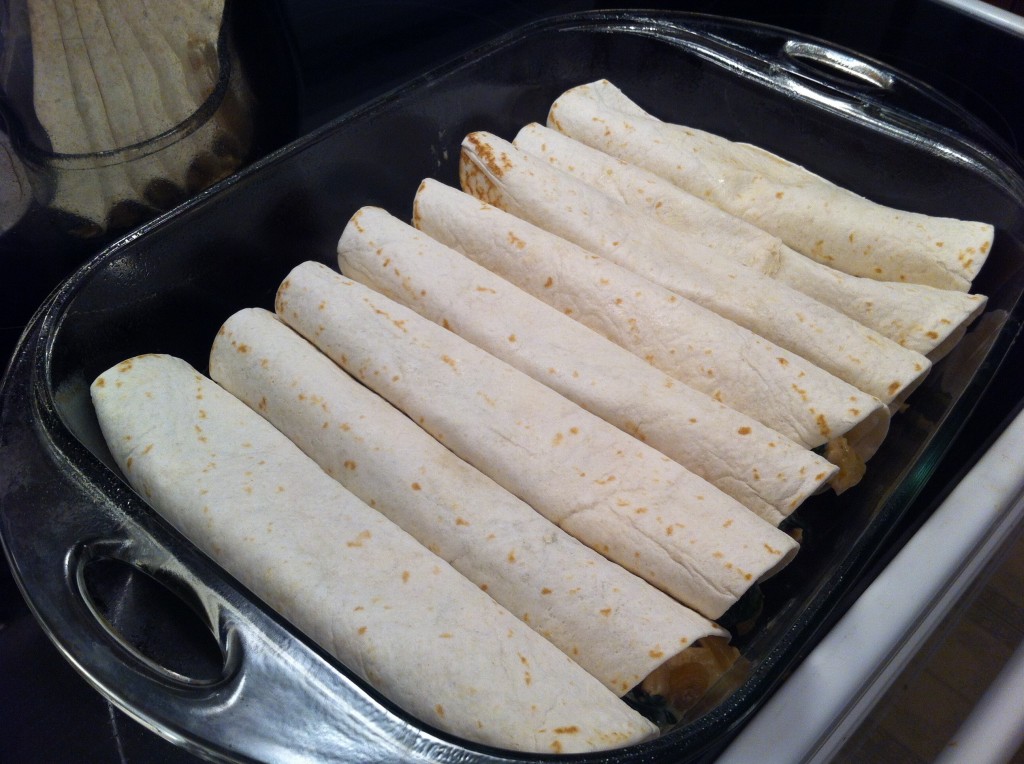 In a vegetable sprayed baking dish, place your 8 filled enchiladas.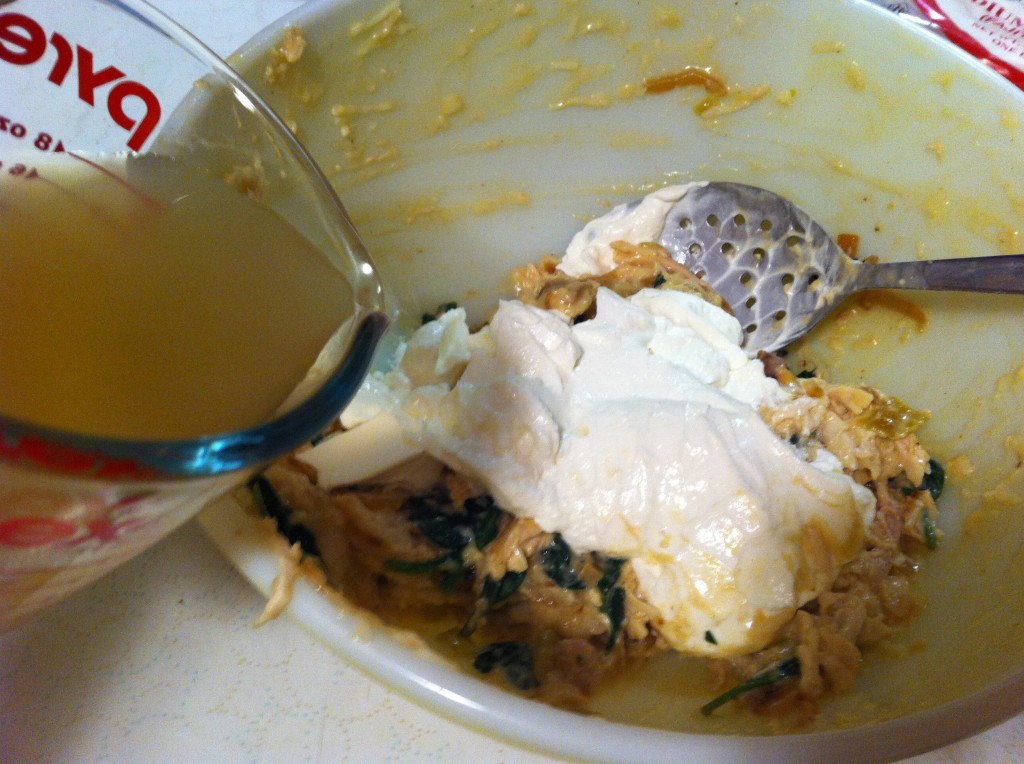 With your left over filling, add the sour cream and the rest of the of chicken broth.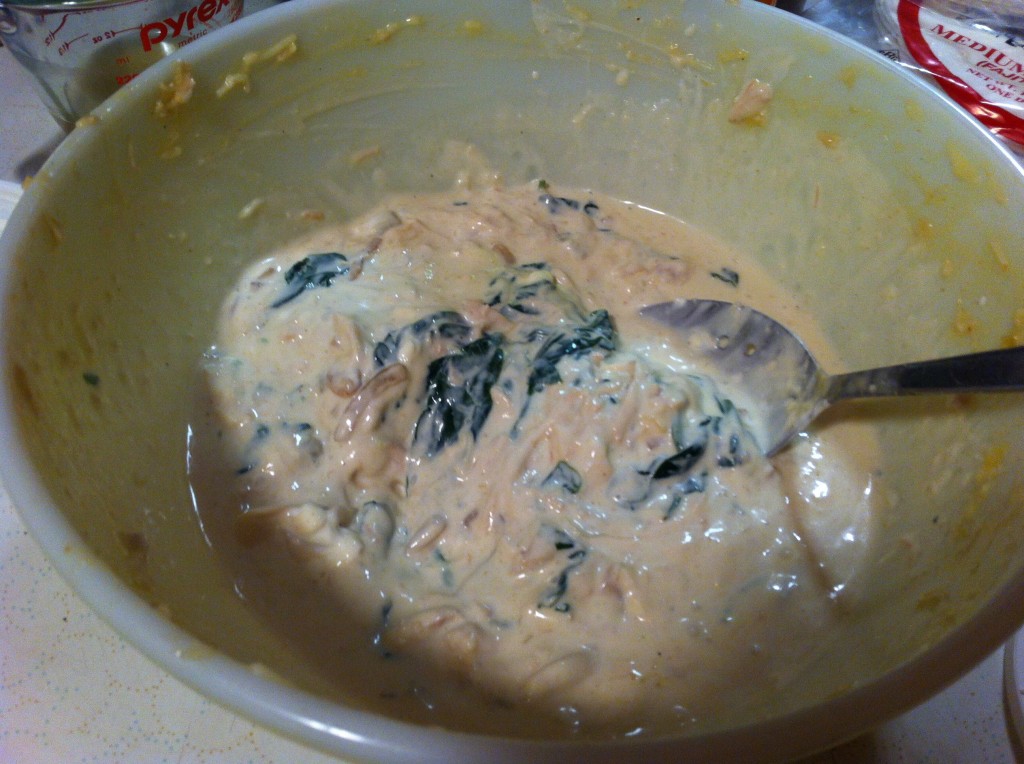 Stir the left over filling with the sour cream and chicken broth together.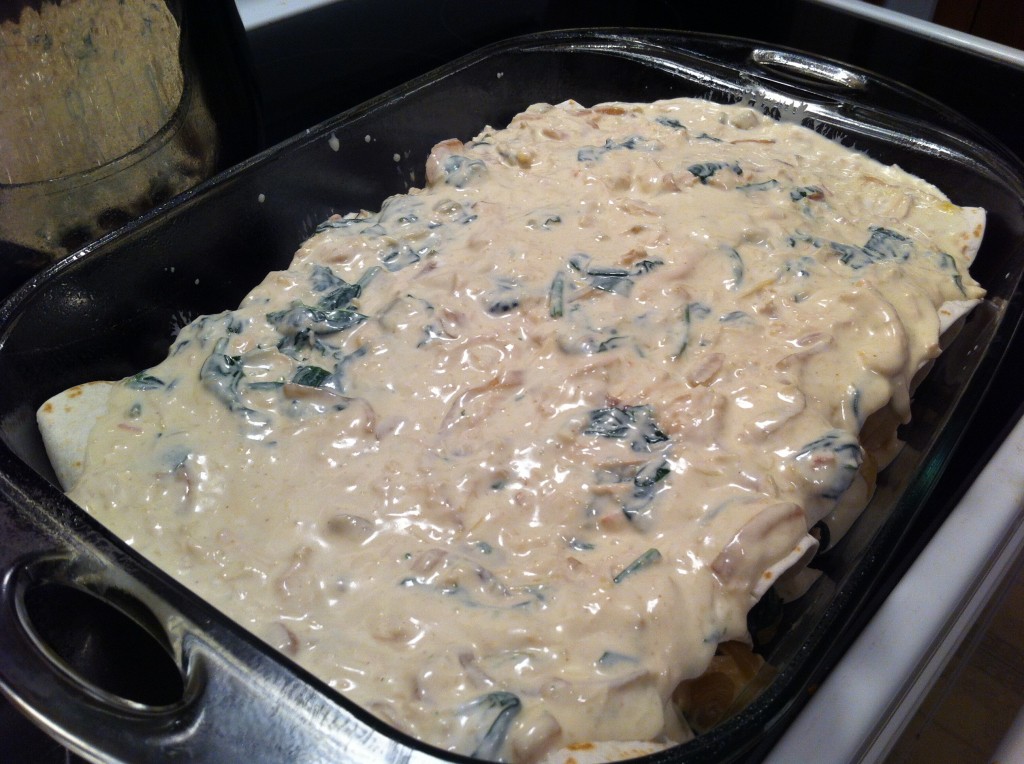 Spread the left over filling over the top of the enchiladas.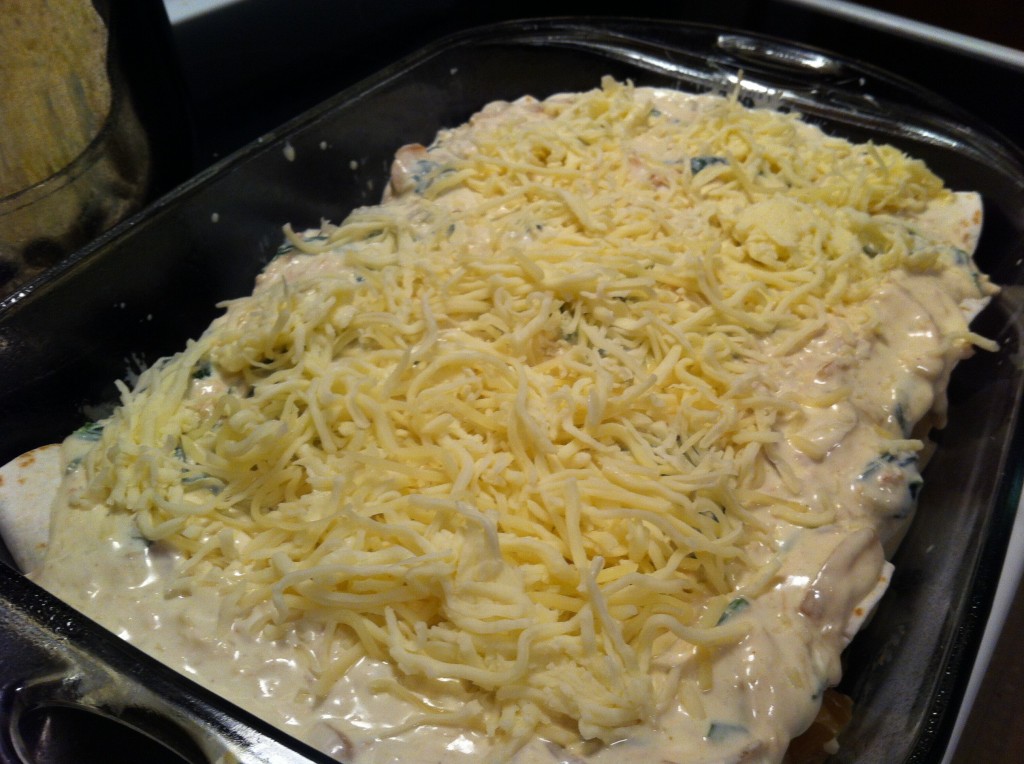 Top with the rest of the cheese (2 cups). Bake in a preheated 350 degree oven for around 30 minutes. Or until the filling is bubbly and the cheese is melted.
Waaalaaa! That is all there to satisfy that comfort food craving.
Here is the recipe:
Chicken and Spinach Enchiladas
Adapted from Taste of the South
Ingredients:
3 tablespoons of olive oil
1 large onion, sliced
12 ounces of fresh spinach
1 can of cream of chicken soup
1 3/4 cup of chicken broth
4 to 5 cooked and shredded chicken breast
2 – 8 ounce packages of mozzarella cheese (divided_
1 (4 ounce) can of green chilies
1/2 teaspoon garlic powder
1/2 teaspoon season salt
1/2 teaspoon cumin
2 tablespoon lemon juice
8 flour tortillas
8 ounces of sour cream
Directions:
Preheat the oven to 350. Spray a casserole dish with vegetable spray.
In a large stock pot, heat the olive oil and sauté the onions until tender. Add the spinach and cook until it wilts. Remove the onions and spinach and put in a strainer and press out of the excess liquid. Set aside.
Now, In a large bowl, whisk together the cream of chicken soup and 1 cup of the chicken broth. Add in the shredded chicken, spinach mixture, 1 package of cheese, green chilies, garlic powder, cumin, season salt and lemon juice. Stir to combine.
Fill 8 flour tortillas with 2/3 cups of chicken and spinach filling. You will have left over filling. Place the enchiladas in the vegetable sprayed casserole dish.
Add the sour cream, the rest of the can of chicken broth to the remaining filling. Stir to combine. Spread the left over filling over the enchiladas.
Cover the enchiladas with the remaining package of cheese.
Bake for 30 minutes until the mixture is bubbly and the cheese is melted.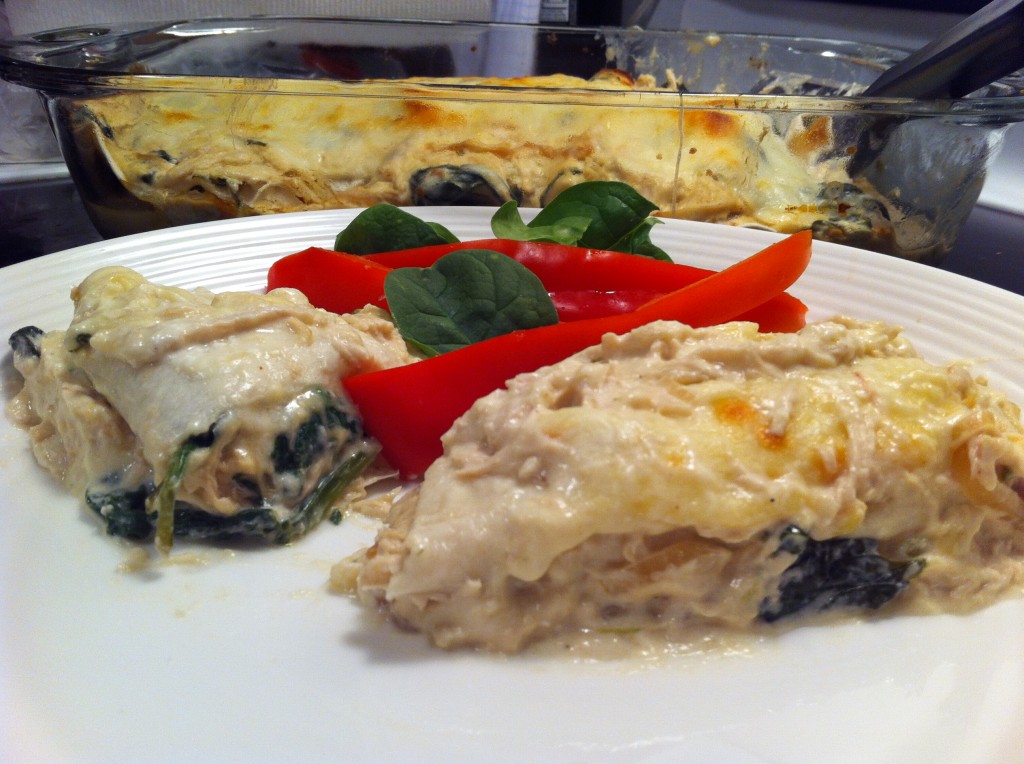 This enchilada will make your fork happy.
Enjoy.
Becky
Other Post you may enjoy.
Brown Sugar Meat Loaf                           Garlic Cheddar Biscuits                          Oven BBQ Brisket