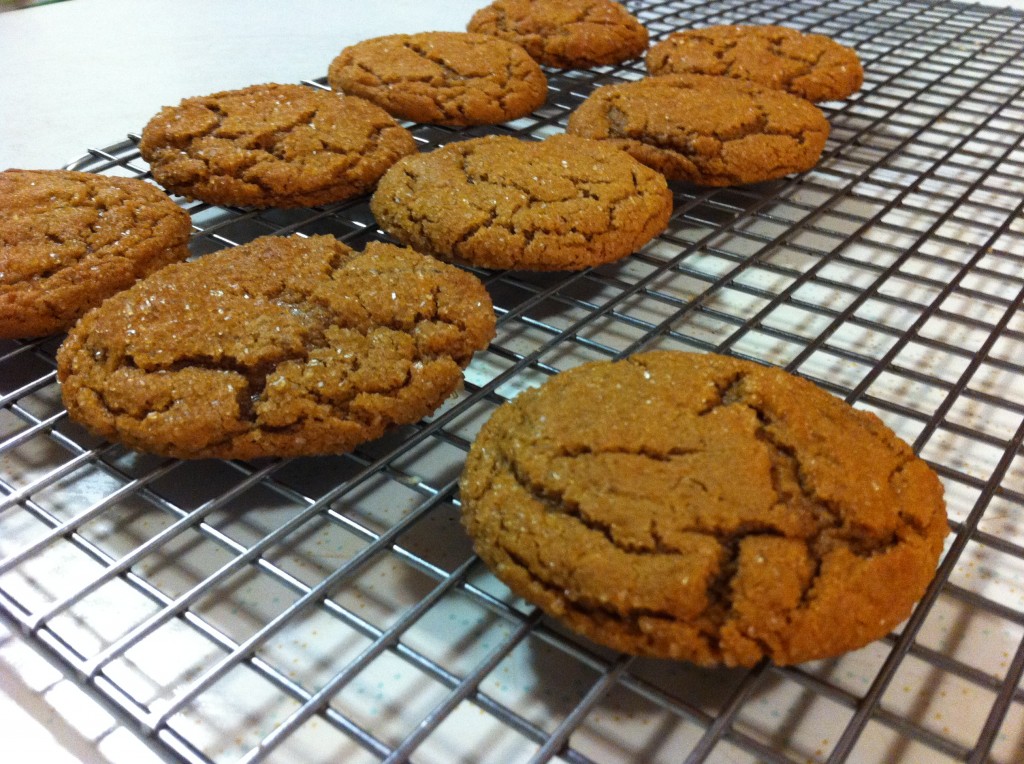 I have to be honest here!
I don't know whether to call them molasses cookies or sorghum cookies.
I used sorghum, as you already know if you read my post Is It Molasses or Sorghum.
Last week I was invited to an cookie exchange. YeeHaw! I was so excited.
Until….
The person who planned it said some people do not like chocolate or nuts or gluten or coconut or cherries…..well, you get the pictures.
It was like taking a red marking pen to 99% of my Christmas recipes leaving me with a big fat……
MMMMM……….Molasses cookies.
It does not meet the gluten free categories, but it does not have nuts, chocolate, coconuts or cherries or any other doodad that would make you want to spit the cookie out.
If you love molasses or sorghum and of course cinnamon, cloves and ginger, (like I do) you will love this cookie!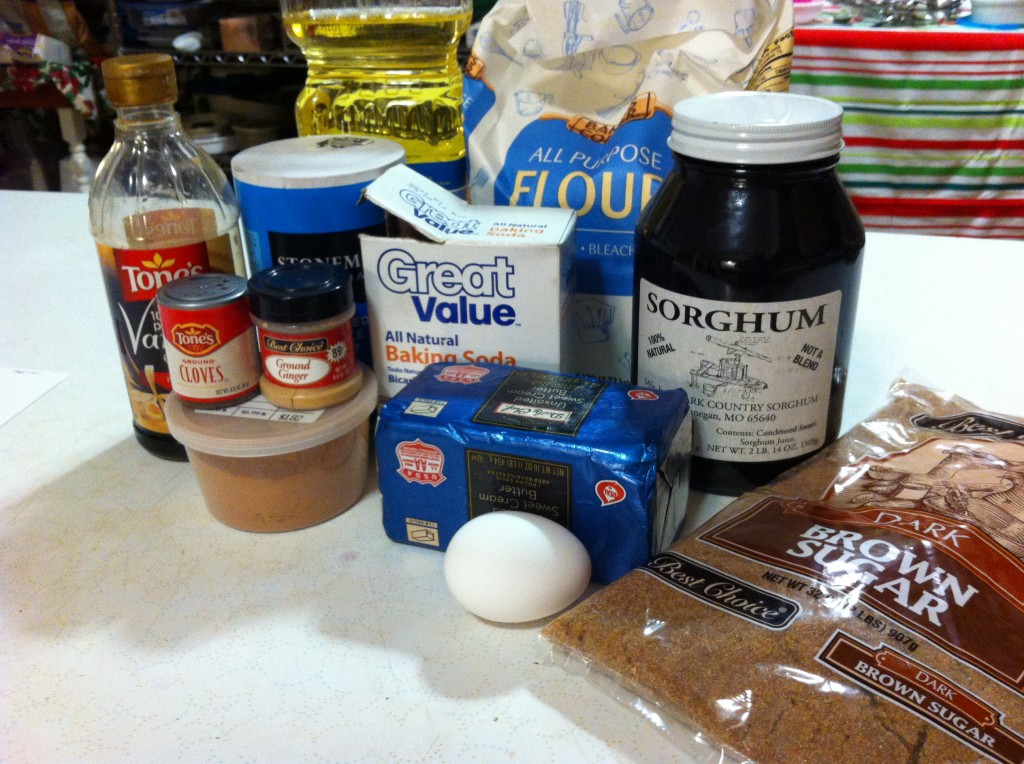 In a mixing bowl, mix together the butter and dark brown sugar. Add the oil and the molasses. (I substituted sorghum). I also oiled the measuring cup with vegetable spray and that is what the measuring cup looked like after I pour out the sorghum…pretty cool uh?
Add the egg and vanilla. I have three types of vanilla at my house. Vanilla paste, vanilla powder and pure vanilla extract. I love using vanilla paste to my cookies, cakes, cup cakes and icings. I think the reason why is that I am in love with the little specks of vanilla seeds. This time I used vanilla extract because the dough is so dark you can't see the pretty seeds.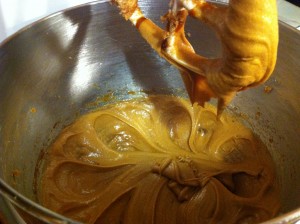 This is what it looks like all mixed together.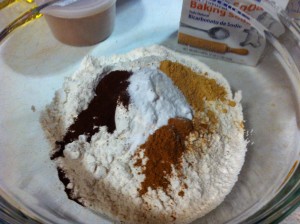 In another bowl mix together the flour, ginger, ground cloves, cinnamon, baking soda and salt.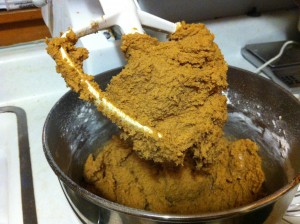 Add the flour mixture to the molasses mixture and stir together. What you end up with is a rich beautiful cookie dough. Put the dough in the refrigerator to chill for at least 2 hours or overnight.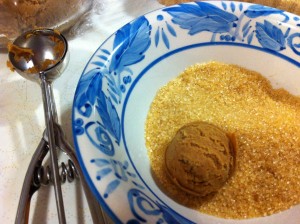 When the dough is chilled, take a medium size cookie scoop and start scooping out cookie dough. You need to roll each cookie in sugar after you get them scooped out.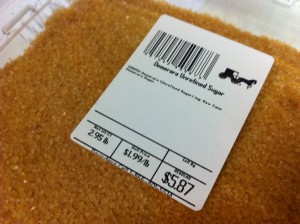 I used demerara unrefined sugar. You are probably thinking, what the heck is that?? Well, it is unrefined sugar cane that has a molasses like flavor. You can read more about it here. The sugar crystals are bigger and they add a sugar crunch to the outside of the cookie, while keeping the inside of the cookie chewy. And the sugar taste like molasses! Interesting.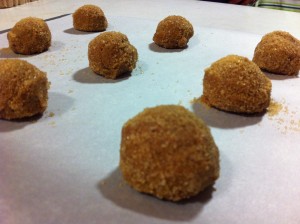 Place the cookies on a parchment lined cookie sheet and bake 9 to 10 minutes. Do not over bake these cookies. They will look a little underdone.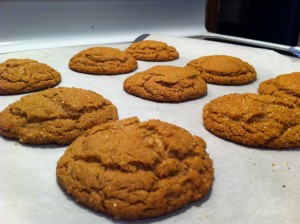 They will have these gorgeous cracks in them, showing a little undercooked inside.
Are they molasses cookies?
Are they sorghum cookies?
They have sorghum on the inside, and coated with a molasses tasting sugar on the outside.
Who really cares….bring me a glass of milk and a cookie!
Becky
Molasses Cookies
Adapted from Joy Of Baking
Ingredients:
2 cups all purpose flour
1 teaspoon baking soda
1/4 teaspoon salt
1 teaspoon ground cinnamon
1 teaspoon ground ginger
1/2 teaspoon ground cloves
1/2 cup unsalted butter at room temperature
1 cup dark brown sugar
2 tablespoons vegetable oil
1/3 cup molasses
1 large egg
1 teaspoon vanilla
Garnish with sugar (I used demerara sugar)
Directions:
Beat together the butter and dark brown sugar with an electric mixer until it is light and fluffy. Add the oil, molasses, egg and vanilla and beat until incormporated. In a large bowl whisk together the flour, baking soda, salt, cinnamon, cloves and ginger. Add the flour mixture to the molasses mixture and mix until well incorporated.
Cover and chill until firm.
Place sugar in a medium sized bowl. Using a medium size cookie scoop, scoop out cookie dough. Roll the dough into a ball and roll into the sugar, covering it. Place the cookie dough on a parchment lined cookie sheet. With a flat bottom glass, flatten the cookie dough slightly. bake for 9 to 10 minutes in a preheated 375 degree oven. Bake until the tops of the cookies have crinkles but a little shiny inside. Remove from cookie sheet and cool on a wire rack.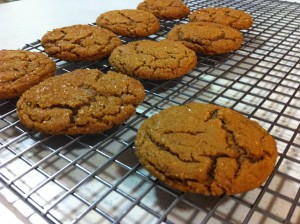 My super hero even loved them….and he does not eat molasses or sorghum!
Enjoy!
Becky