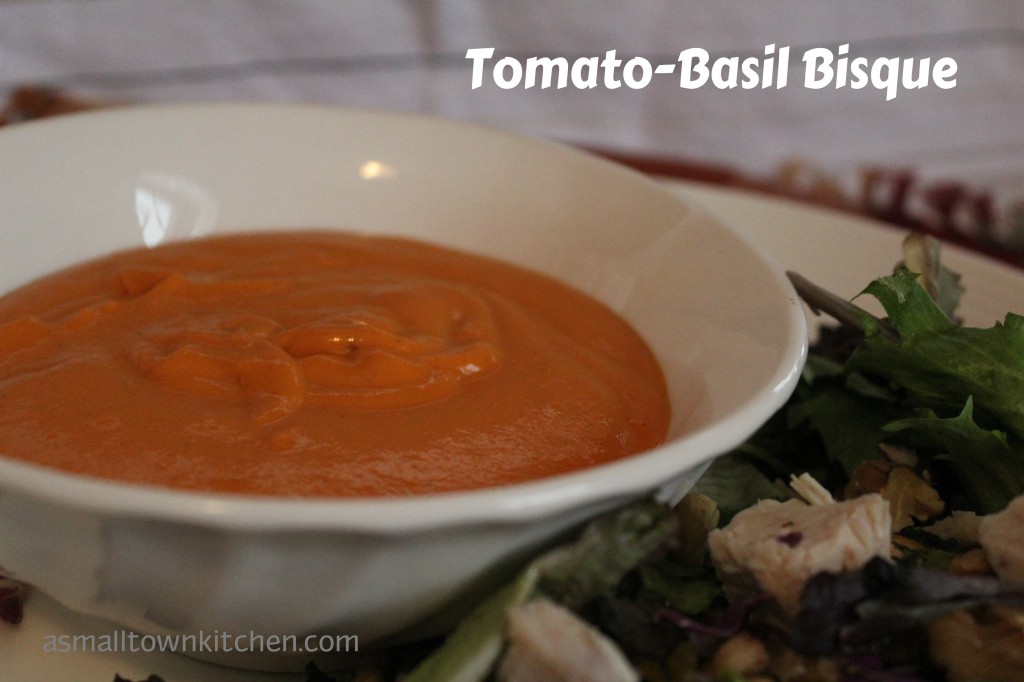 Are  you dreaming of fresh tomatoes from your garden? Or maybe, you are just ready to feast on some simple, uncomplicated meals, after all the great holiday food assortment from the last two weeks.
For me, it is a little of both. I walk by my raised garden beds everyday when I check on the backyard chicks. My garlic and onions are planted, mulched for winter, to make their reappearance this coming spring. But, the other beds are just hibernating, waiting till spring, when they will be full of veggies and (my favorite) tomatoes.
I have also eaten my fair share of…mmm…how do I say this politely….superfantastichighcaloriescrumptiousanddelicious creations that just so happened to cross my path. And, yet, I am not giving up till I finish that bag of Doritos. LOL
Regardless, I am just ready to eat simple for a bit. Most of you already know that I love soup. I have more soup recipes on this blog that I do anything else. (at least I think so)
This Tomato Basil Bisque, is one of my favorites. I peel and freeze tomatoes, that I grow in the summer, just to make this soup in the winter. But…don't worry…you don't have to grow your own tomatoes to make this cause canned tomatoes and tomato juice works just fine!
You will need some sort of blender to blend up all the veggies to make this smooth and creamy soup. I have used an immerseable blender to make this, or you can use a food processor.
Just be sure and try it once. If you love tomato soup, just think of rich and creamy (from a tad of whipping cream) soup with the perfect amount of basil seasoning. Yes, it goes perfect with some grilled cheese sandwiches.
Anywho, enough of me chatting away….let's get to the recipe.
This is what you need: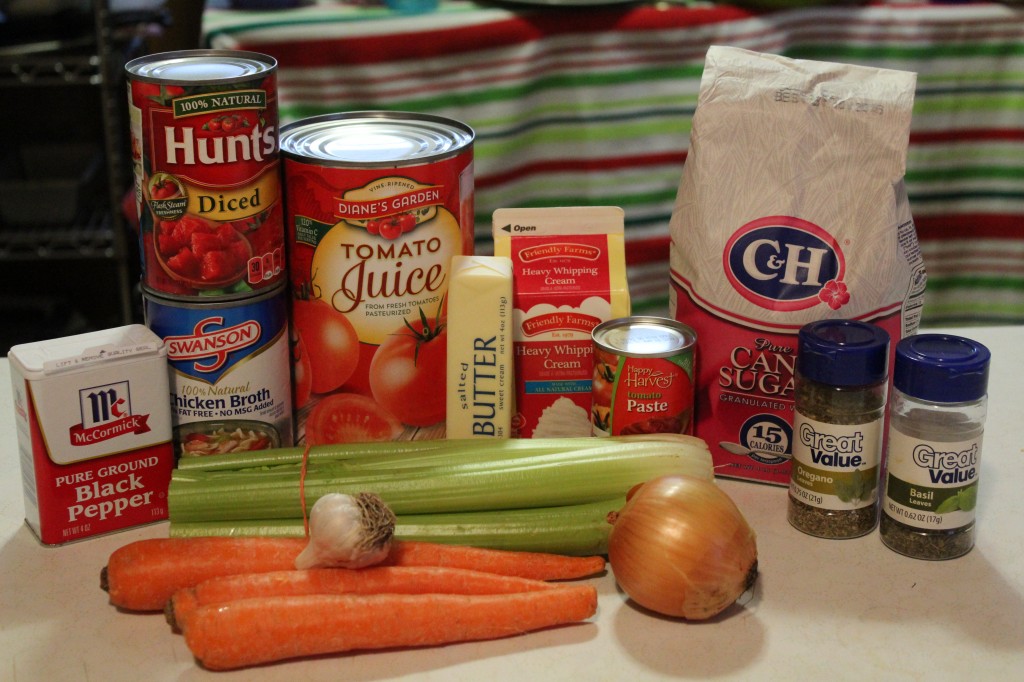 You will need some fresh carrots, celery, garlic and onion, along with dice tomatoes, chicken broth, whipping cream, tomato paste, butter, sugar, pepper and oregano and basil.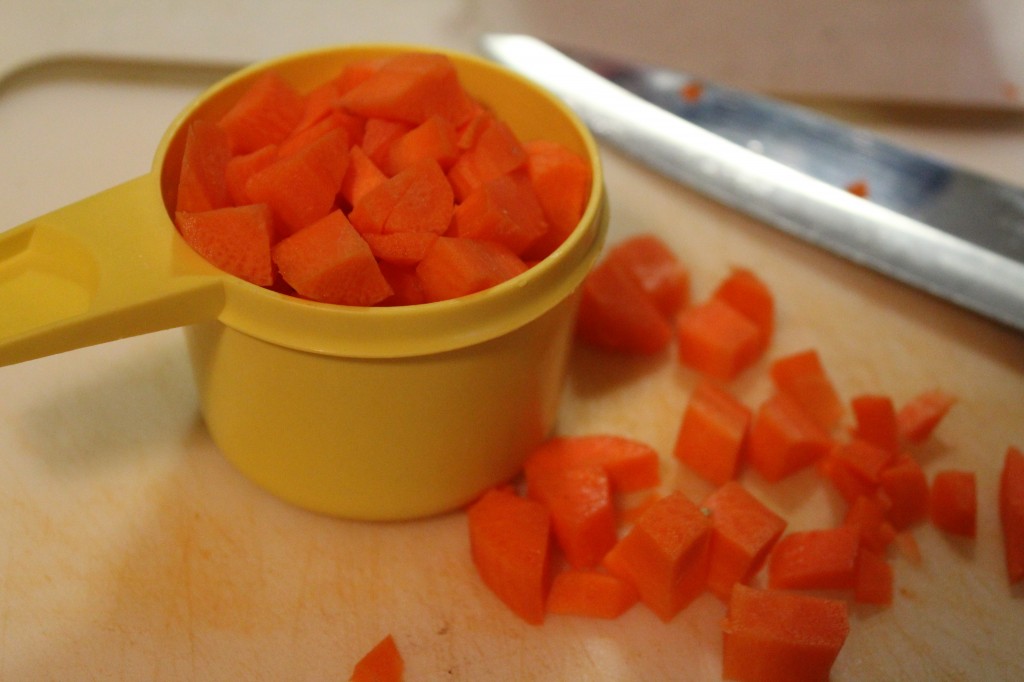 Dice up your carrots. I peeled mine first.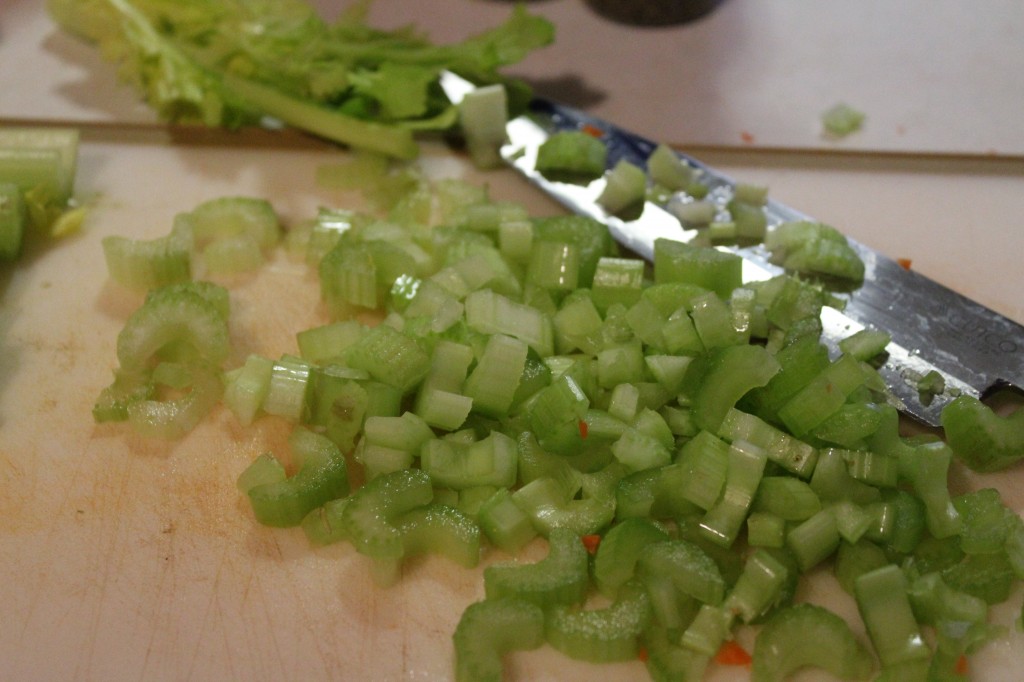 Dice your celery.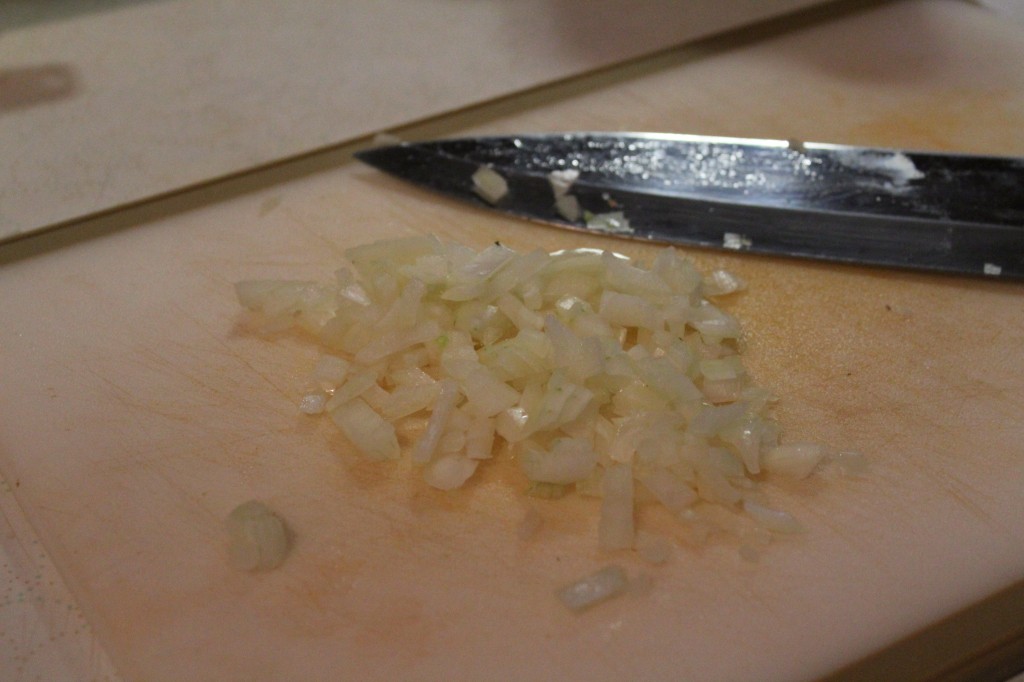 And dice your onions and garlic (the garlic is not pictured)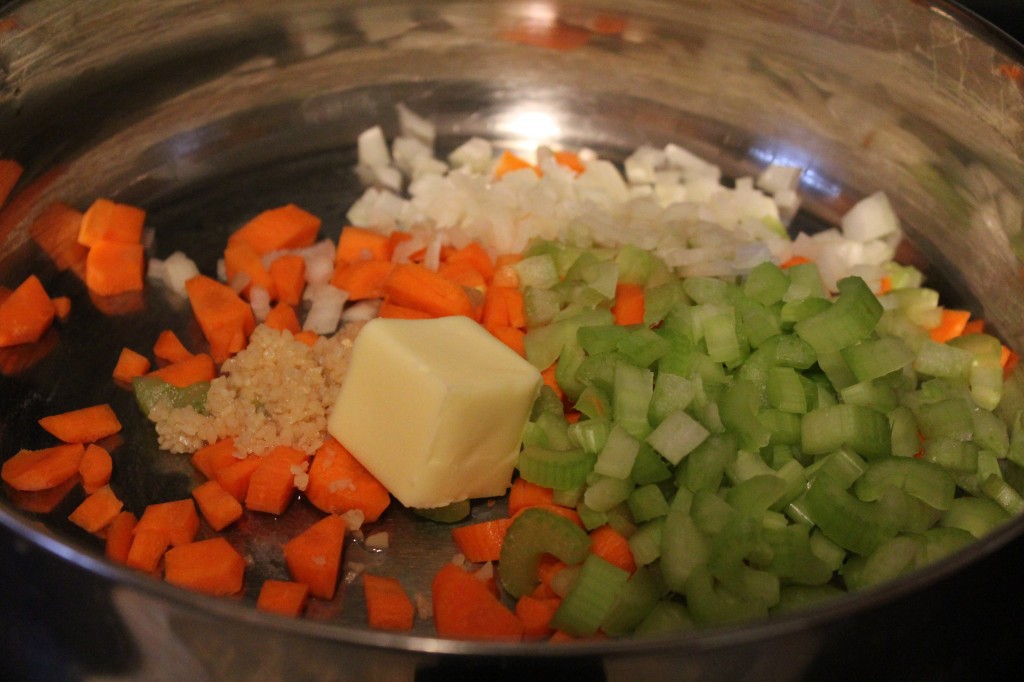 In a large stock pan, add in your butter and celery, onions, carrots and garlic.
Sauté, stirring until they soften.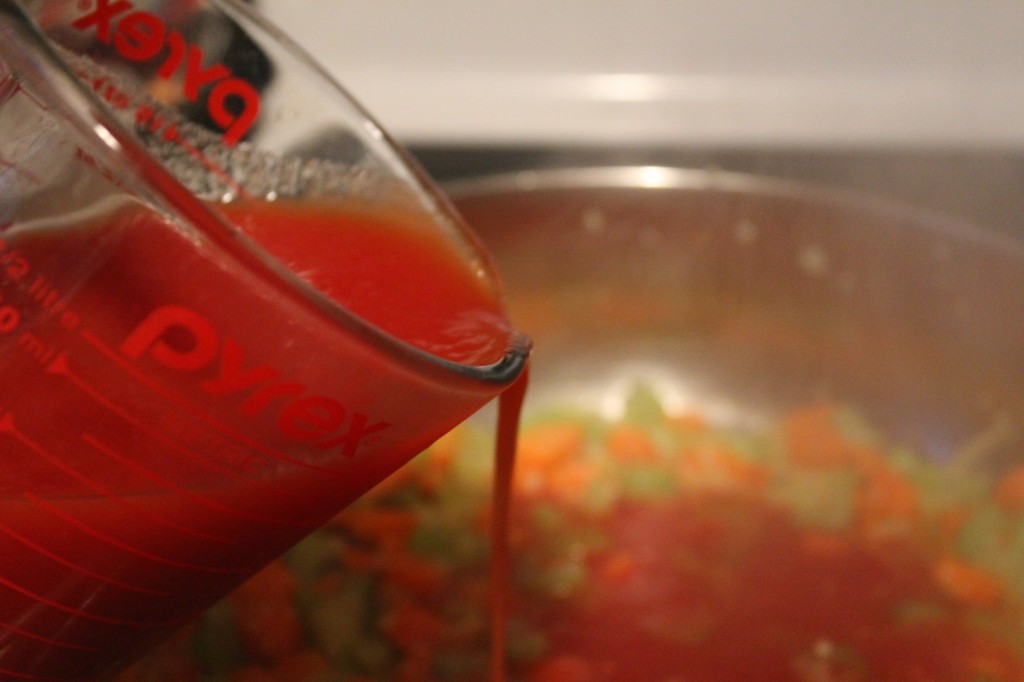 Add in tomato juice.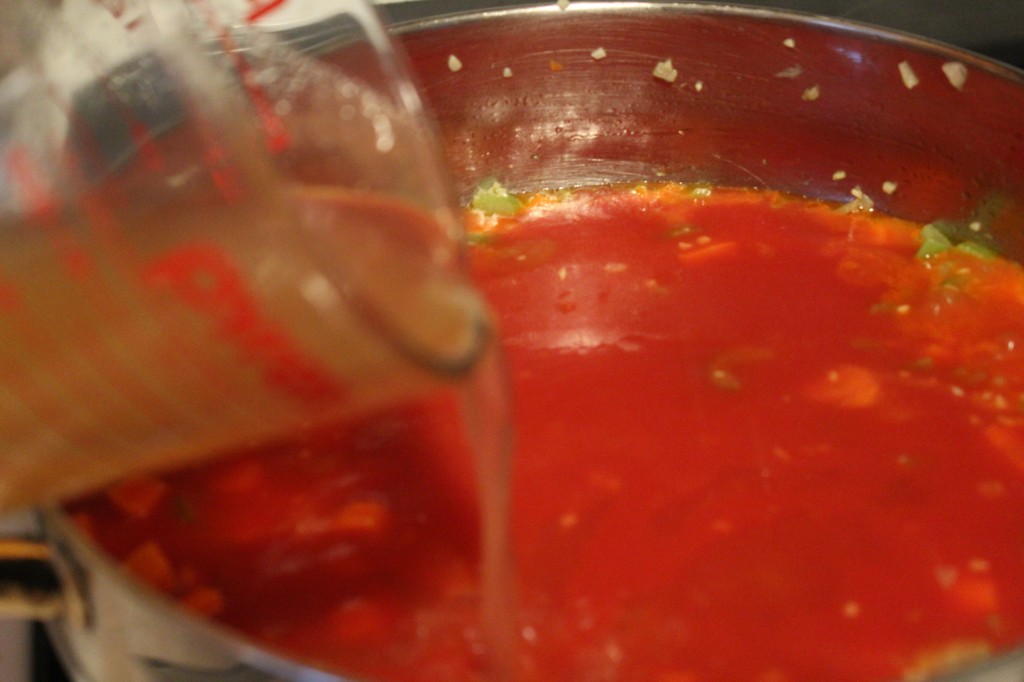 Then some chicken broth.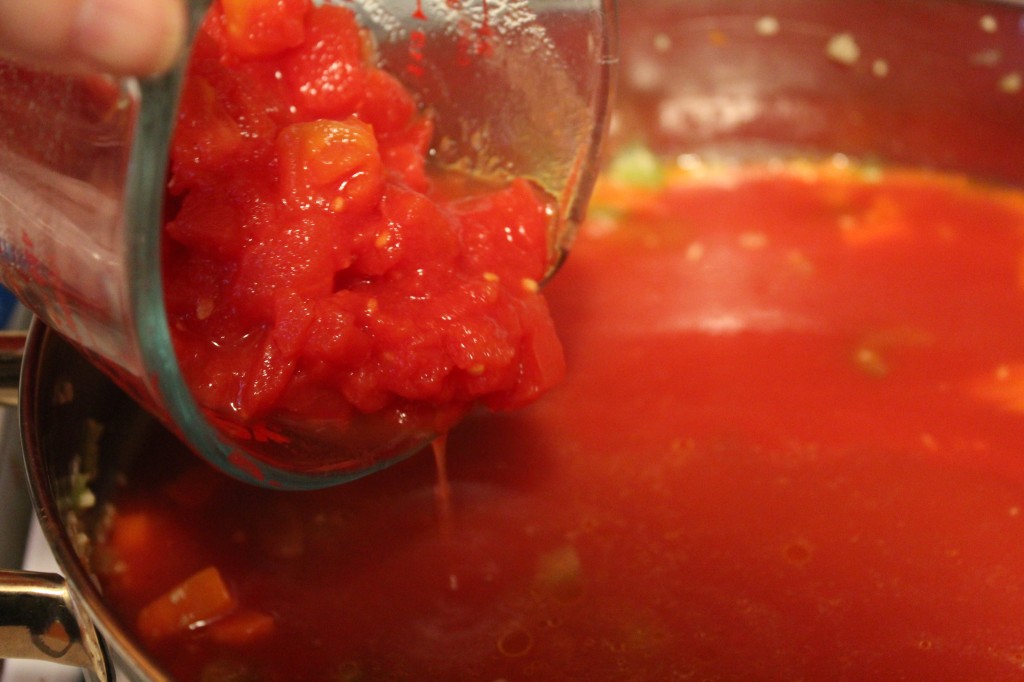 Diced tomatoes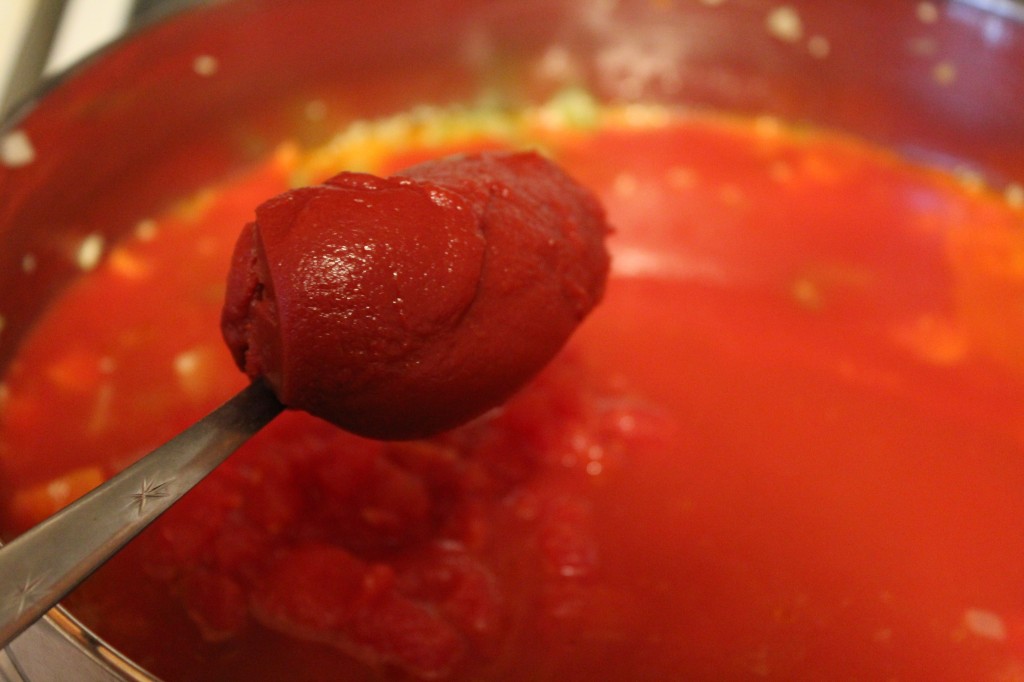 tomato paste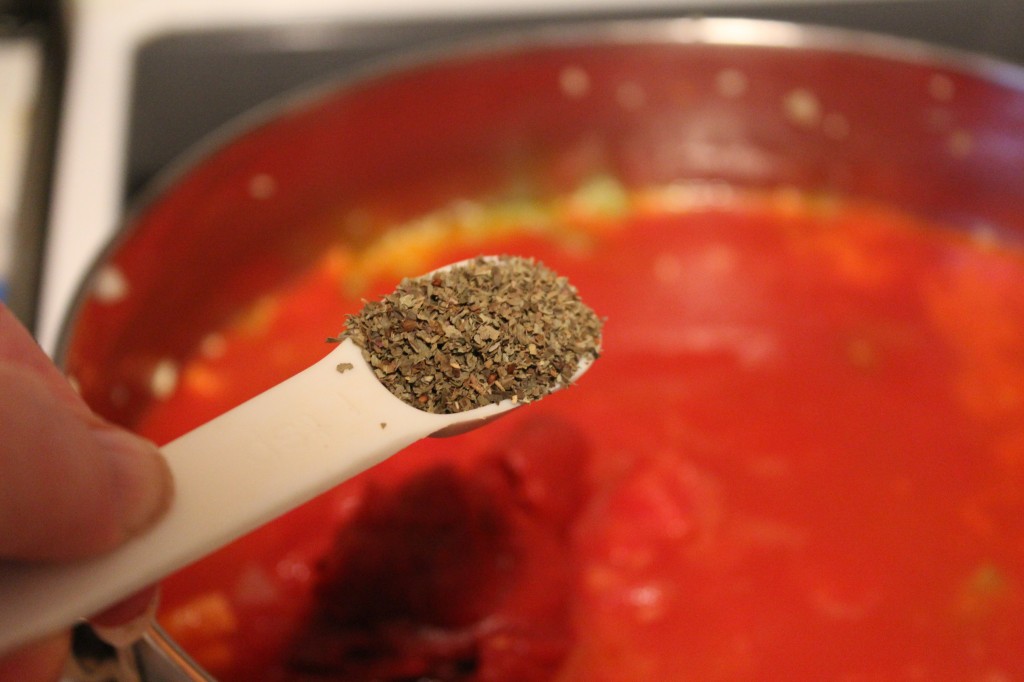 oregano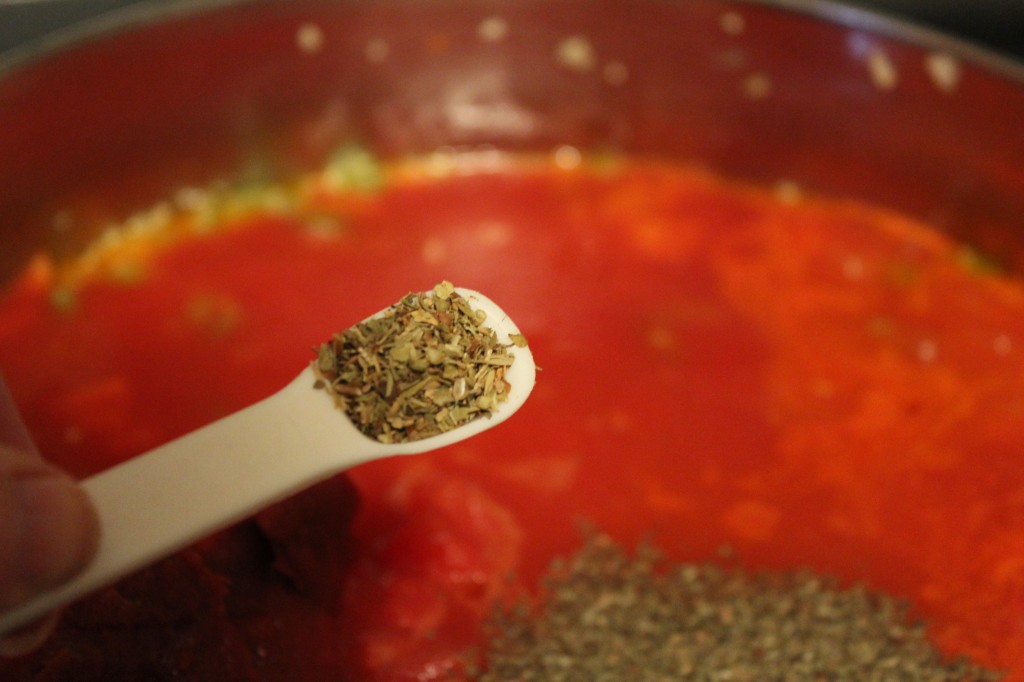 basil…I used dried.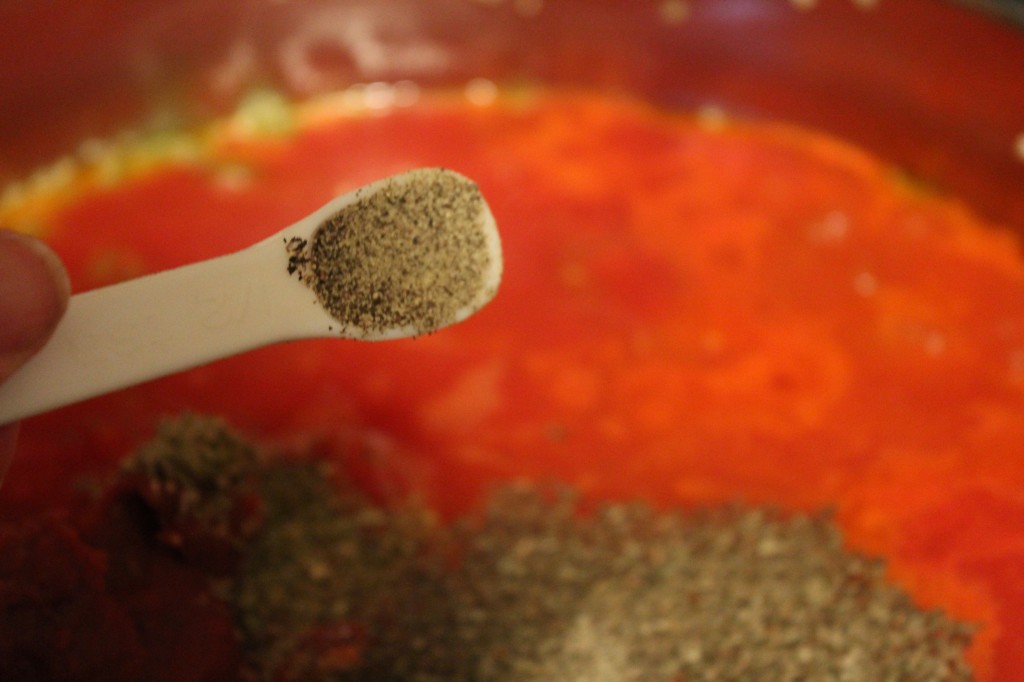 cracked pepper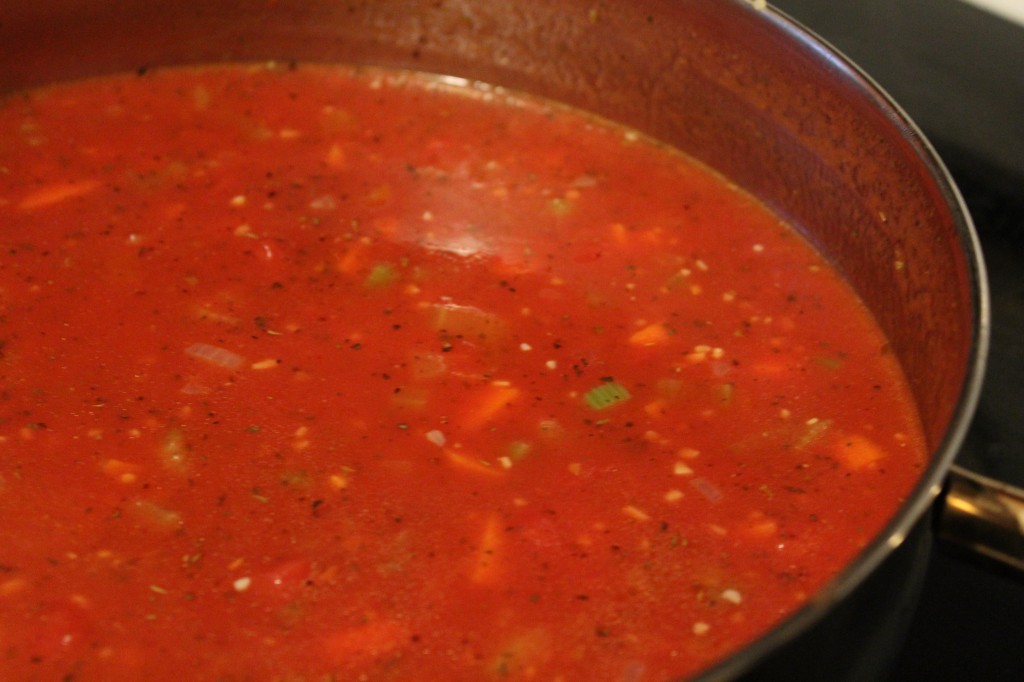 Bring to a boil and simmer for 30 minutes.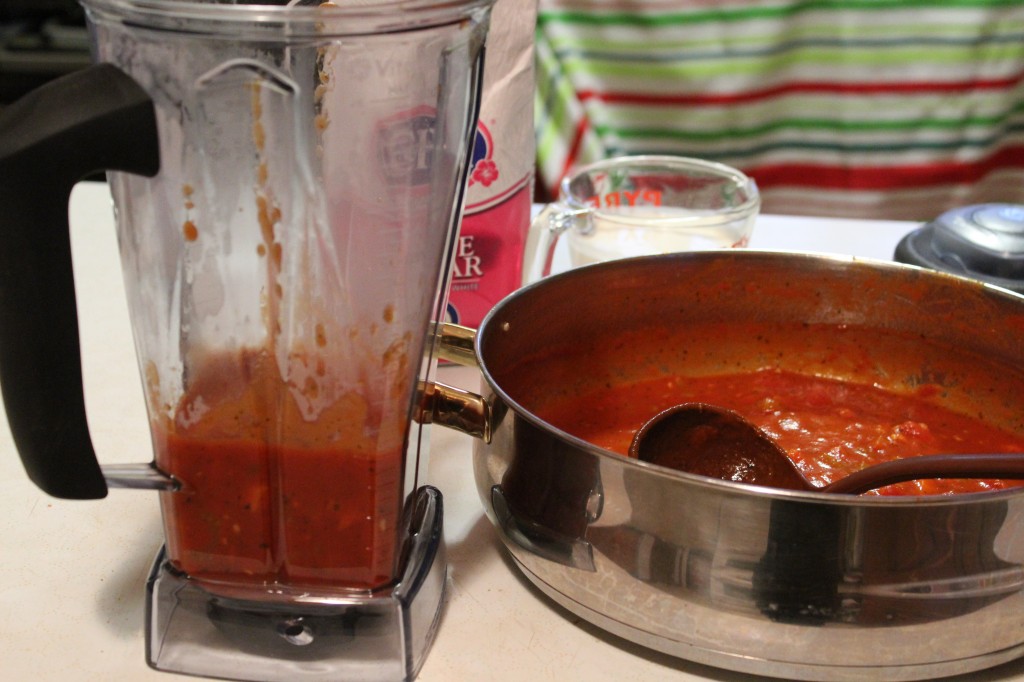 Be careful…..blend the hot soup until smooth and creamy.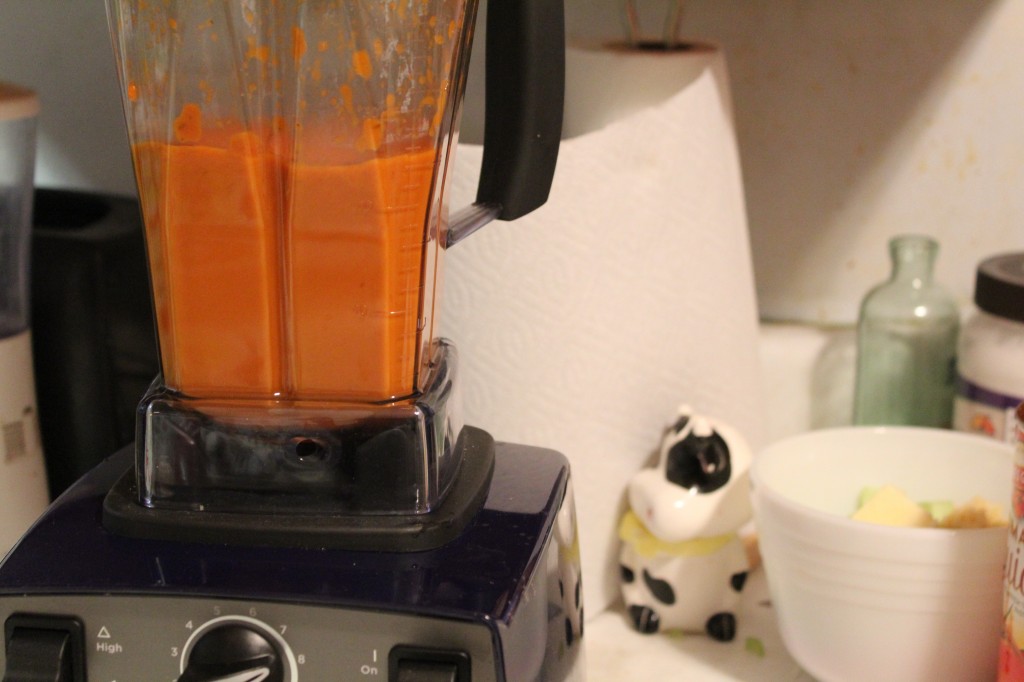 It will change color as you blend it smooth.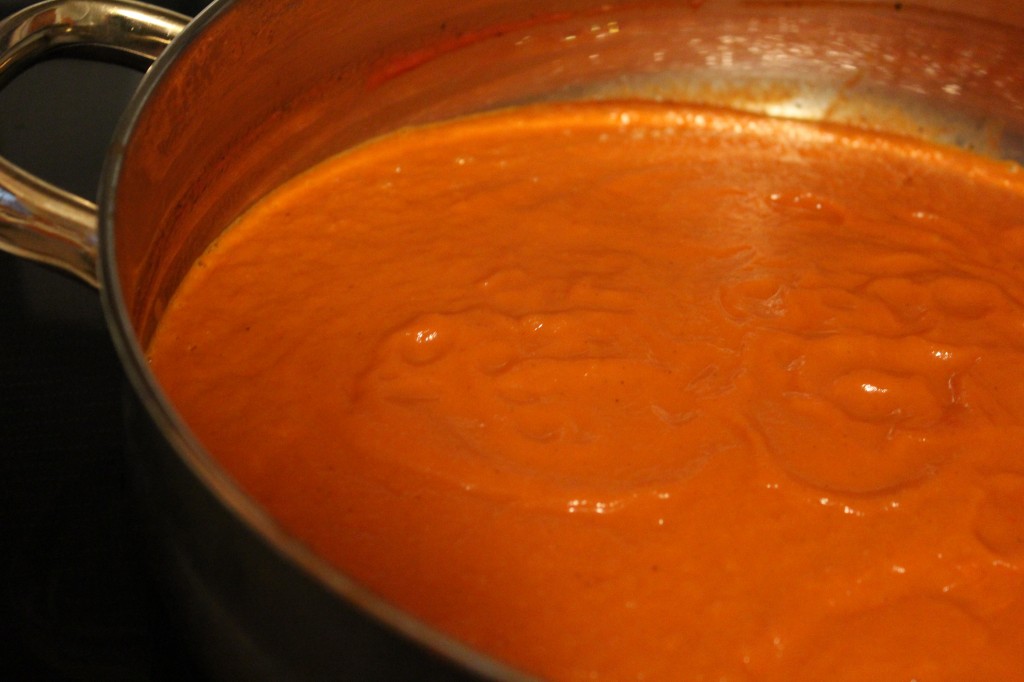 Pour the tomato mixture back into the stock pot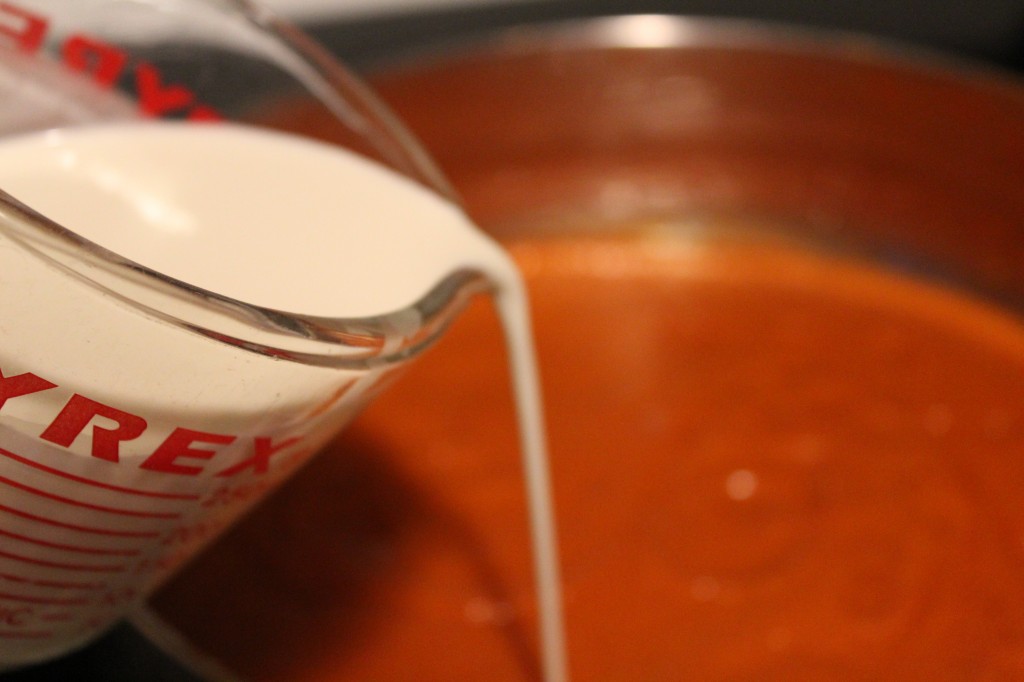 Add in the whipping cream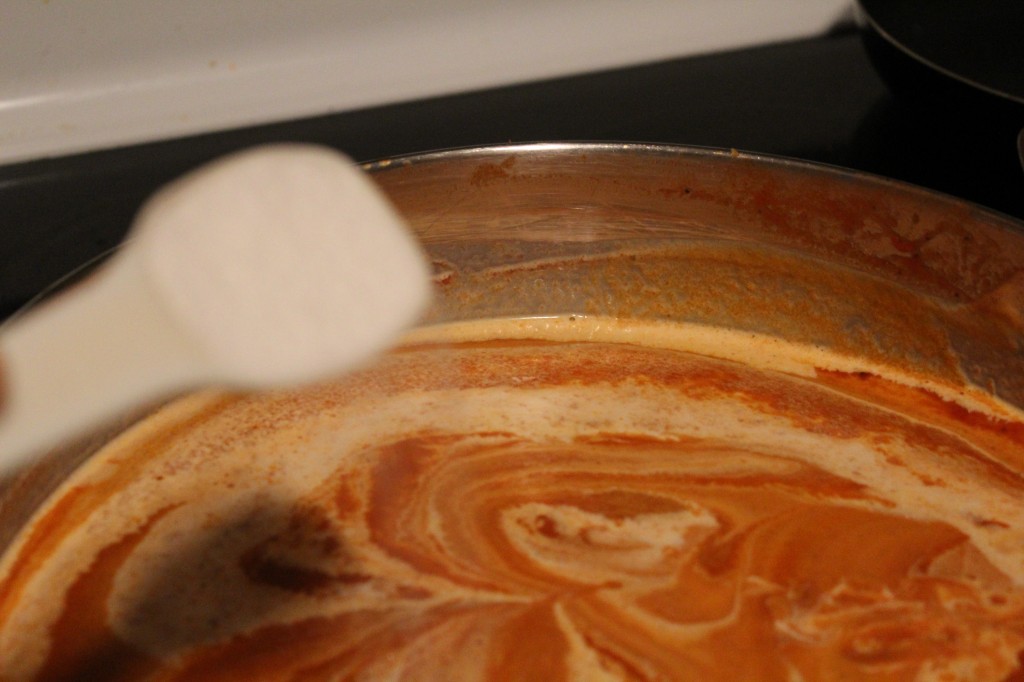 add in the sugar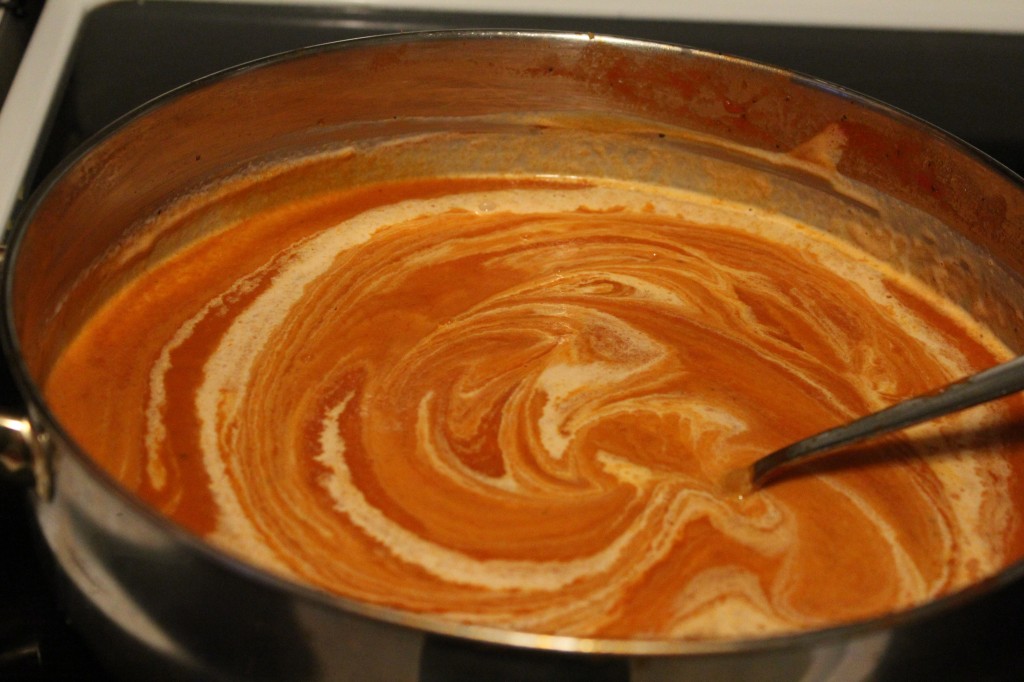 and stir and cook on medium heat until heated through. Now, is the time to make the grilled cheese sandwiches.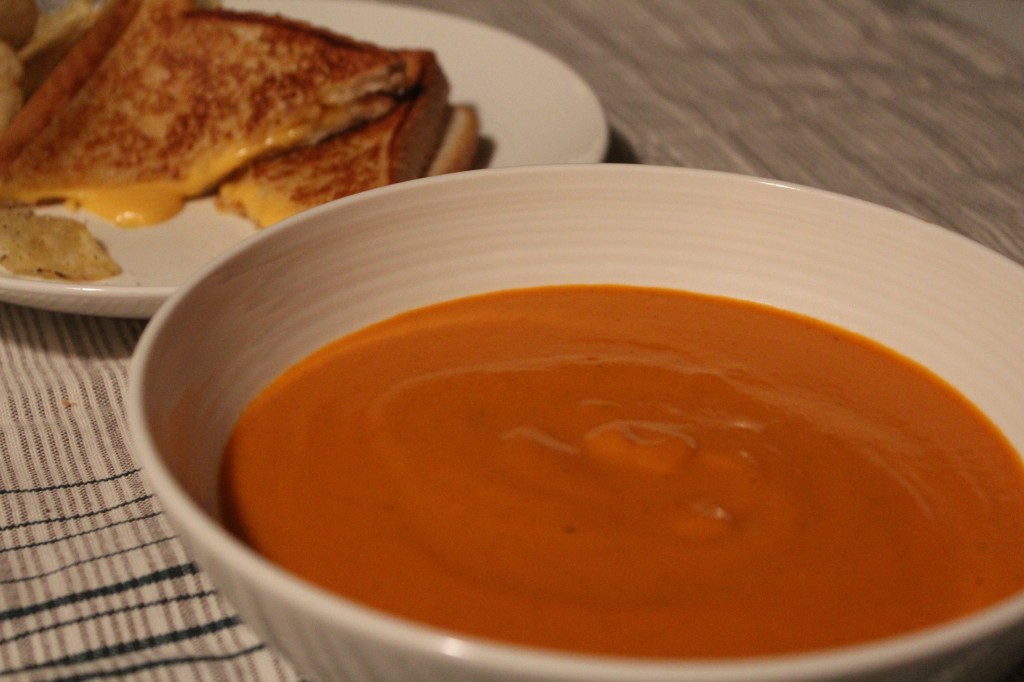 Here is a close up, time to get your spoon ready. : )
Here is the recipe:
Adapted from a fundraiser cookbook
Tomato Basil Bisque
1 cup chopped celery
3/4 cup chopped carrots
1/4 chopped yellow onion
1 tablespoon minced garlic
1 tablespoon butter
3 cups tomato juice
1 cup chicken broth
1 small can (7 1/2 ounce) can of diced tomatoes or use 3/4 cup chopped fresh tomato
1/2 (6 ounce) can tomato paste
1 tsp dried basil
1/2 tsp dried oregano
1/2 tsp pepper
1 cup whipping cream
4 tablespoons sugar
1/2 cup snipped fresh basil for garnish (optional)
Directions:
Chop the celery, carrot and onions. Mince the garlic.
In a large saucepan, cook celery, carrots, onions and garlic in butter until tender. Add in tomato juice, chicken broth, undrained tomatoes, tomato paste, basil, oregano and pepper.
Bring to a boil, then reduce heat. Simmer, uncovered for about 30 minutes or until slightly thickened.
Place half of soup on in a blender or a food processor and blend or process until smooth. Repeat with the other half.
Return tomato mixture to the saucepan. Stir in whipping cream and sugar. Heat through.
Can garnish with fresh basil leaves or some pesto.
Makes 8 servings.